Sympathy cards are so hard to do!  I usually don't have many (if any) on hand, so when I make them, it's usually because of an immediate need.  Then, it's hard to get creative when you're feeling sad.  I really need to start making two at a time, so I have one left in inventory.
Last week, a very dear friend of my husband's passed away.  He was simply an awesome person, just "Salt of the earth" kind of guy.  He was also a Vietnam veteran, so my husband asked me to make a patriotic sympathy card.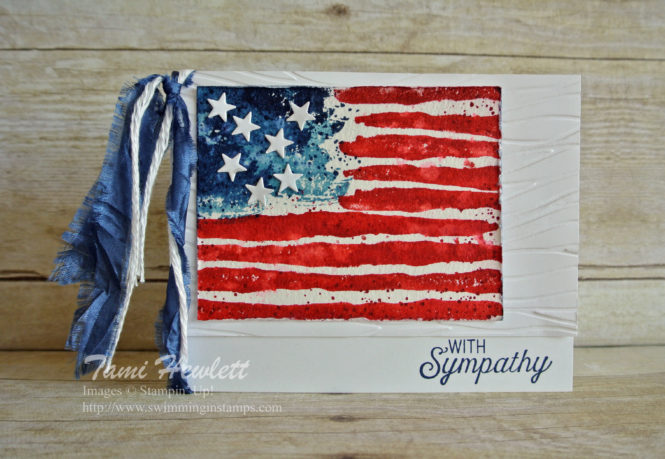 I really had to think about this project.  I didn't have many options.  In the end, I decided to use a combination of the Waterfront and Work of Art stamp sets to create a flag.  Both stamp sets have similar watercolor styles that I used to "paint" my flag.
I used watercolor paper and a technique I call "watercoloring" stamping.  I inked up the stamp, then used my Aqua Painter to brush water over the stamp before stamping.  For the blue section, I used both Marina Mist and Night of Navy ink with a couple different stamps from Work of Art.  I moved the stamps around, and stamped off sometimes before brushing on the water to get a nice variegated look.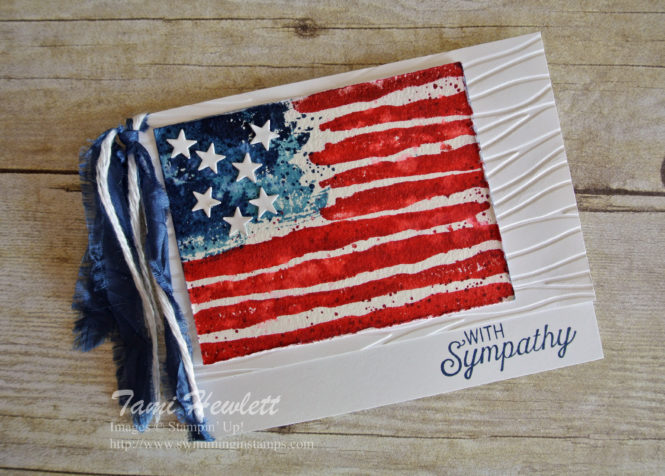 For the stripes, I used a stamp from the Waterfront set.  I had to stamp twice on the bottom section to reach all the way across the paper.  I pieced the two stamps together in random places so it wasn't obvious.  Plus there's a lot of water left on the paper with this technique, so the two stamps ended up blending well together.
After the flag dried, I stamped the splatters from the Waterfront stamp set and then used my fingernail to rough up the edges of the paper.
Then, I added die cut stars from the Mini Treat Bag Thinlits Dies.  There's one die cut that will cut all these stars together.
Finally, layered the flag over Whisper White paper embossed with the Seaside Textured Impression Embossing Folder.  (I thought it gave a feel of the flag waving.)  And, I add some white baker's twine and Night of Navy Crinkle Seam Binding Ribbon that I frayed and unraveled for a nice tattered look.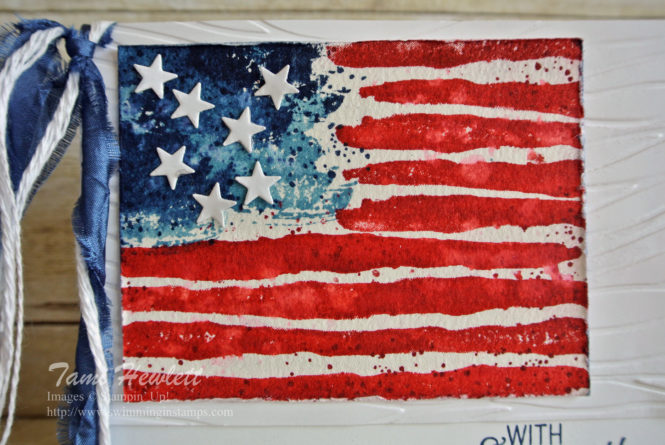 Supplies used on my card:
I have one more card to share using the Waterfront stamp set, and then I think I'll move on to something else:)
Have a great day!