What's Paper Pumpkin?
Paper Pumpkin is a monthly subscription service offered by Stampin' Up!  The creative artists at Stampin' Up! have done all the hard work for you by designing kits that include coordinating stamps, ink, paper, and embellishments to create beautiful monthly projects.  For only $19.95 a month, you'll receive a red box in the mail filled with all the supplies you need (except adhesive and scissors).  Half the fun is that every month, it's a surprise!  The contents of the kit may be designed to make cards, gift holders, or crafts, you never know.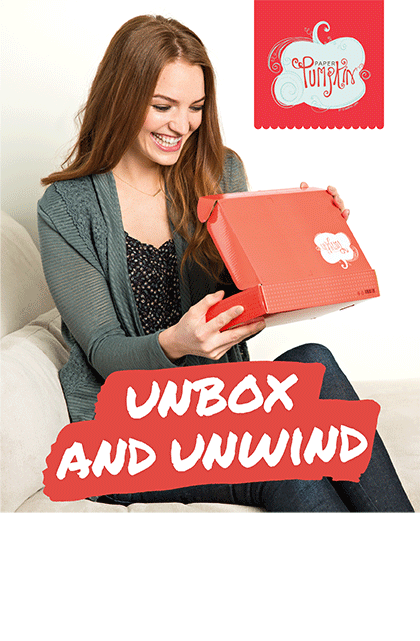 What's in the Box?
Each month, you'll receive the following:
1.  Exclusive photopolymer stamps that are not available in the Stampin' Up! catalog (see-through stamps for perfect placement)
2.  At least one Stampin' Spot ink pad (colors do not repeat for at least one year)
3.  Instructions explaining how to complete projects
4.  Papers, die-cuts, and embellishments in coordinating Stampin' Up! colors (frequently in exclusive designs)
5.  Glue dots or dimensionals as needed
Plus, in your first box, you'll receive an acrylic block to mount your stamps as an added bonus.
For crafters who have busy lives, but still want a little creative time, this is the perfect solution!  Plus, after creating the projects, you'll still have the exclusive stamps and ink spots!  This is a great way to build up your collection.
Here's an example kit from December 2017: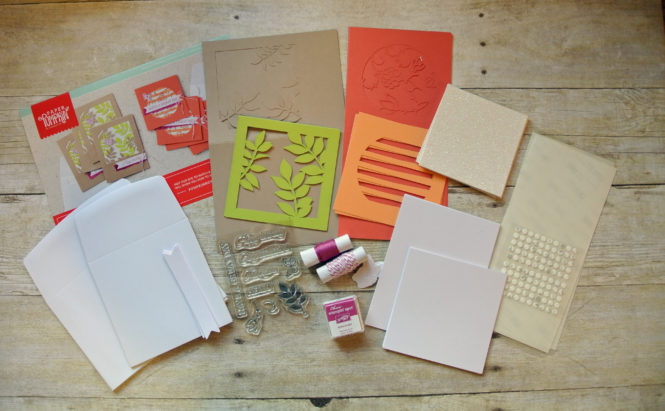 And here are the photopolymer stamps  and Stampin' Spot from the kit.  (Ink colors do not repeat for at least a year.)
 
How Do I Sign Up?
Go to www.mypaperpumpkin.com and click one of these three links:

"Join Here" (middle of the page)
"Join" (top right of the screen)
"Subscribe" (top middle of the screen)

In the "Quantity" field, enter 1 (or more) and click "Continue."
Enter your general information and click "Continue."
Enter your payment information and click "Continue."
I should already be selected as your demonstrator, but if you could, please check.
That's it! You are official. You will receive an e-mail that invites you to come back to the site to create a password. You will need that if you ever want to change your information, skip a month, or cancel Paper Pumpkin kits.
How Do I Pay?
There are two ways to pay for a Paper Pumpkin service.
1. Month to Month — This is convenient and low risk.  You can put your subscription on hold or cancel at anytime.  The $19.95 price includes shipping!
2. Prepaid Subscriptions — You can use the following item codes to purchase prepaid subscriptions online or included in a workshop.  This means, you can earn hostess benefits with the purchase of prepaid subscriptions!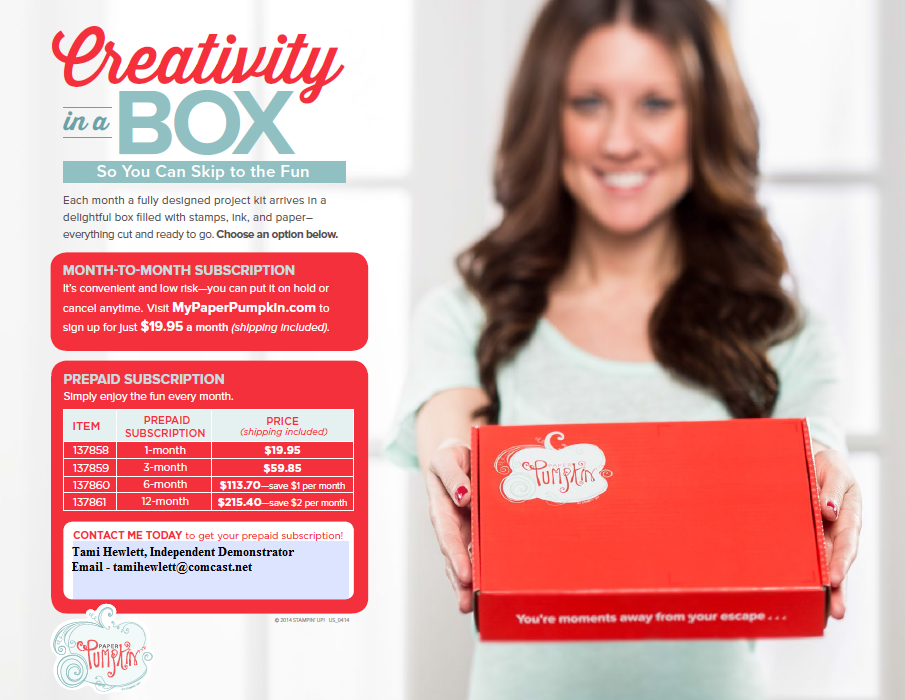 When Do I Need to Sign Up?
To receive the current month's kit, you need to sign up before the 10th of the month.  Otherwise, you'll simply receive the following month's kit.  Each month, you'll receive an email telling you that your kit is on the way.  Kits usually ship around the 15th of the month via U.S. mail.
Stamp Storage:
After subscribing for six months, I will provide you with a free case to store your Paper Pumpkin stamps!  In fact, I've been a subscriber for so long, that I'm into my second case.  Feel free to contact me if you need a second case as well.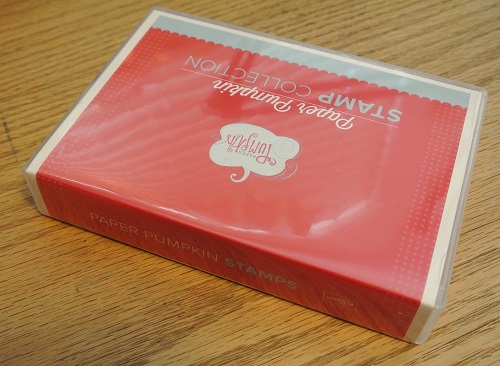 Can I Order Refills of Past Kits?
Frequently, Stampin' Up! offers past kits and refills to subscribers only.  These kits include the stamps and ink, while the refills do not.  Active subscribers can order as many kits and refill kits as they'd like; however, this offer is good only while supplies last.  Once the current inventory of a kit is depleted, the kit will not be available for ordering.  To order these kits, Paper Pumpkin subscribers can contact me or call  Demonstrator Support during normal business hours (M-F, 7 AM [MT] – 7 PM [MT]) at 1-800-STAMP UP (1-800-782-6787).  The kits cannot be ordered via the Online Store.
More Questions?
If you'd like to learn more, or have questions, click HERE.