Can you believe it?  Two posts in one day!!!  I had a super busy week at work, so I didn't have time during lunch to work on my blog.  So, you get a two-fer today.  Yay!
This week, there is a sketch challenge at the Global Design Project.  It's a nice simple sketch that allows a lot of creativity to use different stamps, papers, and techniques.  Click on the sketch below to go to the website and see all the incredible inspiration.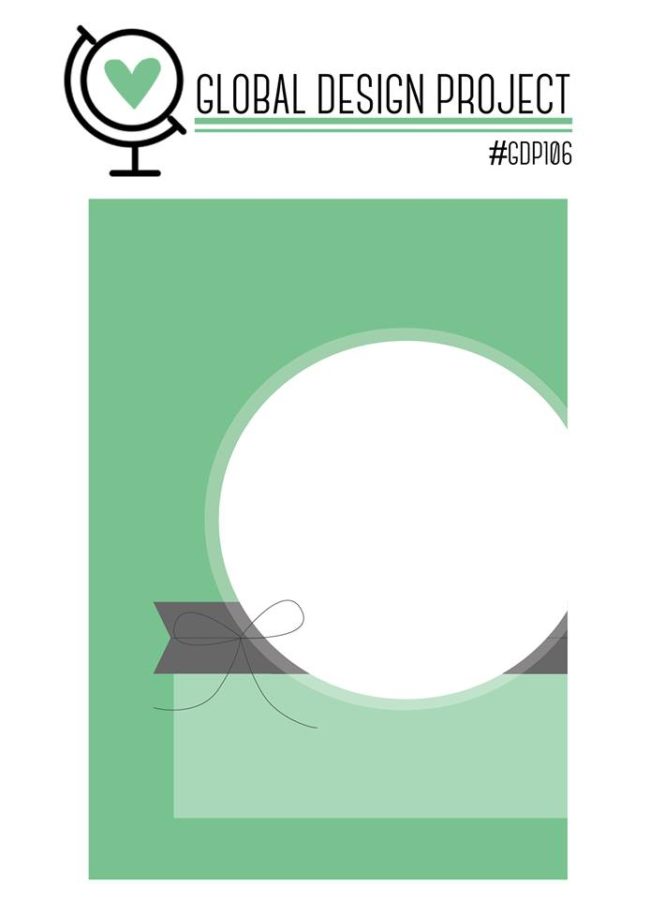 After a long week, I often find it soothing to sit down on the weekends and watercolor, so that's exactly what I did.  I decided to get started on Christmas and broke out an adorable new stamp set named Wonderful Life.  It's got all sorts of great pieces you can use to create holiday, Fall, and wedding themed cards.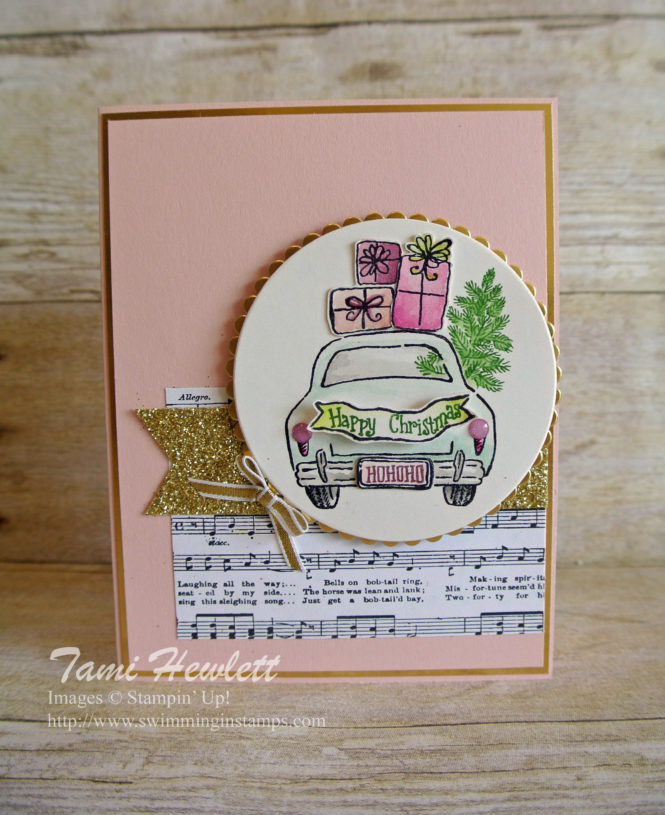 If you really look at my card, you'll notice I shortened the stack of presents from the original stamp.  I really wanted to include the presents on the roof, because they look so cute.  However, the original stamp was too high to fit into my circle die cut.  So I simply cut out some of the presents and problem solved:)
I stamped the car, presents, banner, and license plate with Basic Black Archival ink on Shimmery White Paper so I could watercolor everything.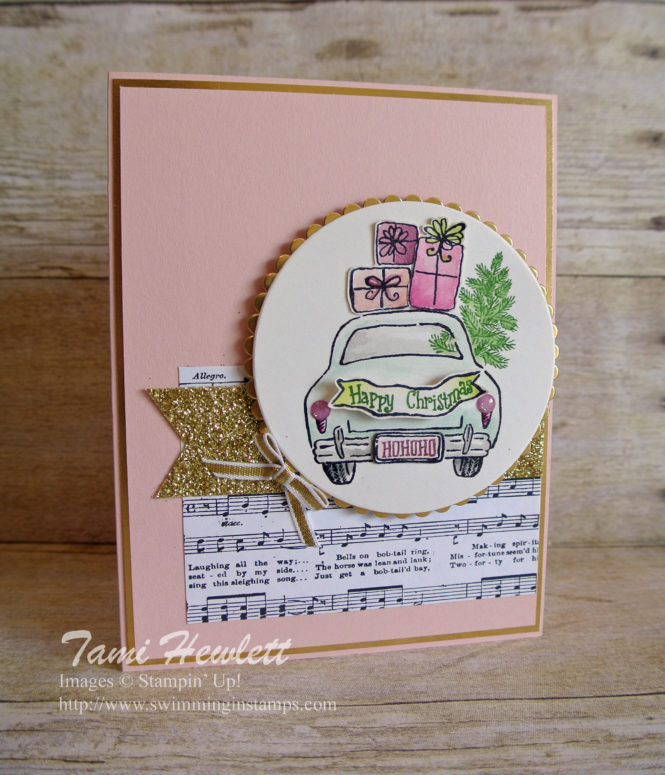 I felt like using non-traditional colors for my card, so I chose a lot of the 2017-2019 In-Colors.  That helped achieve the soft color palette I was going for.
This stamp set is really fun to watercolor.  The method I used is to squeeze my stamp pads to pool ink in the lids.  Then, I take an Aqua Painter and dip the tip in the ink.  For a card like this, with soft colors, I added a little water to the lids to dilute the ink.  I also painted on scratch paper first to check the saturation.
Tip:  Leave some white space.  Showing variation in color is half the fun of watercoloring and what makes it different from any other type of coloring.  It's also a great way to emphasize shadows.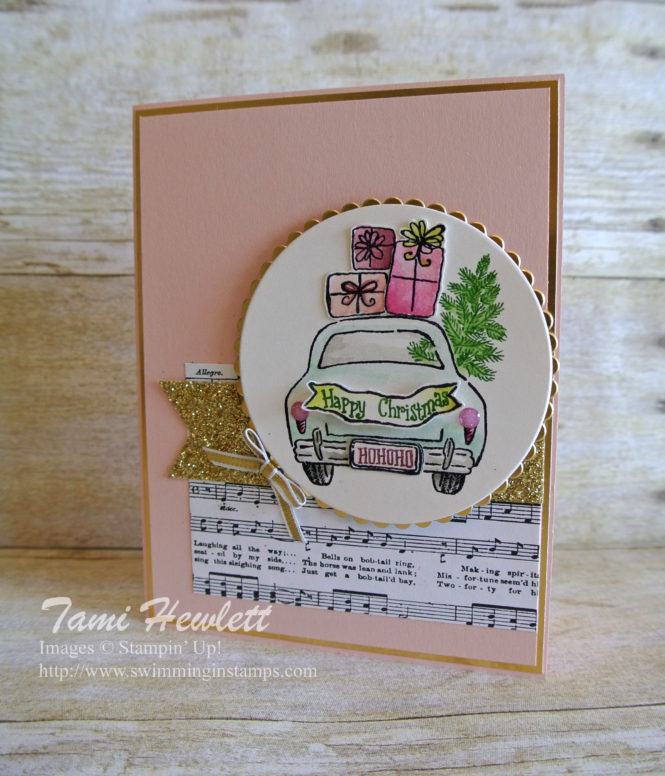 For the background layer, I used some Merry Music Specialty Designer Series Paper.  I LOVE that paper so much!  The one I picked shows the words to the song Jingle Bells.  The verse is SO PERFECT for this card.  It puts me in the mood to go out, buy a tree, and start decorating.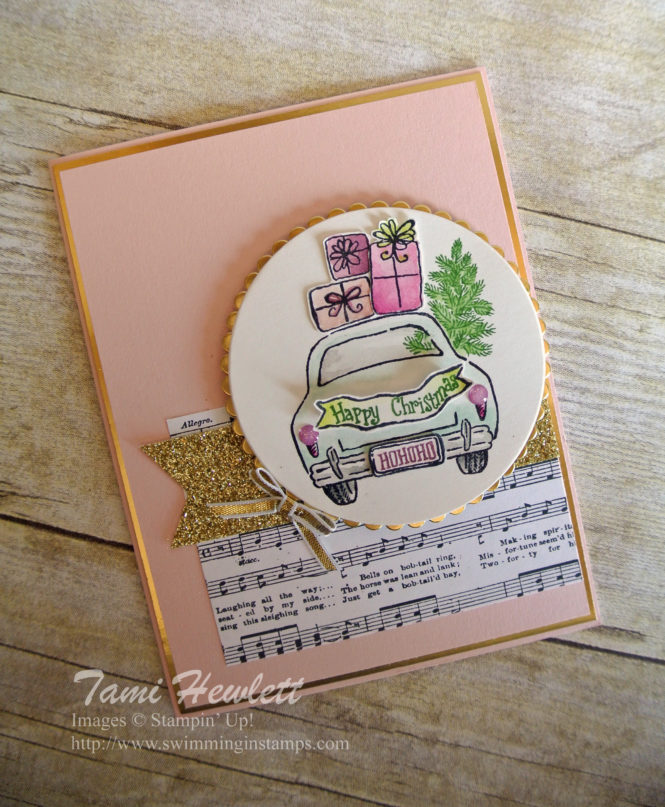 To accent my card, I used lots of gold, including Gold Foil, Gold Glimmer Paper, and 1/8″ Gold Ribbon.  There is something about the holidays that just screams metallics to me.  As it gets closer, I stock up!!!
As a final touch, I added some Glitter Enamel Dots on the taillights!  Cute!!!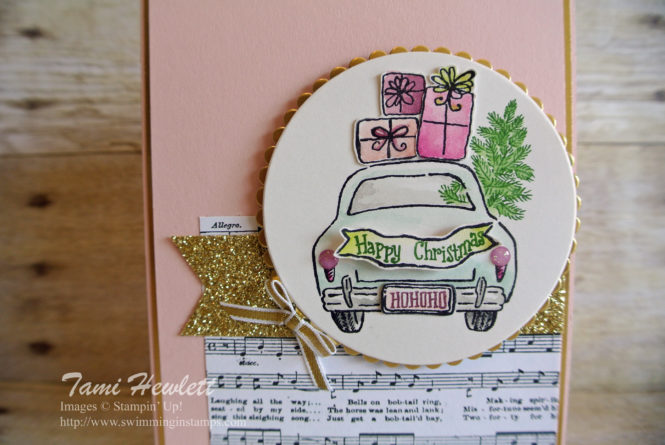 Supplies used on my card:
Happy Stamping!