It's Tuesday, so that means new Weekly Deals and news from Stampin' Up!  Also, how about a gift idea for Mother's Day?
Weekly Deals:
Check out this week's deals, there are awesome heart punches, just in time for Mother's Day, and some great ribbons, including one of my favorites the Gold 1/8″ Ribbon!
New Annual Catalogs:
I will be sending out FREE catalogs to all my customers who participate in my monthly Stamp Club, subscribe to Paper Pumpkin, and / or subscribe to Stamps In the Mail.  Additionally, I will be sending out FREE catalogs to any customer who placed an order with me in the past year for $25 or more.
If none of those circumstances apply, but you would still like me to order you a new catalog, please leave me a comment below.  Catalogs are $5.00 each.  I need to have all orders in by April 30.
As an added bonus, if you place a $25 order with me after receiving a catalog, I will reimburse you for the price of the catalog.
Important Dates to remember:
New catalogs mailed – May 12, 2015
Last day to order from the Occasions Catalog – June 2, 2015
Last day to order from the 2014-2015 Annual Catalog – June 2, 2015 (Online orders will be down from 12:00 to 2:00 A. M. MDT)
Last day to order digital downloads and print products – June 2, 2015
First day to order from the 2015-2016 Annual Catalog – June 2, 2015 (2:00 A. M. MDT)
Did you know that if you sign up to be a demonstrator, you would be able to view the new catalog online on April 30th and have your complimentary copy mailed early on May 5th?  You can even order certain products early, including all the new hostess sets, during the sneak peek period starting May 5th!  This is one of the awesome perks of being a demonstrator!
 Mother's Day:
Looking for a gift idea for Mother's Day?  How about a subscription to Paper Pumpkin?  You can buy one month or even more!!!  It's easy to do, and your mom will love it.  What's even better, is after she's done with each months' projects, she'll still have the awesome stamps to use forever!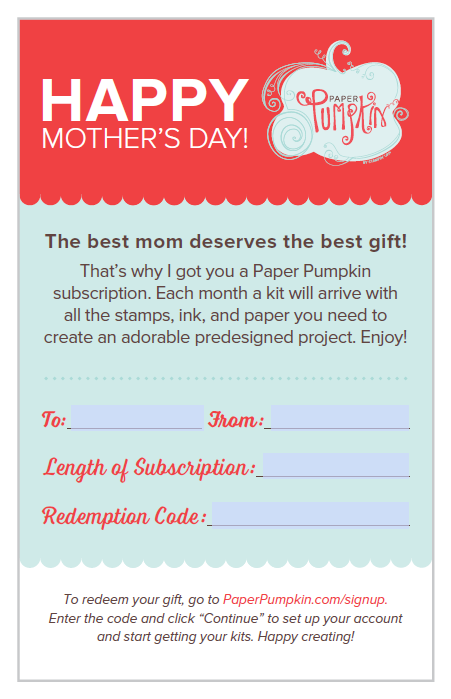 Contact me for details.
Inspiration:
Speaking of Paper Pumpkin, I have a few more alternative projects for this month's Paper Pumpkin kit to share with you today.  This kit is really fun!  For my first project, I added some decorative stamps to the pocket using Bermuda Bay ink.  I also added some colorful flowers punched with the Itty Bitty Accents Punch Pack out of Bermuda Bay, Melon Mambo, and Crushed Curry.
To complete this project, you will need a little more Crushed Curry Baker's Twine than what was provided in the kit.  I added a lot to the tassel, and tied it around both the pocket and mini card inside.  I also added some Bermuda Bay Baker's Twine to the tassel.
I added some layers to the mini card inside, including some Birthday Bash Specialty Designer Series Paper on the bottom.  To create the banner, I used one of the die cut strips from the Paper Pumpkin kit, and fed it through the back of a Banner punch to just punch out the "V" on each side.
For my next card, I went with a chalkboard theme.  All the Paper Pumpkin stamps this month are chalk looking stamps, so I thought it would be fun to create a chalkboard on the mini card.  I used both white and Crushed Curry embossing powder to really make the light colors stand out against the black paper.
Again, I used a Banner Punch to create ties for my bow with the die cut strip provided in the kit.  I also rounded the corners of my "chalkboard."
Additional supplies used on my projects:
There are so many things you can do with this month's Paper Pumpkin kit!  The stamps are so versatile, and I love all the pre-scored pockets, designer mini cards, and embellishments!  If you'd like to subscribe, and get even more ideas from me (including 8 free tutorials), click on the Paper Pumpkin link on the right or on the tab above for more information.