I have a super exciting announcement!  I was asked to join the TGIF Challenges Design Team!!!  I was so flattered, because this team is made up of AMAZING designers, including many past and present Artisan designers.  They post challenges every week that are so inspirational.   I think you will love following along and hopefully, participating!!!  So click on TGIF Challenges to see the projects from this week and follow the instructions at the end of the post to enter your own design.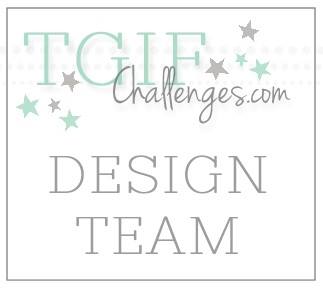 I will be contributing my designs every other week (maybe more frequently if I get a chance.)  This first challenge is super fun.  Since it's the end of the year and an extra Friday, TGIFC is having an Anything Goes Challenge!!!  I was able to design anything I wanted, and then the challenge is to CASE (copy and selectively edit) any of the designers' projects.  So, you could choose the same stamp set, copy the layout, use the same colors, it's pretty open to interpretation.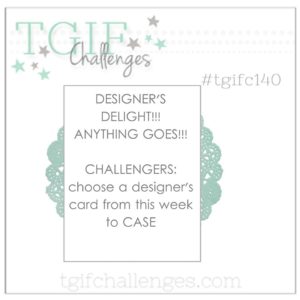 For my card, I decided to play with some new products from the 2018 Occasions Catalog, which is going live on January 3, 2018.  Now I know customers can't yet order some of these products, but you could "selectively edit" by using similar techniques, such as watercoloring, or other stamp sets.  Or, you could simply copy the layout.
I used the new Waterfront stamp set, as well as Brusho Crystal Colours for my background.  I was SO EXCITED to try out both.  I particularly love this stamp set because of the palm trees (a favorite of mine) and the brush stroke stamps.  I've used other stamp sets with brush strokes (i.e. Sheltering Tree) and loved the versatility of those particular stamps.  Additionally, I was dying to try out the new Brusho Cyrstal Colours, because they are so completely  different than any other coloring technique we've had before.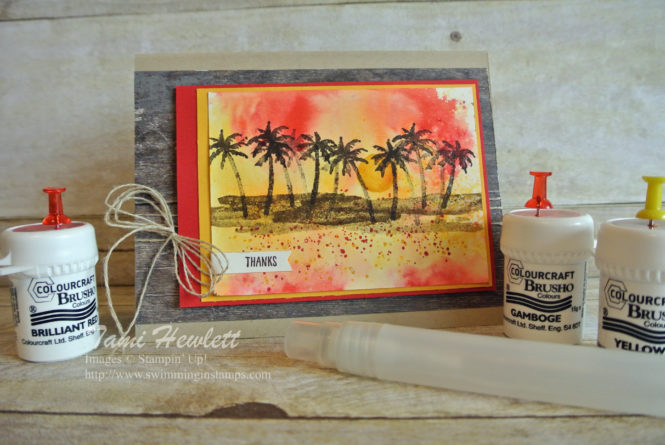 Before I get into how I created my card, I should explain a little about Brusho.  They come in a pack of five colors.  They aren't Stampin' Up! colors, but each one contains crystals in multiple colors, so they end up blending and easily coordinate with SU! colors.  For example in the Red Brusho, there are not only red crystals, but also a few yellow and orange ones.  So the resulting colors are variegated and quite different looking.  The crystals are super concentrated color, so they are also very bright.  What's really cool is that the crystals only work when they are mixed with some sort of liquid, so there are loads of possibilities to use them.
Tip:  Because the Brusho Crystals are so concentrated, you can see that I did not open the containers.  I simply punched one hole in the top with a push pin so I could sprinkle the crystals like a salt shaker.
For my card, I started with a piece of Shimmery White paper.  I sprinkled Yellow Brusho Crystals lengthwise down the middle, Gamboge (orange) next to it on both sides, and Red on the top and bottom.  Then, I spritzed my paper with water and watched the magic!!!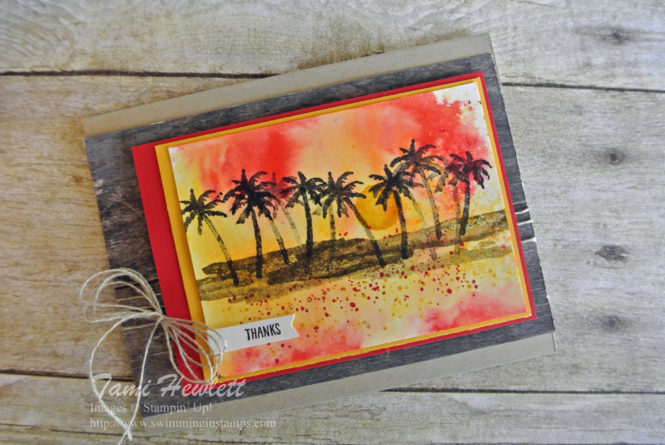 Tip:  Have a paper towel nearby just in case you spritz too much.  That way you can stop the blending.  Personally, I like some the spotting effects you get from the crystals.  Using Brusho will turn out different every time depending on the amount of crystals and liquid you use, so you have to be willing to roll up your sleeves and experiment a little to learn how to manage the process.  I had several failures that I threw away before this one.  But, it was worth it in the end!!!
I totally love the way the background turned out.  It's funny because I ended up flipping my paper upside down.  What I originally intended for the sky turned out looking better as water.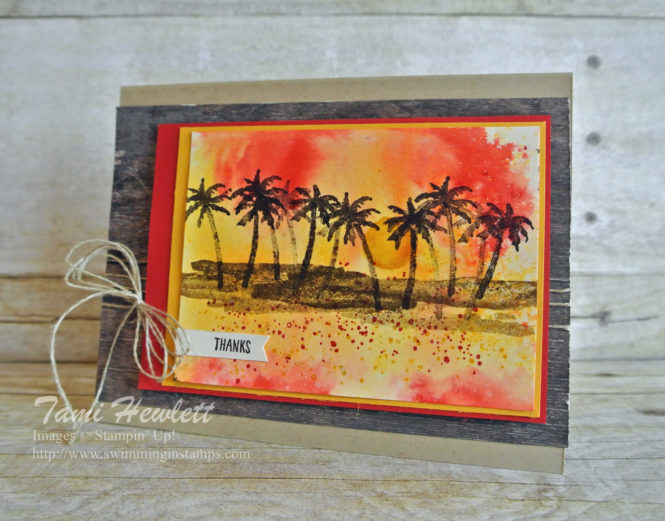 After the Brusho dried, I stamped the "sand" and palm trees.  I used Soft Suede ink (stamped off once and twice) for the "sand" and Early Espresso ink (full strength and stamped off once) for the palm trees.
I also stamped the sun with Crushed Curry ink and the splatters in the water with both Crushed Curry and Real Red inks.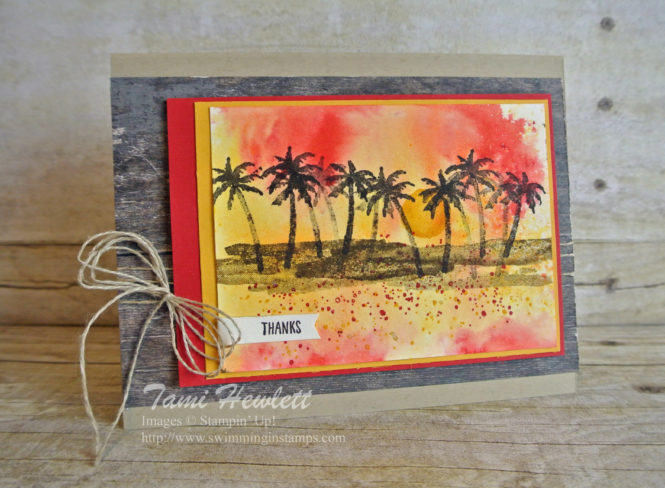 To finished my card, I added some beautiful Wood Textures Designer Series Paper and a pretty bow of Linen Thread.
For the small sentiment, I stamped on Shimmery White, then trimmed it down to a narrow strip and folded the strip around the edge of the paper.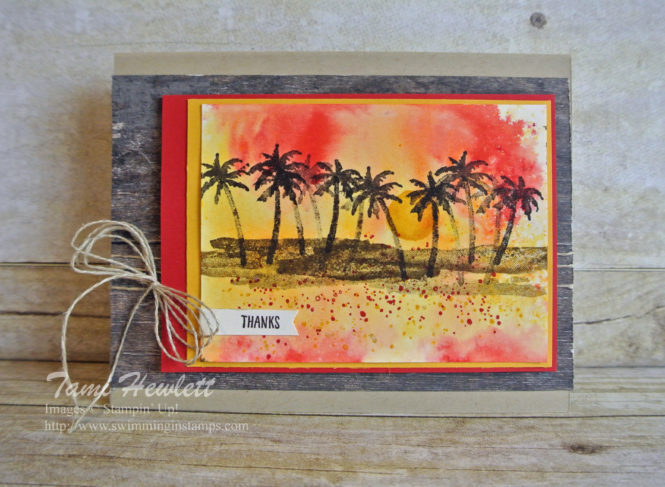 Supplies used on my card:
Hope you enjoyed this little sneak peak into the fun products in the Occasions catalog.  There are so many different things you can do with Brusho.  In fact, in my next Stamp Club class, I'm planning on using a different Brusho technique on each of the four projects we make.  It will be so fun!  I'll also post more ideas and techniques on my blog this month.
I hope you're able to join us at TGIF Challenges this week!  I'd love to see your project!!!