Stampin' Up! has a bunch of great promotions coming up in the month of October, so get ready to save time and money and to craft to your heart's content!
World Card Making Day
Stampin' Up! didn't come up with World Card Making Day, but it sure is thrilled that it's a thing!  It's a day dedicated to doing what you love most—making handmade cards!  It celebrates the creativity and personal connection handmade cards create between loved ones, and it's a great incentive to make cards to send to your family and friends.
This year the world celebrates the day on October 7, but one day wasn't enough for Stampin' Up!, so for ten days (October 1–10), you can get 15% off Notecards & Envelopes and select stamp sets.  Also, when you buy Fast Fuse Adhesive, you'll get two refills for FREE!  These items will help you celebrate the best hobby of all—cardmaking!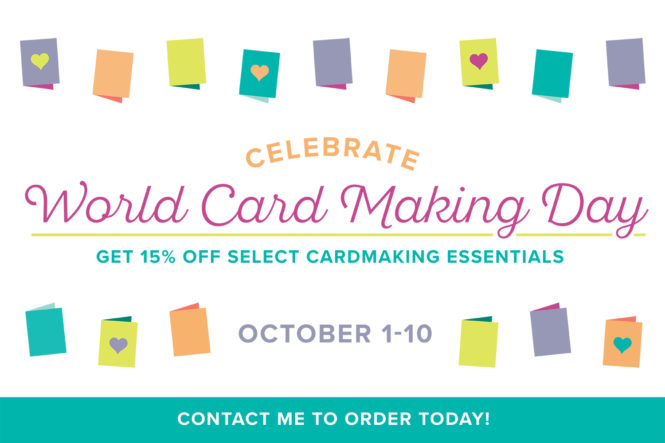 Click HERE to download the flyer with all the details.
Designer Series Paper Sale!
During the entire month (October 1–31, 2017) you can buy 3 packs and get 1 free!!!  There's no limit to how many times you use this offer.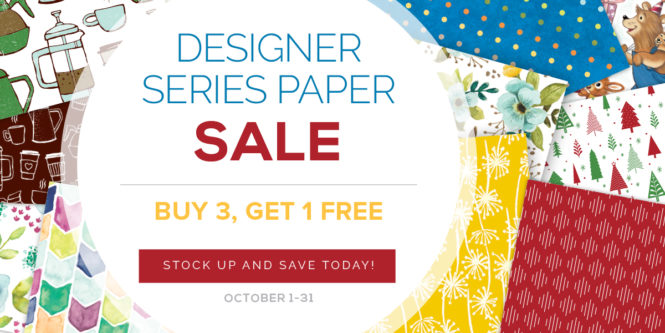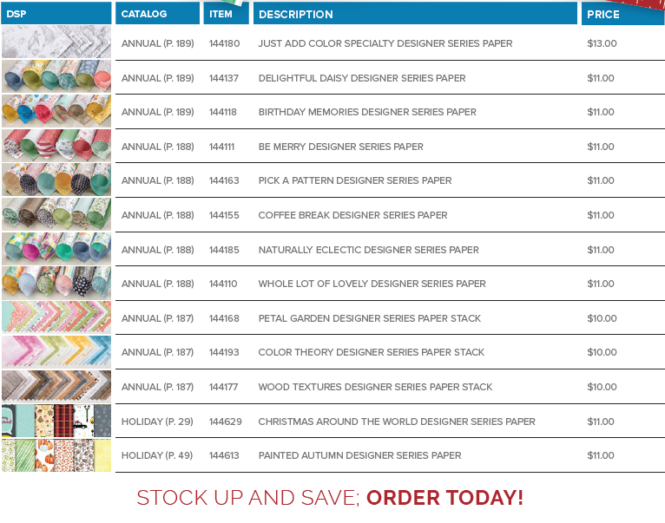 Click HERE to download the flyer.
Paper Pumpkin Makes the Holidays a Snap!
I've noticed that many people who don't craft regularly love to make holiday cards and gifts.  I've also noticed that avid papercrafters often want quick and easy projects to add warmth to the holiday season when they don't have a lot of time to shop and prep.
Well Paper Pumpkin's Season of Style is the perfect answer!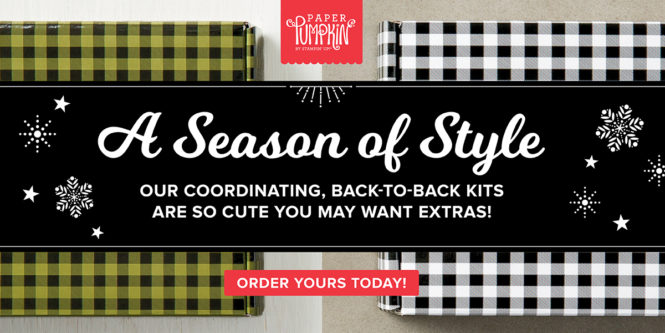 During the next two months (October and November), the Paper Pumpkin kits are coordinated to work together.  The back-to-back Season of Style kits will include die cuts and professionally designed projects to help you make lovely, handmade cards and gifts without spending a lot of time and effort.  Get that personalized look and make your happy holiday dreams come true.
To get in on the fun, be sure to subscribe by October 10th and keep your subscription going through the month of November to get the second coordinating kit.  For more details on Paper Pumpkin, see the Paper Pumpkin tab on my blog.
Click HERE to subscribe or click below to purchase a prepaid subscription that you can add to any order.  (Just be sure to add the prepaid subscription to your Paper Pumpkin account and ensure your subscription is active prior to October 10th.)
Remember, all these promotions start in October.  Happy crafting!!!