This week was my son's 23rd birthday!!!  Yikes!  It's crazy to think about it.  The years go by way too fast.  He was just a little kid, and then in a blink of an eye, he's already graduated from college and is starting a life on his own.
So today, I wanted to share his birthday card with you.  I had a lot of fun making this card.  It uses lots of different papers from the Wood Textures Designer Series Paper Stack.  That paper has quickly become my number 1 favorite.  I already had to buy more, because I used up an entire stack!  It's  perfect for every kind of project:  masculine, feminine, rustic, and even elegant.  The more I use it, the more I love it!!!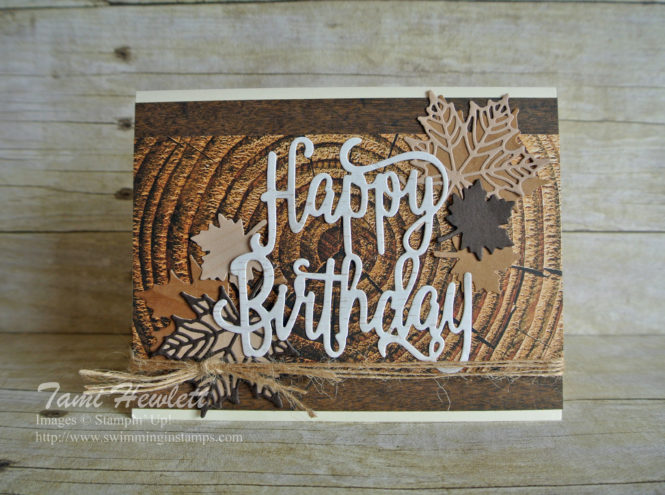 I used two different papers for the background, which is fairly obvious, but I also used several others for the "Happy Birthday" and leaf die cuts.
Tip:  When cutting out intricate dies like the detail leaves an "Happy Birthday,"  adhere a Multipurpose Adhesive Sheet to the back of your paper before cutting.  That way, it's super easy to attach the dies to your project: just peel off the backing and stick!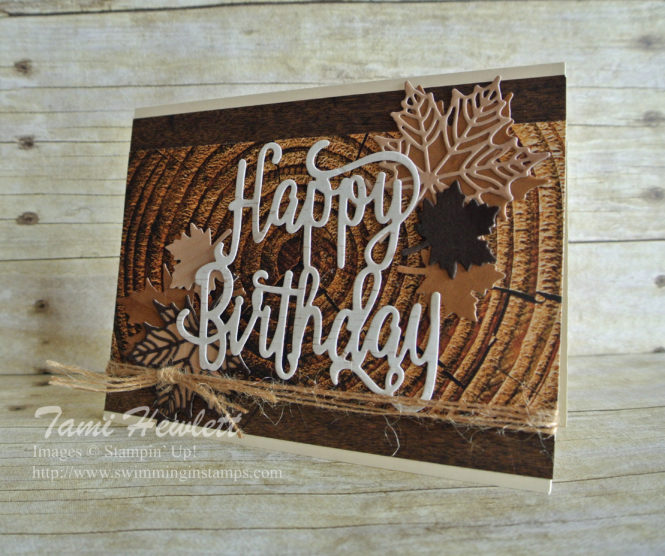 Another Tip:  Use the Precision Base Plate to cut out the "Happy Birthday" and detail leaf dies.  This plate is made specifically for dies like these.  It allows you to get precise even cuts, including all those tiny little pieces in-between.  I usually run my intricate dies back and forth through the Big Shot at least 3 times, especially when they include an extra layer of Multi Purpose Adhesive on the back.  Another bonus of using the Precision Base Plate is that it's a very hard plate as compared to glass, so your dies won't show the small impression holes that you can sometimes see when using glass on the bottom  of your Big Shot sandwich.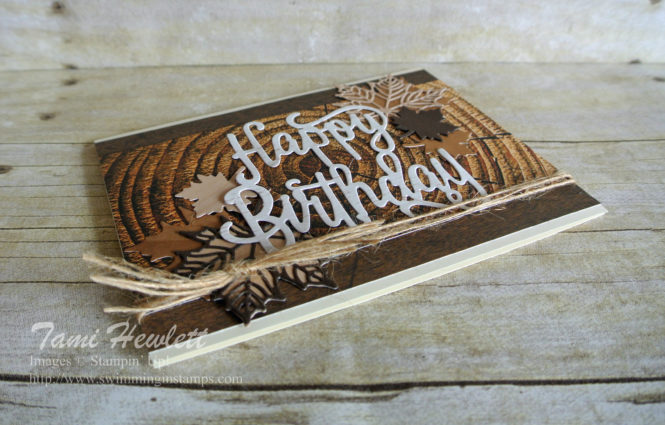 For the twine, I actually unraveled some 5/8″ Burlap Ribbon.  It's rougher and thicker than Linen Thread, and I thought it worked better on this card.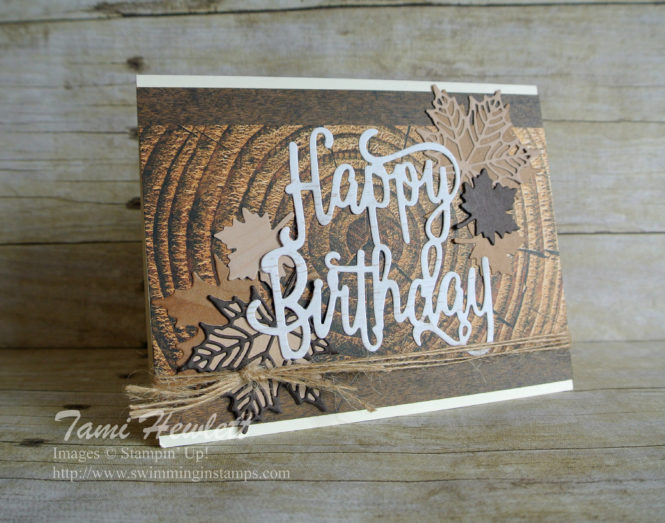 Supplies used on my card:
Speaking of Designer Paper, Stampin' Up! is going to be having a big  sale coming up in October!!!  Stay tuned for more details.
Stampin' Up! is such a wonderful company.  In response to the disasters caused by Hurricanes Harvey and Irma, it has pledged to match donations made to the American Red Cross, dollar-for-dollar, up to $50,000 from now until the end of October.
To participate and make your donation, please click
here
.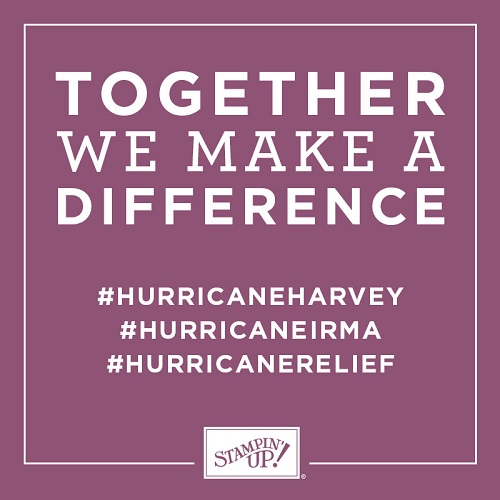 Hope you have a wonderful and creative week!