Happy Valentine's Day!!!  Hope you have a sweet day filled with love!
I have one more Valentine's Day card to share … this is one I made for my sweet daughter.  I CASED some great ideas from Stesha Bloodhart.  (She posted an absolutely gorgeous card on the TGIF Challenges blog last week.)  I was so inspired that I wanted to create one of my own.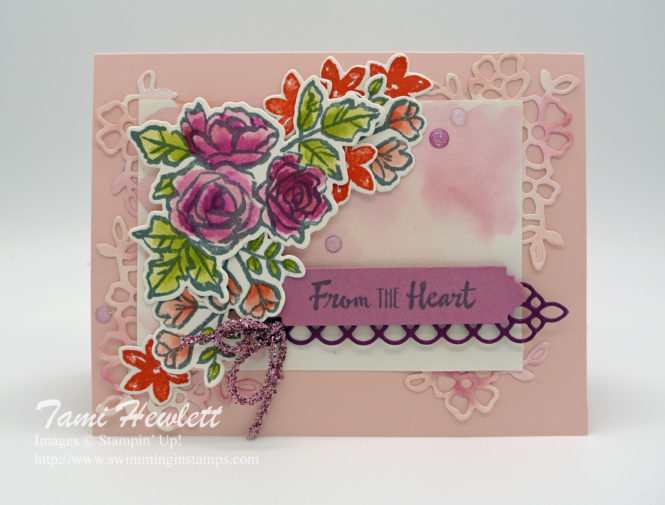 I stamped the Petal Passion flowers with Basic Gray Archival ink on Shimmery White Paper so I could watercolor them.  I really love this paper.  It's smooth, so it's easy to get a clean stamped image, and it has just a touch of shimmer that makes it so, so pretty.  It also holds up really well to watercoloring.  I used some different colors, for me at least, including Sweet Sugarplum, Calypso Coral, Pear Pizzaz, and maybe a touch of Eggplant Envy.  (I'm sorry, I made this card and forgot to write down the colors I used.  Whoops!!!)  I recently re-discovered Sweet Sugarplum and how much I love it.  Since it's a 2016-2018 In Color, it will only be around until the end of May, when we get five new In Colors, so if you love it as much as I do, stock up now!  Supplies typically set out way before May 31st.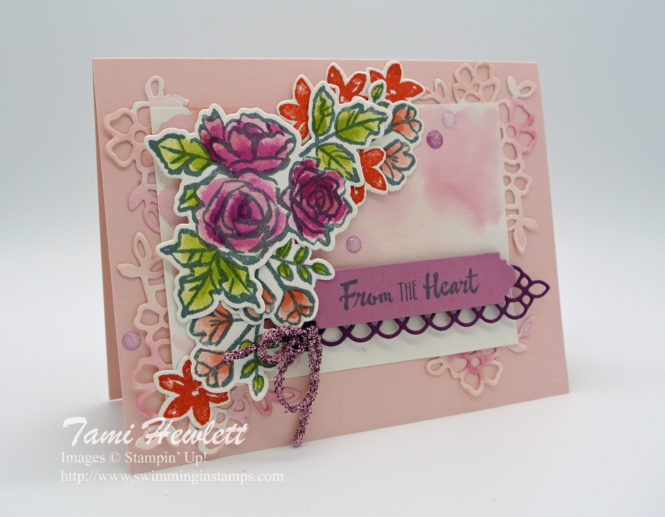 For the background under the flowers, I used Shimmery White Paper as well.  I used my Aqua Painter to paint it with clear water, then I daubed both Blushing Bride and Sweet Sugarplum ink on the paper and let it bleed to create a nice wash.
I did a similar thing with the die cuts on the bottom layer.  I used the Petals & More Thinlits Dies to cut them out of Shimmery White Paper, and then I covered them with water, and then added Blushing Bride and Sweet Sugarplum ink to get a variegated look.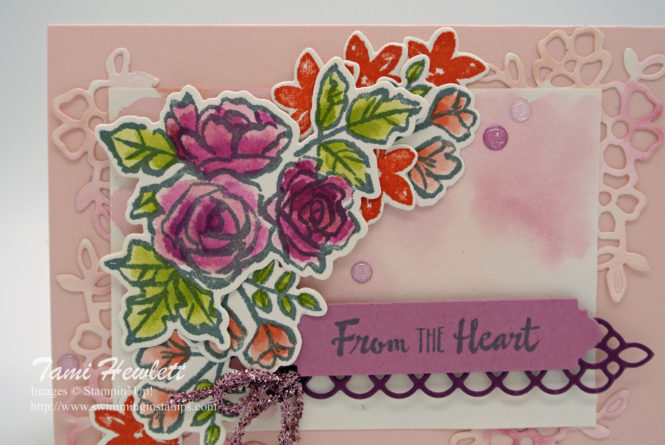 The Petal Passion stamp set includes a bunch of great sentiments, including the one I used on this card.  And the Petals & More Thinlits Dies includes both this great label to cut out the sentiment, as well as the intricate die behind it.  They are so delicate and feminine!
As a final touch, I added some Sweet Sugarplum Mini Tinsel Trim and Glitter Enamel Dots.  It didn't really matter that the glitter dots were Berry Burst; as there are so many variations of color that I was able to find ones that coordinated with my card.  Love those things!!!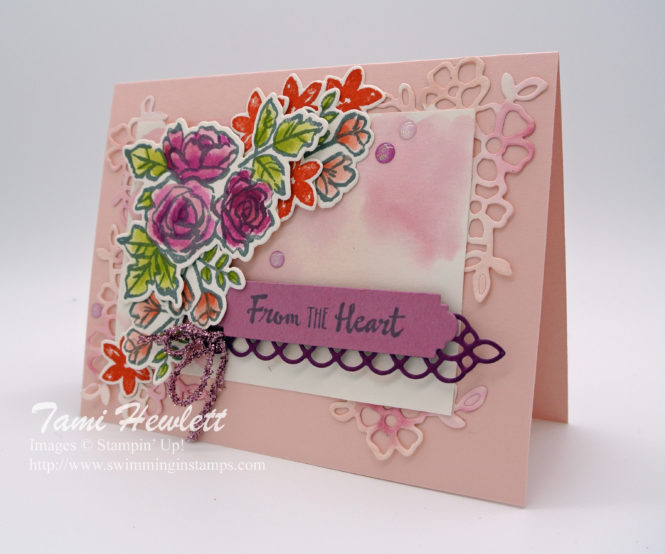 Supplies used on my card:
Hope you have a LOVEly day!!!