Customers can start ordering from the new Holiday Catalog on September 1, 2017, which is right around the corner!  There are loads of great new products that you're going to love.
One of those is the Painted Harvest Bundle.  I particularly love this bundle, because it includes a stamp set (Painted Harvest) and a punch (Leaf Punch.)  Therefore, it's reasonably priced ($33.25 for both the 13 piece photopolymer stamp set and punch) and great for new stampers, who may not have invested in a Big Shot yet.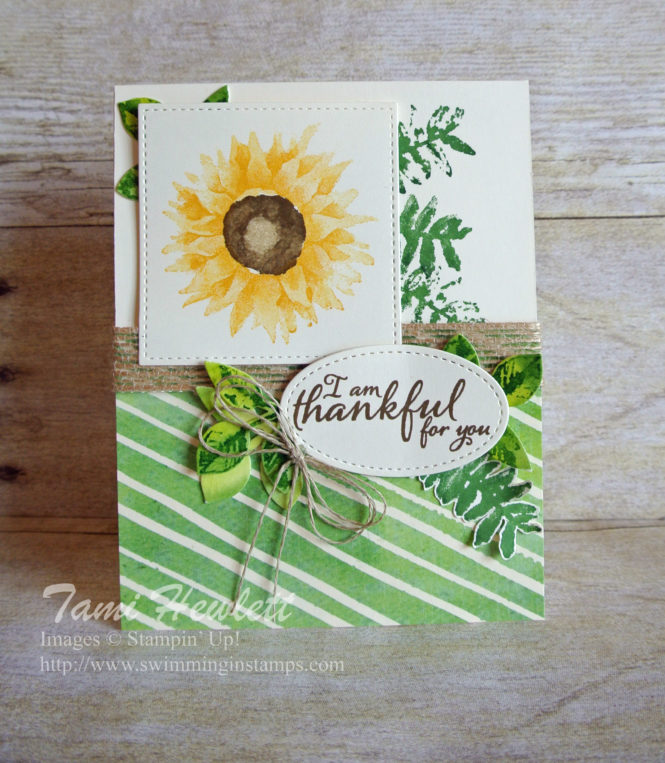 Last weekend, I broke out my new stamp set to play with for the first time.  The stamps are BEAUTIFUL with a watercolor style and easy two-step stamping that doesn't require precise alignment.  (Whew, do I love that!)
Word to the wise:  The sunflower stamp, specifically the full bottom layer, does not stamp evenly.  It's meant to do that.  When you stamp the second, more detailed sunflower on top, you'll realize that it turns out quite lovely.  The entire style of this set is sort of haphazard and imprecise.  Personally, I love that style, but if you don't, you might want to consider another set.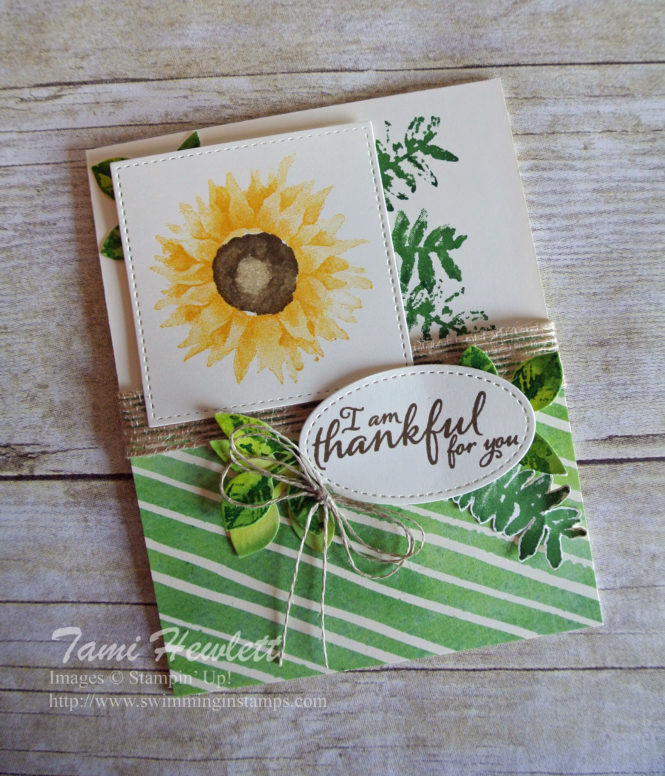 I created this card for "Brandon's Mom," who allowed my son to camp out on her sofa in the Bay Area since he graduated from CSU East Bay in mid-June.  Originally, my son and his friend Brandon were only going to stay at his mom's house for 3 weeks until they could rent their own place.  However, circumstances intervened!  My poor son got a quick lesson in the difficulty of finding rentals in the Bay Area, done deals being reneged, and the importance of establishing credit.  In addition, the two guys had to round up four other roommates to make rent!!!  Finally, they got a place and are moving in this weekend.  In the meantime, Brandon's Mom has been a saint, allowing my son to continue to stay at her house so he could keep his job.
Bottom line is that I needed to make a really nice thank you card!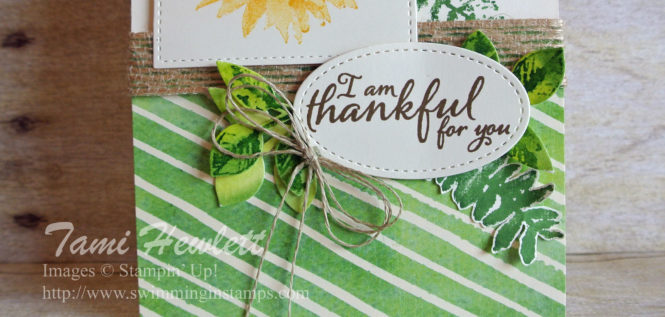 The bottom half of my card shows a little section of the gorgeous Painted Autumn Designer Series Paper.  I just love it!!!  The colors are beautiful and coordinate with the watercolor style stamps.
For the big sunflower on my card, I stamped with Daffodil Delight (full flower), Crushed Curry (detailed flower) and Soft Suede (center) on Shimmery White Paper.  Afterwards, I used my Aqua Painter filled with clear water to blend the petals and center for a more "watercolored" look.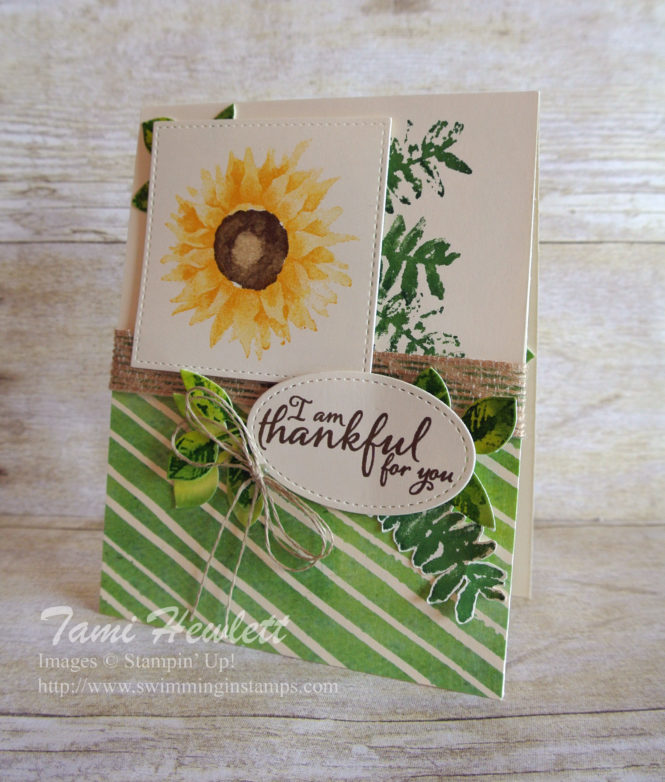 For the punched leaves, I inked up the stamp with Lemon Lime Twist ink, then I sponged Garden Green ink directly onto the stamp.  Prior to stamping, I used my Aqua Painter to add clear water to the stamp, and then I stamped it on Shimmery White Paper.  After the paper dried, I used the Leaf Punch to cut out the leaves.  This is a great technique for watercolor stamps.
For the fern looking stamps, I stamped them with Garden Green ink on the Shimmery White paper.  Unfortunately, there is no punch for that stamp, so I had to fussy cut, but it wasn't too bad.  I had a few extra leaves, so I used them for the inside of the card.  I really love the sentiments and font in this stamp set!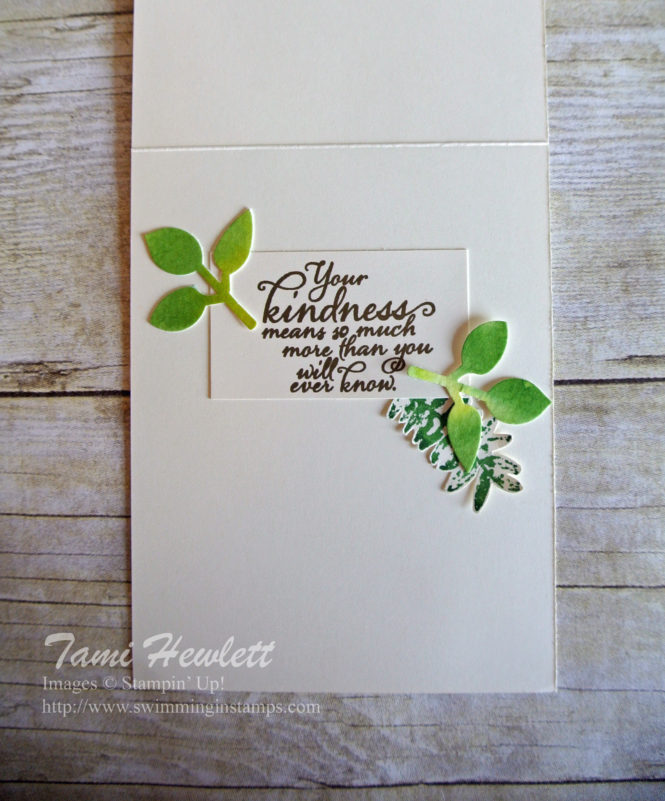 Supplied used on my card:
New Paper Pumpkin customers can get 50% off their first month. 
Sign up
before September 10th and use the promo code below to qualify.  After the first month, the subscription price reverts to the normal monthly price of $20 plus tax (includes shipping!)  See the
Paper Pumpkin tab
on my blog for more details about Paper Pumpkin and the perks you can get by signing up with me as your demonstrator.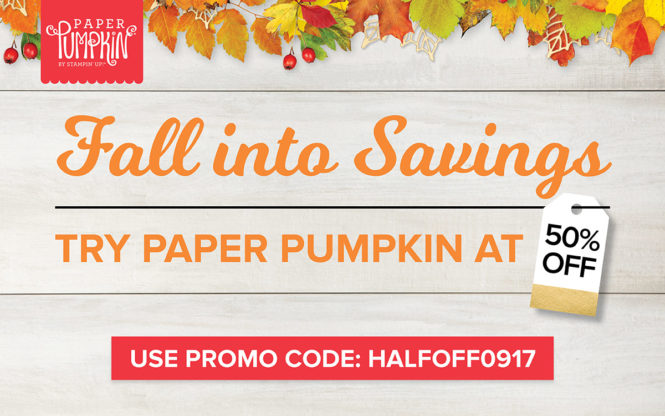 Remember to redeem your Bonus Days coupons before August 31st!!!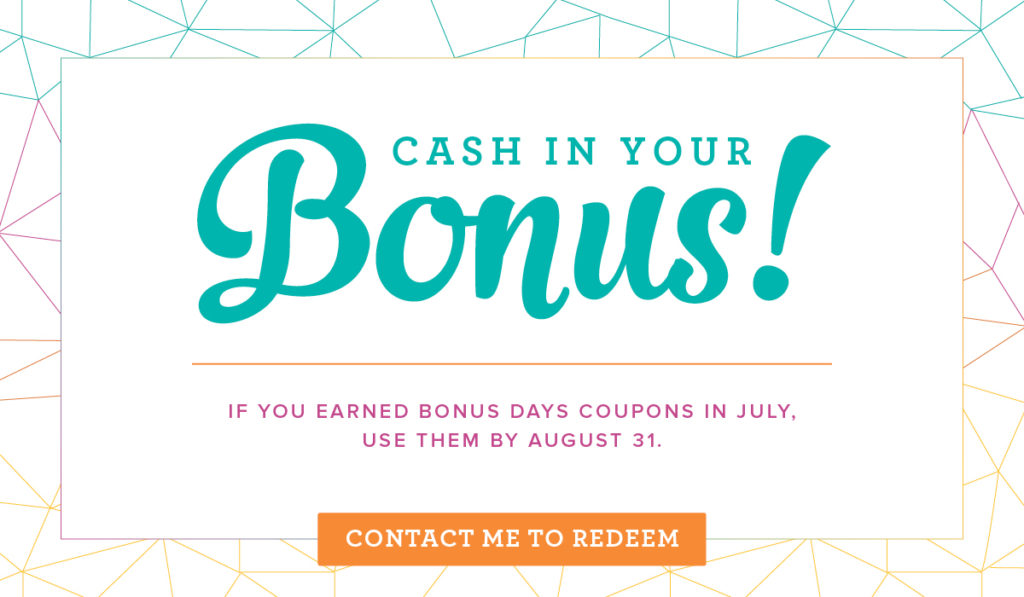 Have a wonderful and creative day!