My mom visited last weekend, and when we get together, we love to craft!  So not only was she able to attend one of my stamp workshops, but the next day, we had fun stamping and experimenting with new techniques!
The card I'm sharing today includes two stamping techniques: 1) the background involves something new that I've never tried before, and 2) then I watercolored the flower and stitched circle, so it's a good opportunity for me to continue with my watercoloring tutorials.
For the background, I tried a technique I read about on Stampin' Up!'s blog (Article by Shannon Lane – 2017 Artesian Design Team).  It involves using the new Glossy Paper and is super easy, and the best thing is that you end up with two background pieces for two projects.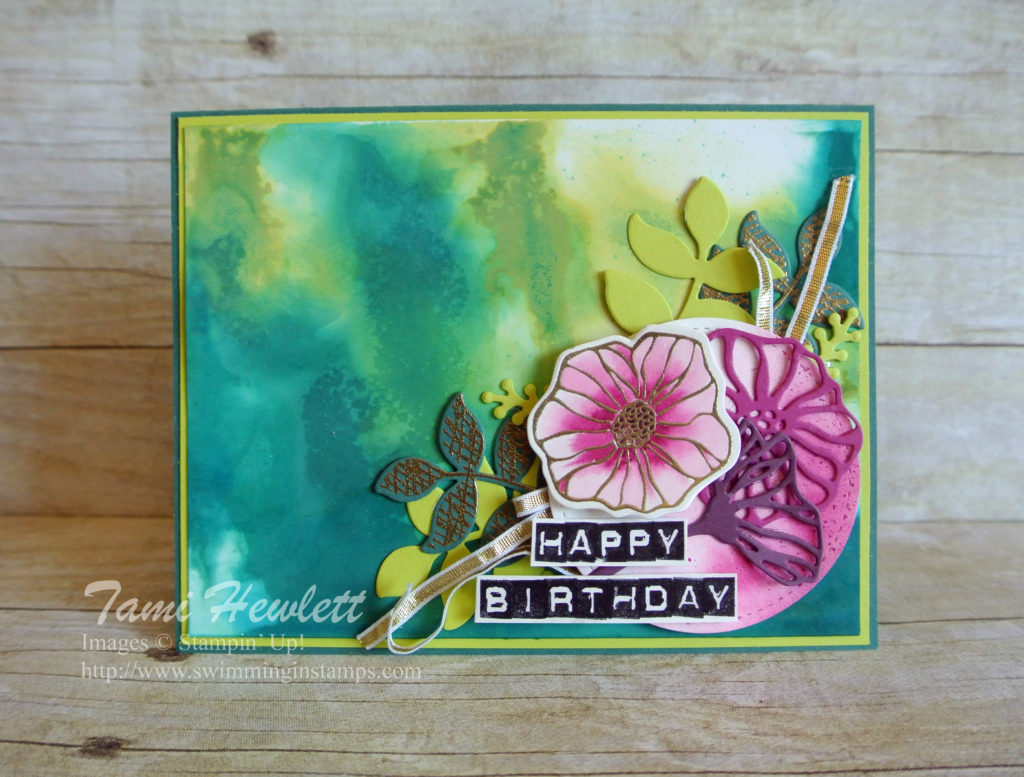 You can read the instructions at the link above, but I'll repeat them here.  First, I cut two pieces of glossy cardstock measuring 4″ x 5-1/4″.  Next, I selected two colors of re-inkers (Lemon Lime Twist and Tranquil Tide) and filled a Stampin' Spritzer with isopropyl alcohol (91%).
On one piece of glossy paper, I spritzed the entire sheet with alcohol until it was very wet.  Then, I used re-inkers to add 10 drops total of both colors over random parts of the paper.  Next, I spritzed the paper with alcohol again, and lifted the paper to let some of the drops drip and spread.  Finally, I took the second piece of clean glossy paper and with the glossy side down, pressed the paper on top of the first.  When I lifted the paper, here's what I got!  It's a little messy, but wow is it pretty!!!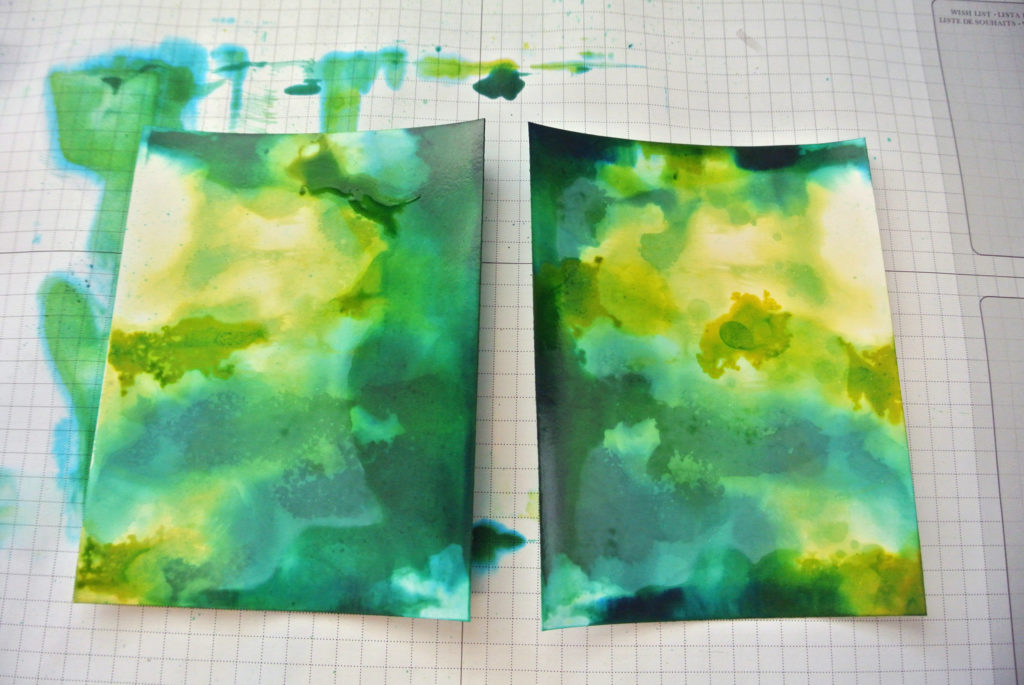 My mom used Melon Mambo and Tangerine Tango re-inkers.  I love this color combination!!!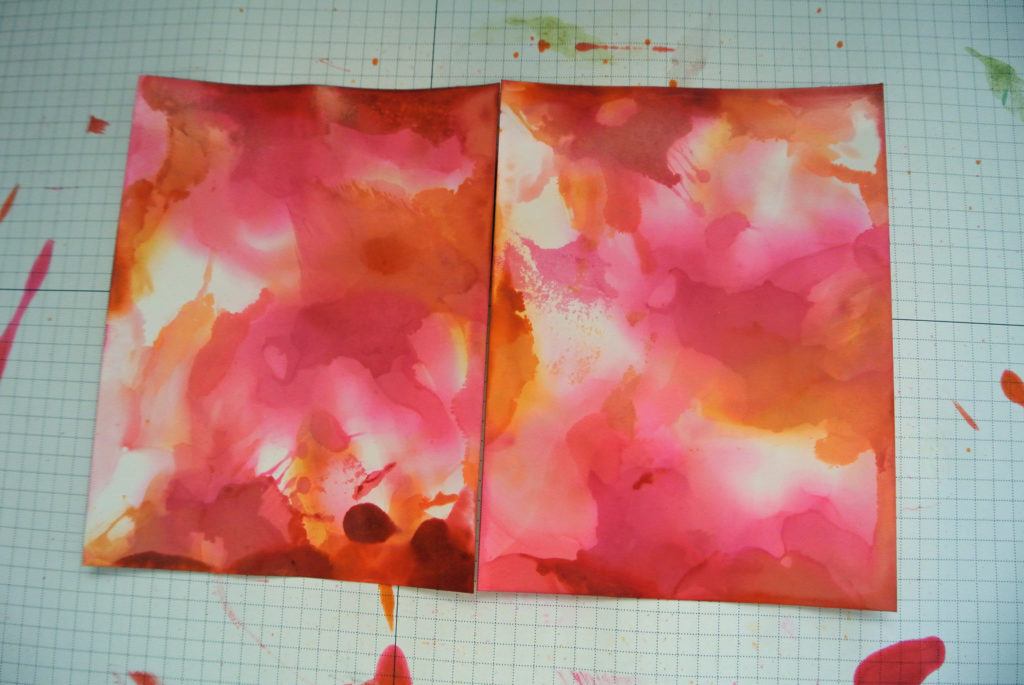 While the background paper was drying, I worked on the rest of my card.  I used the new Oh So Eclectic stamp set and Eclectic Layers Thinlits Dies.  (You can purchase them in a bundle for 10% off.)  I cut several pieces out using the new 2017-2019 In-Colors.  Did you know that you can purchase an cardstock assortment pack of all five In-Colors?  It's a great way to get your hand on all of them, without having to spend too much.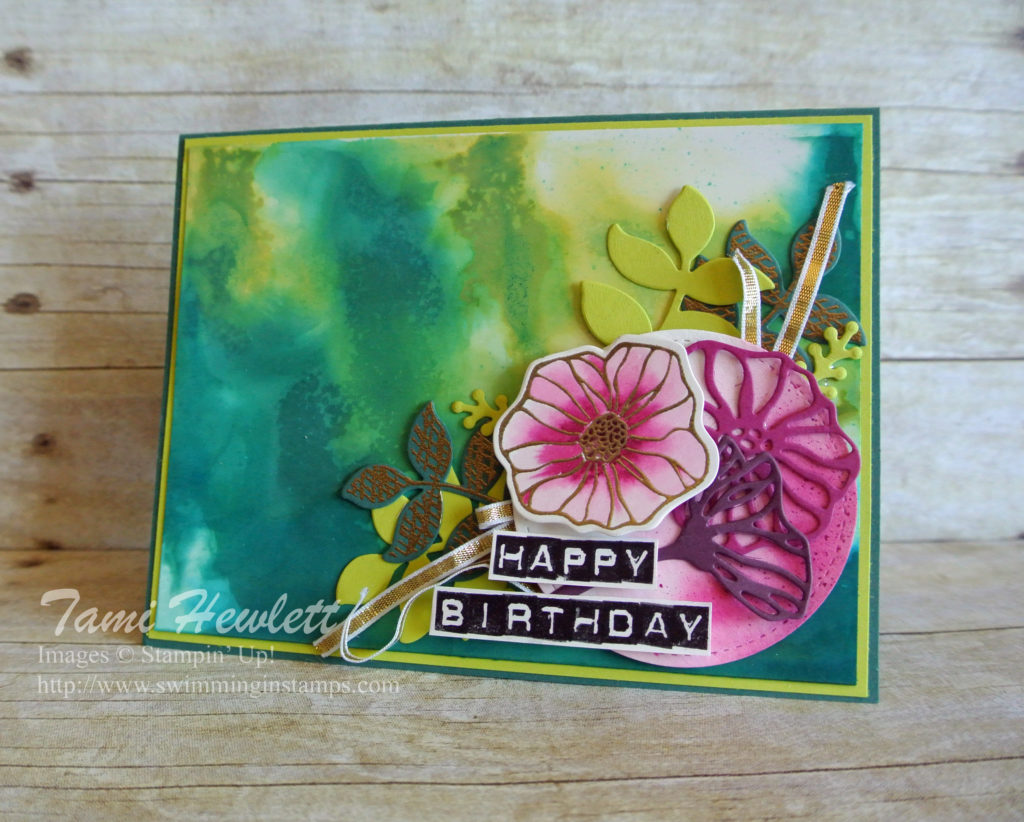 For some of the leaves and one flower, I embossed the images in gold.  Watercoloring embossed images is super easy!  The embossing provides a little dam for your water, making it easy to contain the watercoloring and stay in the lines.  I stamped with Versamark ink and embossed in gold on Shimmery White Paper.  Shimmery White works very well for watercoloring.
To watercolor the flower, I squeezed my Berry Burst stamp pad to pool ink in the lid and used an Aqua Painter.  I painted the petals one at a time.  First, I painted the area with clear water, then I dipped my Aqua Painter in the ink and added color in the center and allowed the color to bleed towards the tip naturally.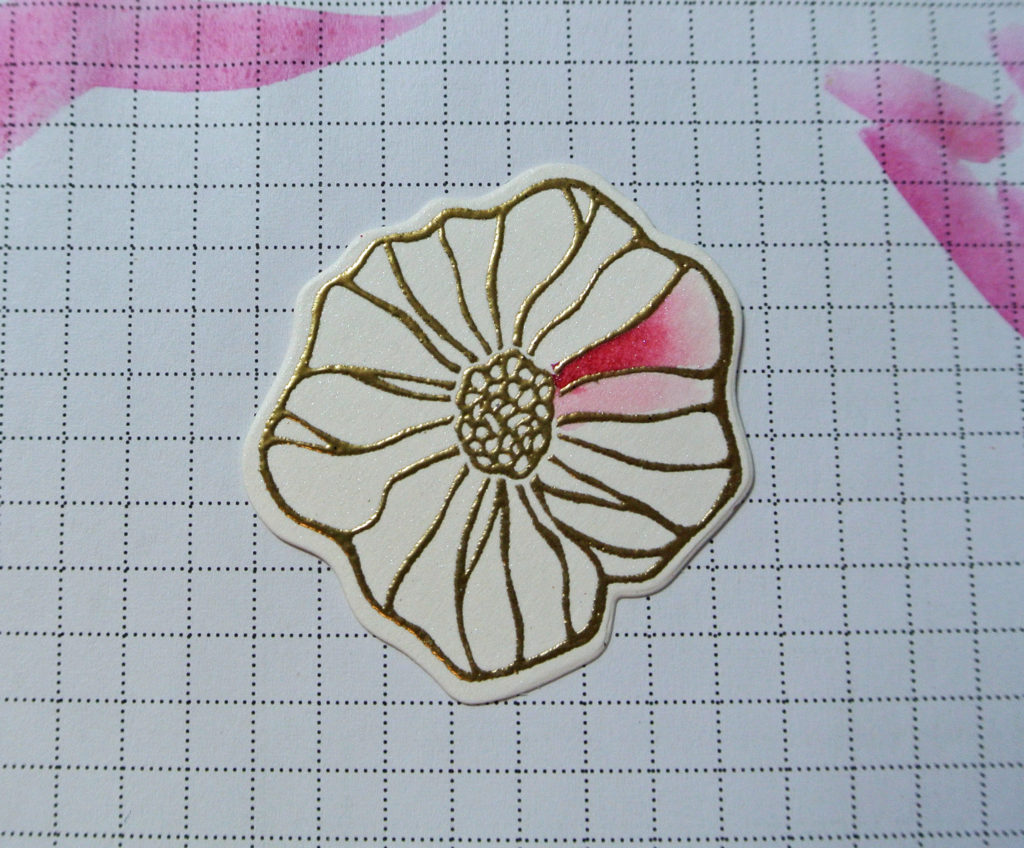 If I wanted more contrast, I dipped my Aqua Painter in more concentrated ink and added the color to the center again.  In between each petal, I squeezed my Aqua Painter to force water through the brush and clean out the ink.  You can also see that I used my Grid Paper to brush off the color and control the amount of water and color I was adding.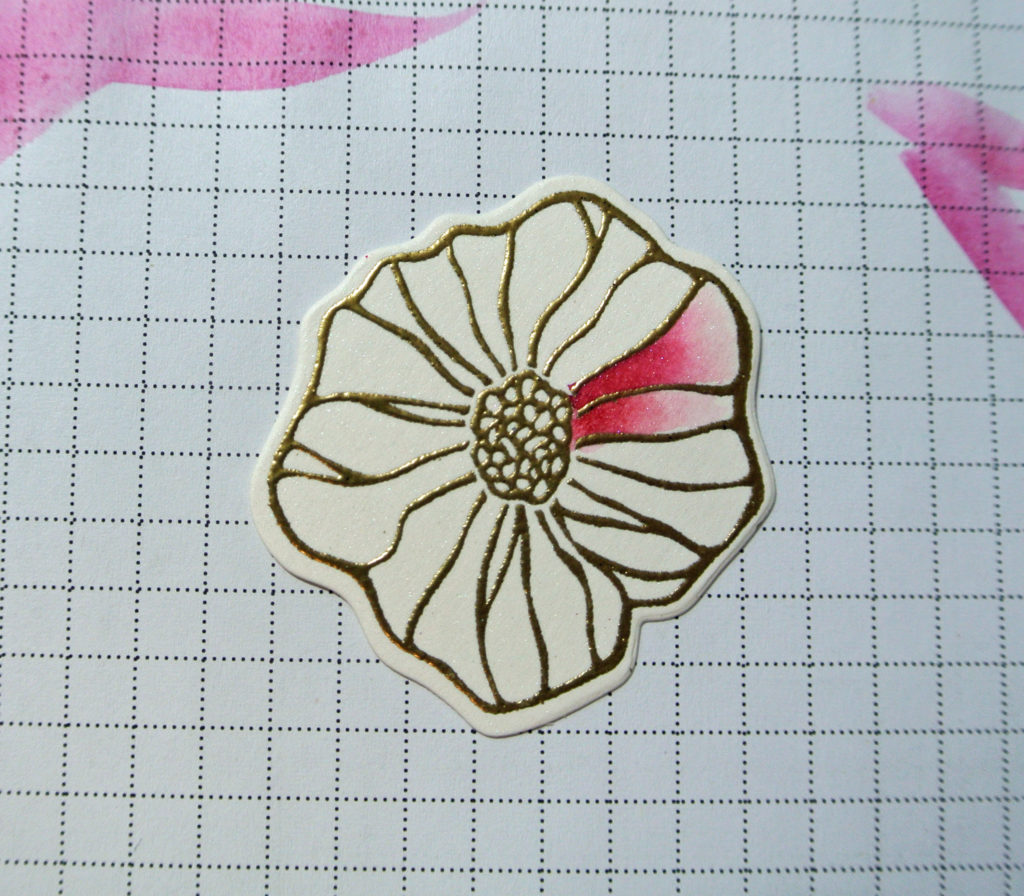 I continued to add color to each petal in the same manner.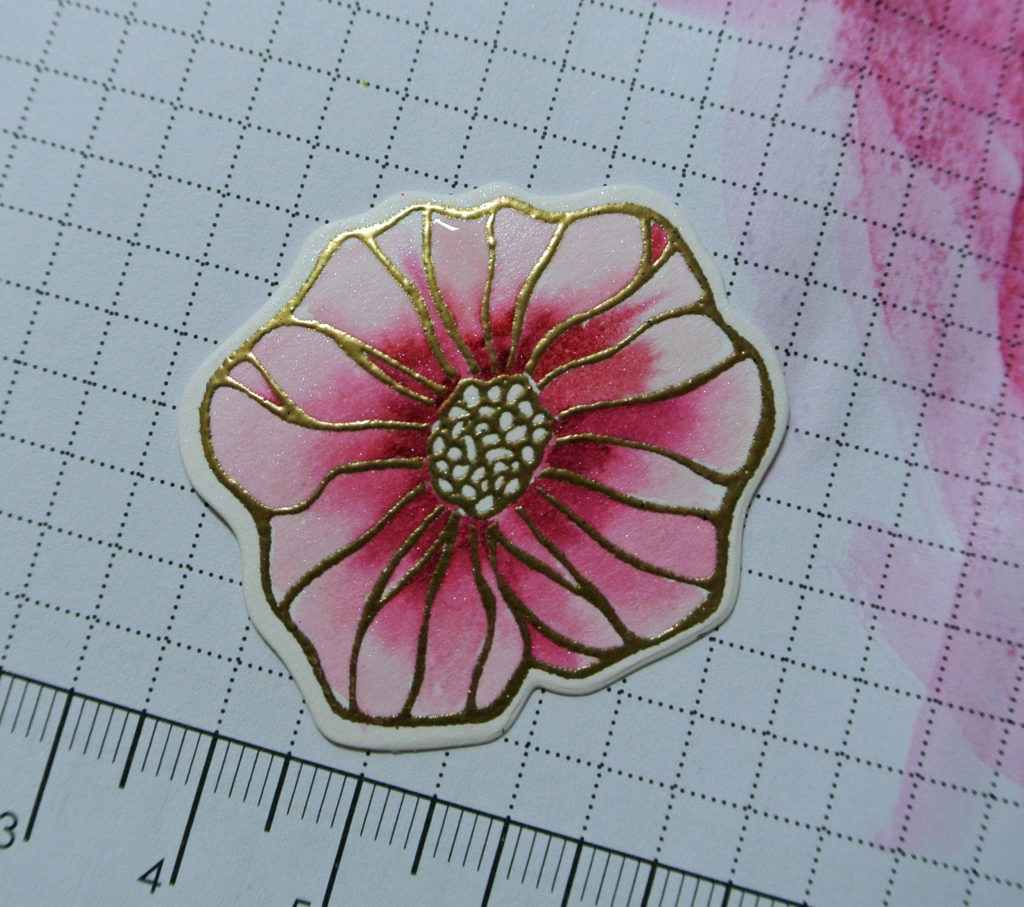 Then, I used Fresh Fig ink to paint the center.  I colored the whole area with a light wash, then added more concentrated ink towards the bottom.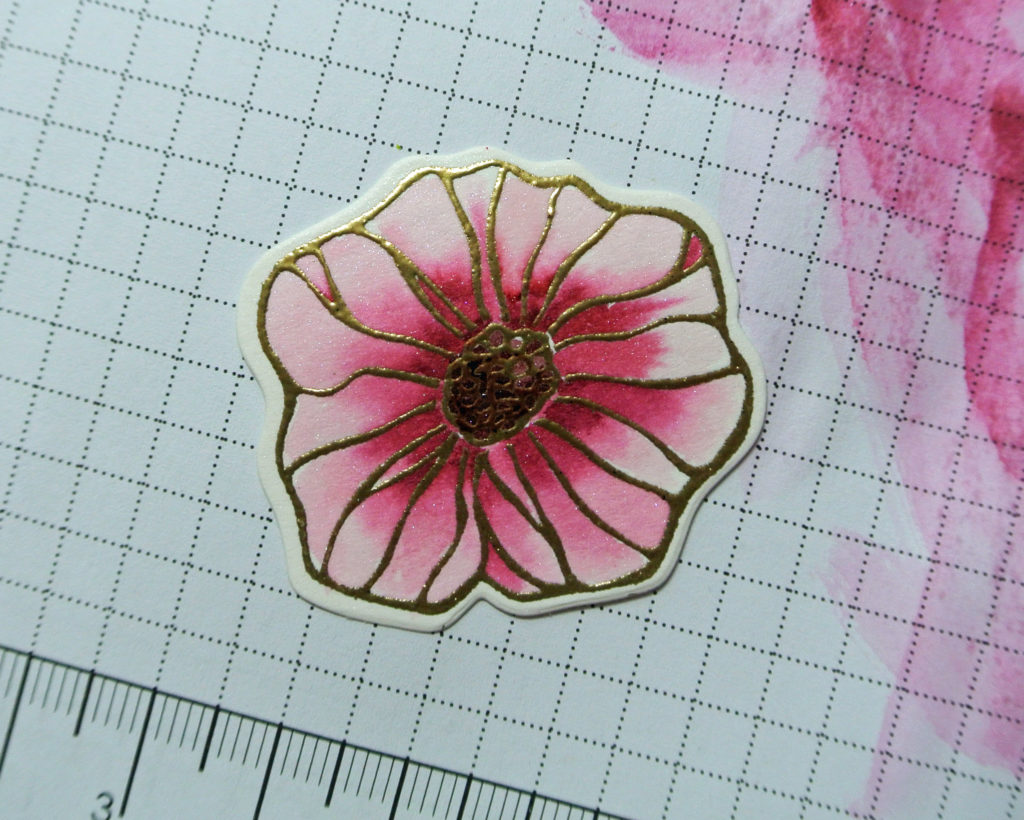 I also cut out a Stitched Shape Framelit circle from Shimmery White Paper.  To paint it, I first covered the entire circle with clear water.  Then, I used my Aqua Painter to add drops of Berry Burst and let the ink bleed.  Depending on the amount of water that's mixed with the ink, you can control the vibrancy of the ink drops.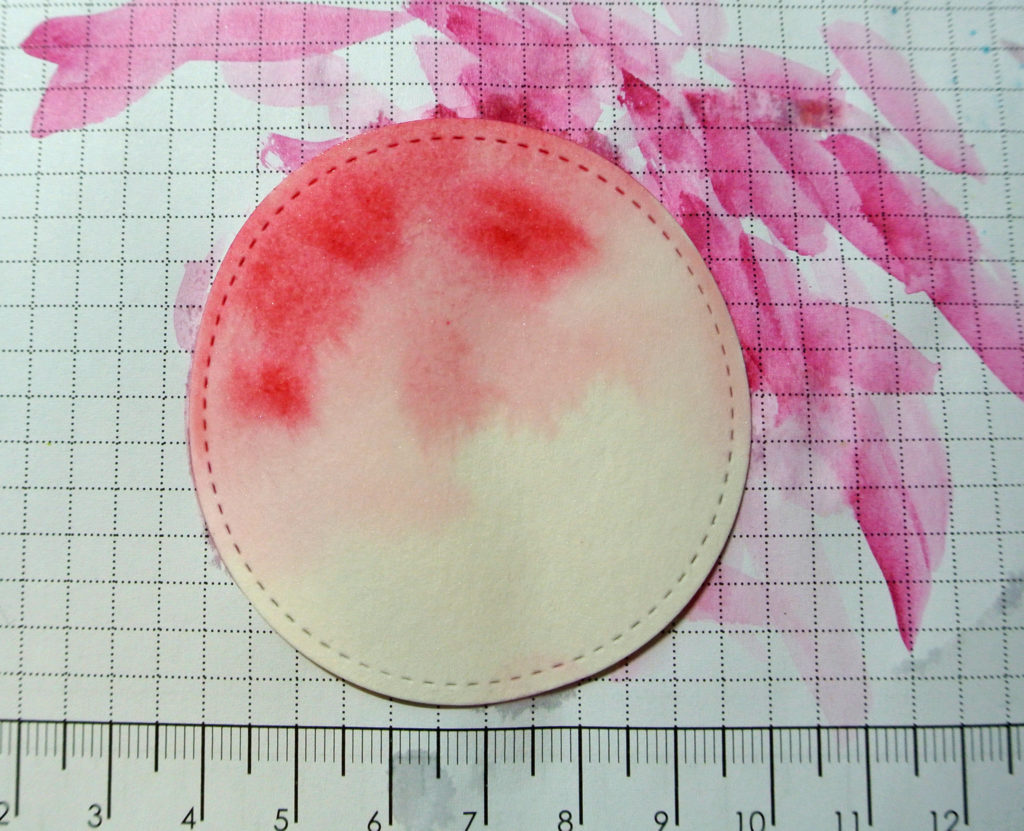 I laid out all the die cut pieces to determine placement and decided I wanted to add a little more gold.  So, I cut some 1/8″ Gold Ribbon and crinkled it up by damping my hands and rolling the ribbon.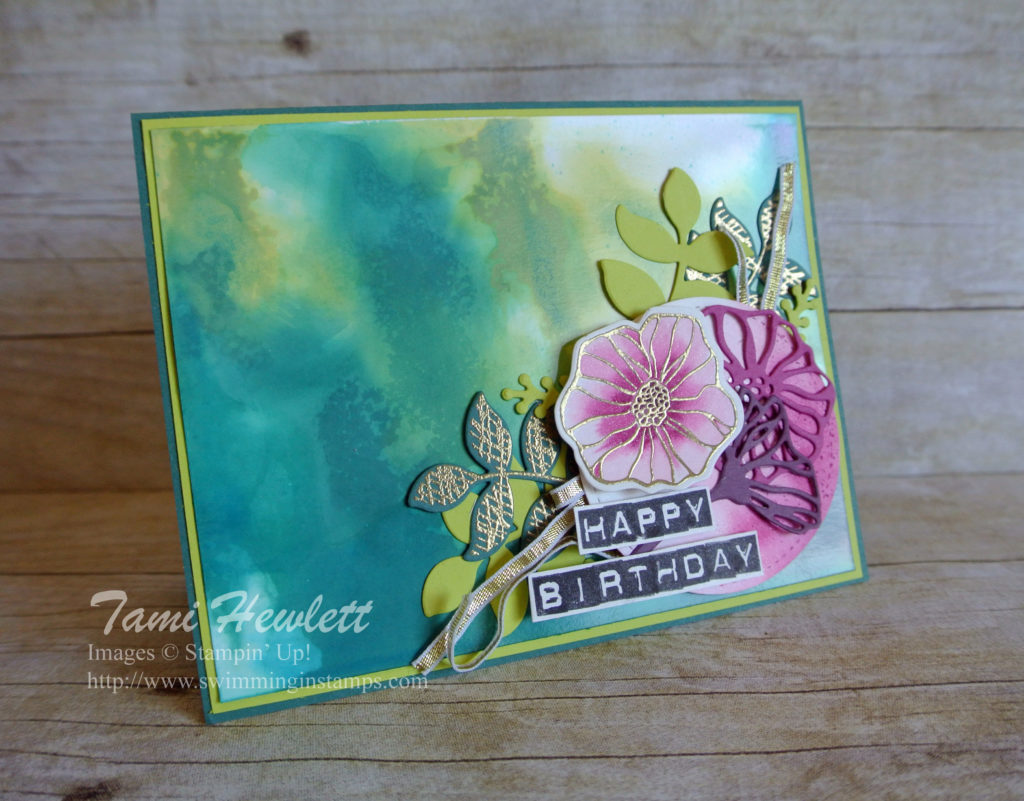 For the greeting, I used the Labeler Alphabet stamp set to stamp Happy Birthday in black on Shimmery White Paper.  I like to overlap the stamps to make the word appear solid.  However, inevitably I make a mistake every time and a little white will show between the letters.  Tip:  Just use a Basic Black Stampin' Write Marker to fill in the spaces!  No one will ever know:)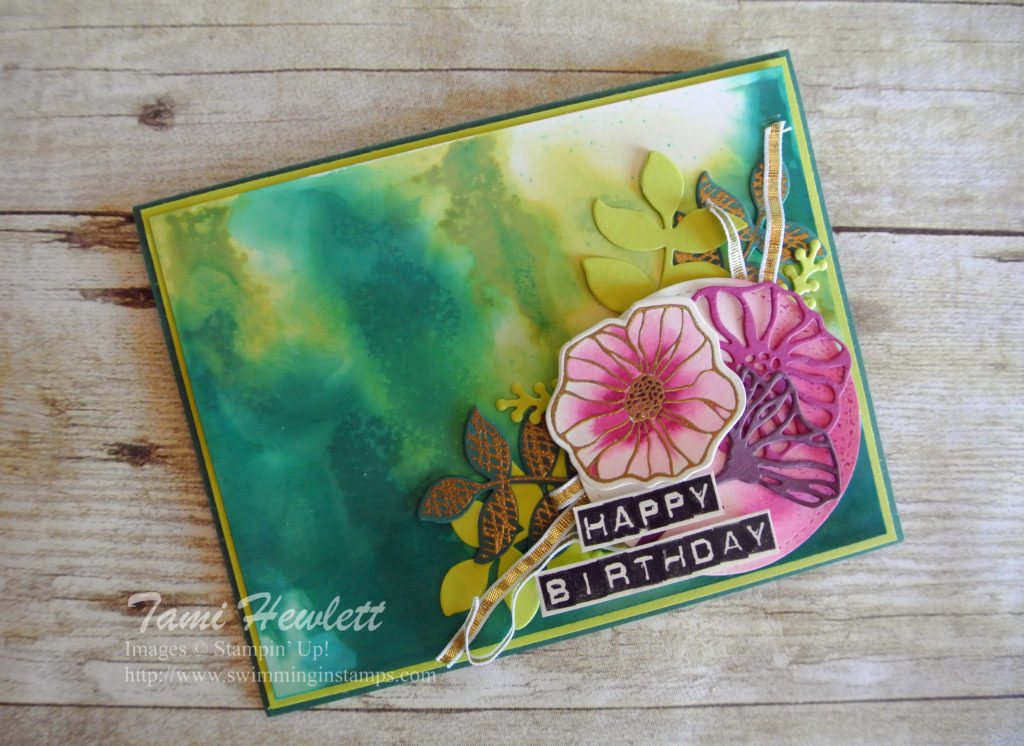 Supplies used on my card:
Have a wonderful and creative day!