We have lots of July birthdays in my family!  Yesterday was my Sister-In-Law Laurel's birthday, and I know she reads my blog, so I had to be careful not to publish her card before she actually received it.  Her husband arranged a super fun "Girl's Night Out" surprise party for her last night.  I even sent her a decoy birthday card in the mail so she wouldn't suspect.  Hee, hee …
Laurel and her husband just got back from a big trip to Italy, so I thought a card using the Mediterranean Moments stamp set would be perfect for her.  (Plus, I really wanted an opportunity to color this image!!!)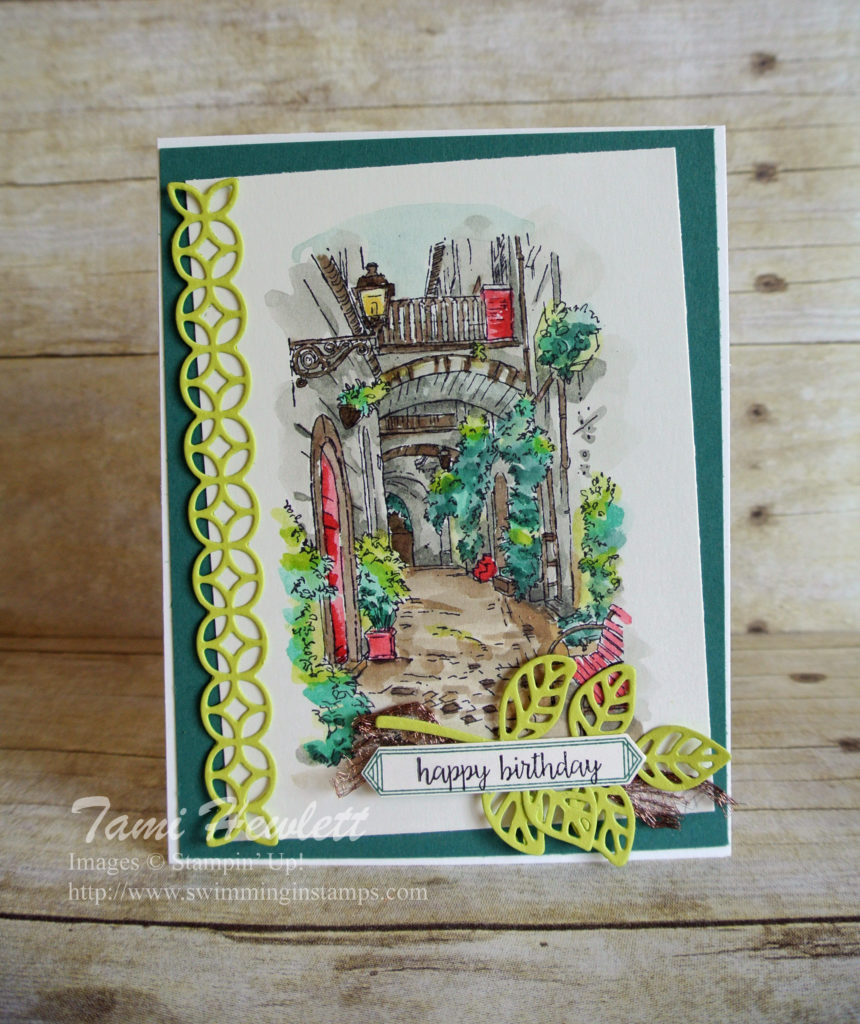 Last week, I told you the story of buying a "how-to" watercoloring book from one of my favorite artists, Lady Jill Mueller.  Well, here was another opportunity for me to test my new found "skills."
To start out, I stamped the image with Basic Black Archival ink on Shimmery White paper.  Shimmery White paper is nice and smooth, so it's perfect for images like this one with lots of detail.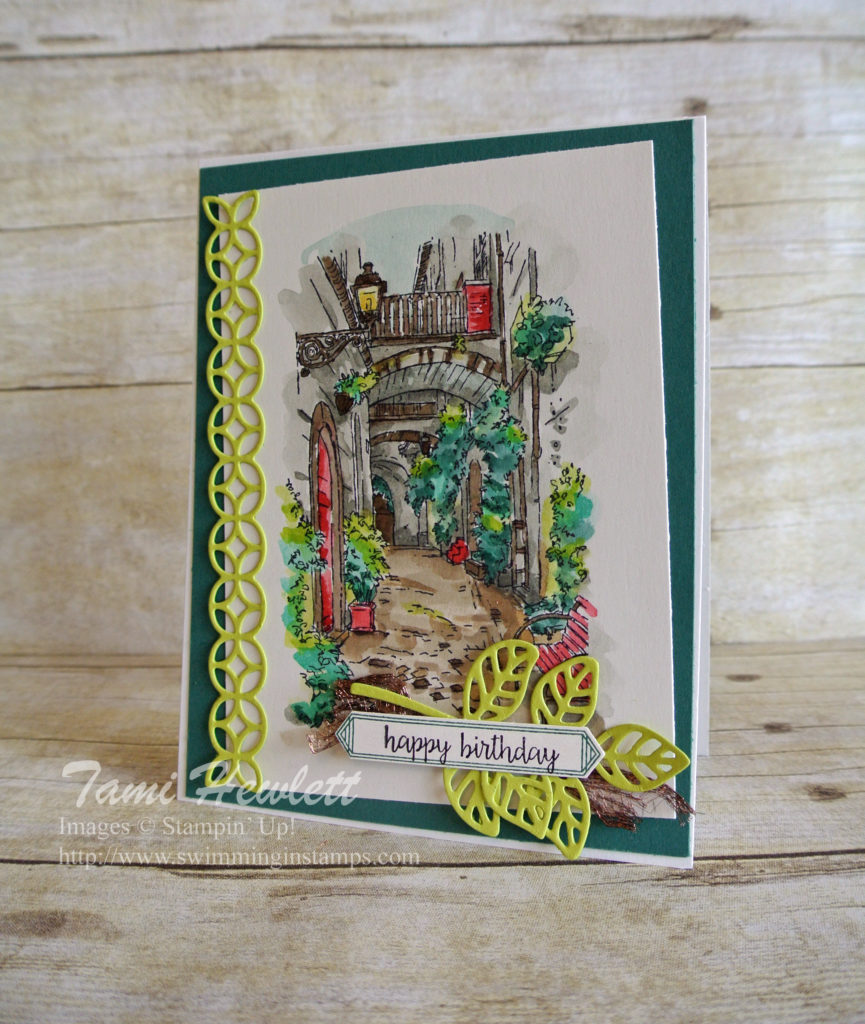 For the watercoloring, I used lots of different ink colors.  (See list below.)  I squeezed my pads to pool ink in the lids and then used an Aqua Painter dipped in the ink to watercolor.  I painted small sections at a time, starting with light, quick washes, and then adding brush strokes of darker layers.  Sometimes, I used multiple colors to highlight and shadow (plants) and other times, I used darker variations of the same color (building and cobblestones.)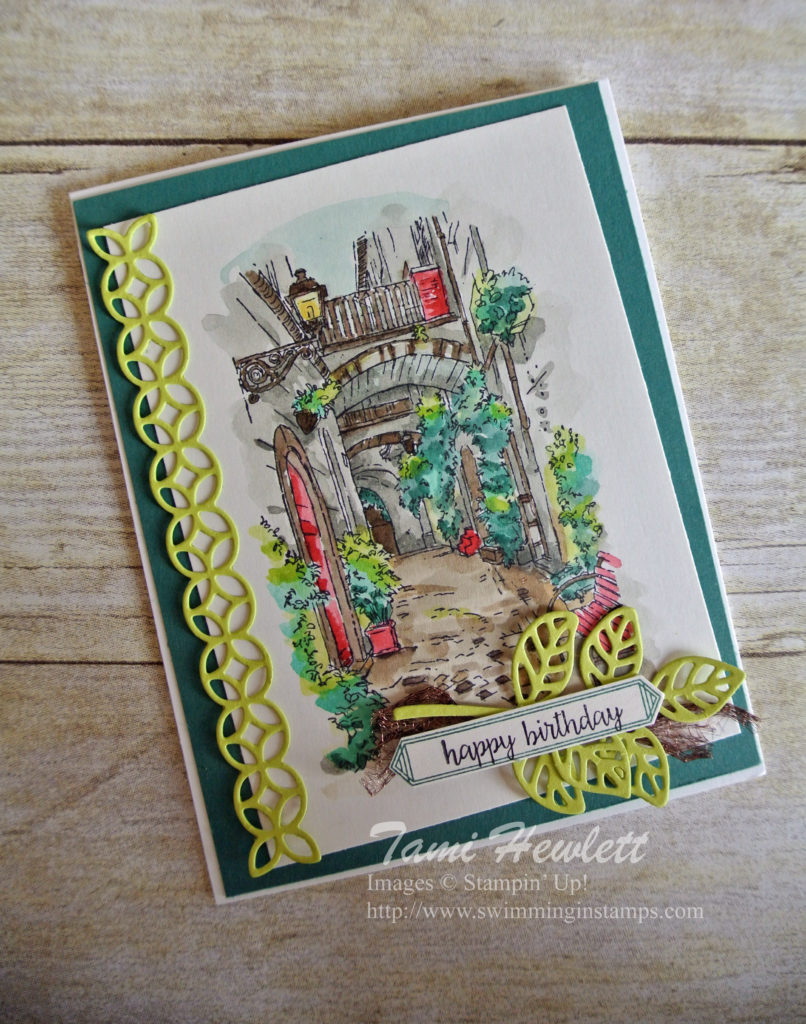 To finish the card, I used some Flourish Thinlits Dies to emphasize the Lemon Lime Twist color in the plants.  I also used some Happy Birthday Gorgeous stamps for the sentiment and then cut it out with the coordinating Classic Label Punch.  Lastly, I couldn't resist adding some of my favorite 1/4″ Copper Trim.  I love, love, love that trim!!!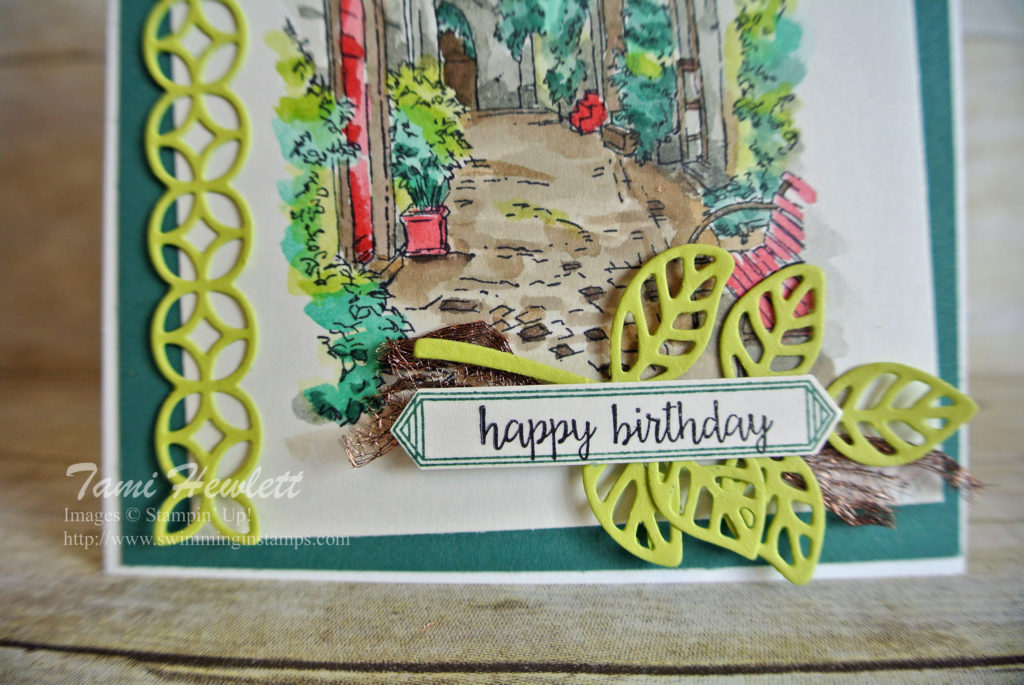 Supplies used on my card:
It's almost the end of July and that means the end of Bonus Days!!!

For every $50 you spend in July, you earn a $5 coupon  that you can redeem in August.  There is no limit!  Coupon codes are emailed to you automatically.  (You must have an email.)  Be sure to keep your coupon codes in a safe place, as they cannot be recovered.  Write them down and store them in your email.  Then, have fun spending them during the month of August!
Have a wonderful weekend!  Hope you get a chance to do something creative.