Today, I have a really special card to share with you.  When I first saw the Magical Mermaid stamp set, I fell in love and knew I had to have it.  It's perfect for my daughter.  (I'll explain why below.)  I really didn't have a specific reason for making this card, other than it just suits her.  She is leaving to go back to college in a couple weeks, so I gave it to her for encouragement (and love.)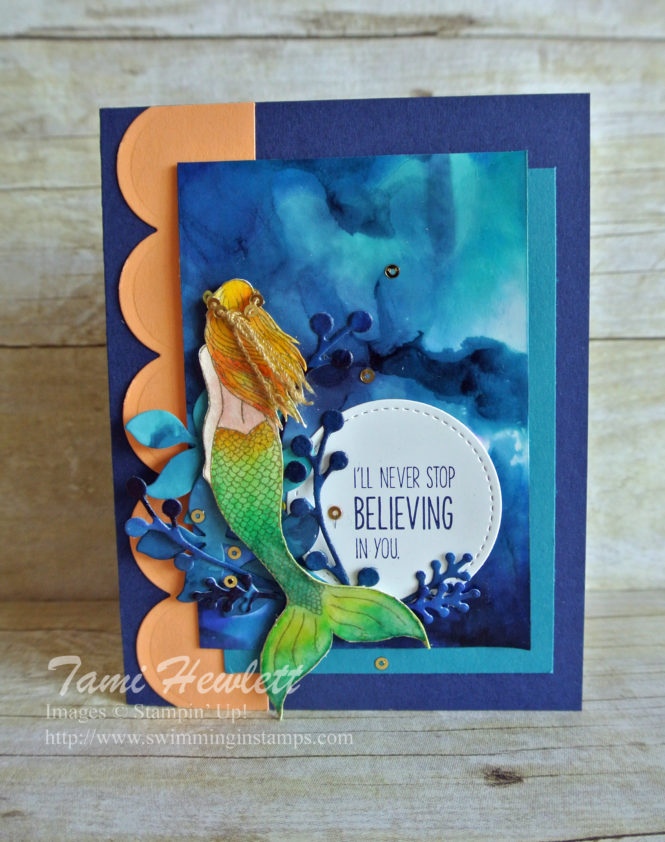 Typically, I put a decent amount of effort into most of the cards I make, but for this one … I really upped the anti.   So, I apologize in advance because I used way too many different products, die cuts, and ink colors.  But, it just worked out that way.
Story of the Orange Mermaid:
First, I have to give you a little back story.  In 2012, my husband and I took my daughter to Maui on vacation during her Fall break.  (My son had just started college, so he stayed home and was otherwise preoccupied.)  One day we went on an excursion to the Molokini Crater to go snorkeling, something we'd all wanted to do for a long time.  We lucked out and chose a time when it wasn't busy and a day when the weather was gorgeous and visibility was clear.
If you've never been to the Molokini Crater, it's situated a ways offshore and is only accessible by boat.  It has a rapid drop off and is teaming with tons of fish and beautiful coral.  My daughter was wearing her brand new Hawaiian print, orange rash guard and matching orange bikini.
Like her swim mama, my daughter was a competitive swimmer when she was young (until she gave it up for dance!  Smile.)  So she's super comfortable in the water, and loves diving down deep to get a close-up view of the sights.  For some reason, instead of using a scissor kick,  she used a dolphin kick that day.  I don't know why exactly, she was just having fun.  But, she made quite a sight with her waist-length, flowing blond hair and long diving fins.  Later, when we returned to the boat, a gentleman walked up to us and asked, "Did anyone see that orange mermaid?"
I wish I had a picture of her in that orange rash guard, but unfortunately I don't.  It's only in our memories.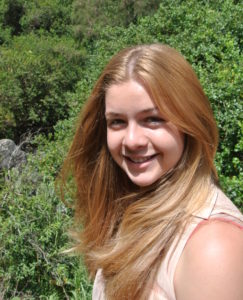 So now you understand why the Magical Mermaid stamp set reached out and grabbed me!
I used several techniques on my card.  First, I stamped the mermaid with Versamark ink on watercolor paper and embossed it in gold.  Then, I used an Aqua Painter to watercolor her.  For the hair, I used Crushed Curry, Peekaboo Peach, and Cajun Craze ink.  Then, I use Blushing Bride on the body.  And for the tail, I used Peekaboo Peach, Lemon Lime Twist, Emerald Envy, and Tranquil Tide ink.   When she was dry, I cut her out by hand.
Update:  I forgot to explain how I added the shine to the mermaid!  After I cut her out, I used a Fine Tip Glue Pen to "paint" glue onto the tail and hair.  I just set her aside and let the glue air dry.  I had to do it twice to get the shine I wanted.
To embellish her hair, I attached some Gold Mini Sequins with glue dots and then pulled off several of the sequins on the ends so only the string was left.  Then, I tied a knot with the strings.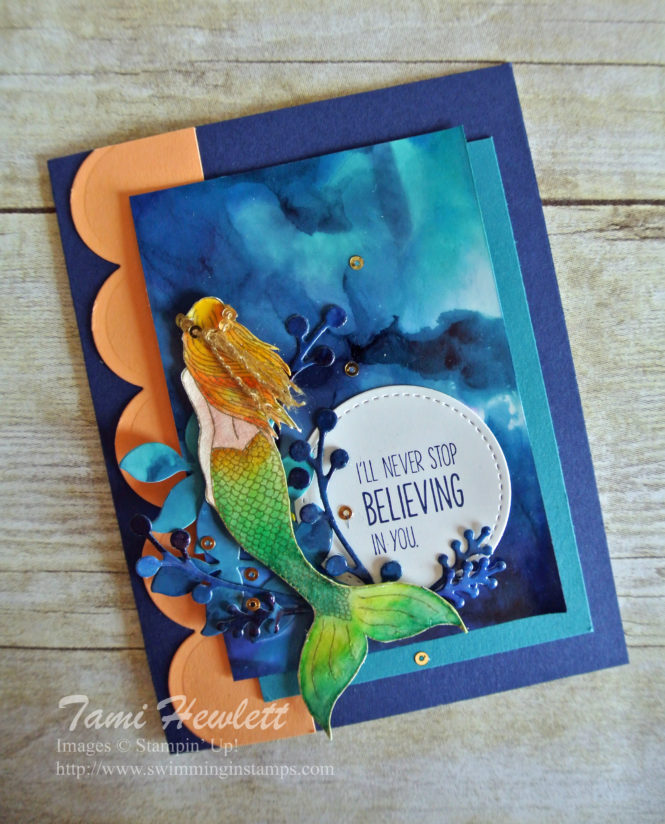 For the ocean background, I used the Faux Watercolor technique explained by Shannon Lane.  She does a great job explaining the technique, so I'm not going to repeat it here.  I used the following reinkers for this technique:  Night of Navy, Dapper Denim, Island Indigo, and Bermuda Bay.  When you use this technique, you end up with two card sized pieces of watercolored glossy paper.  I used one for my card front, and I used the other to cut out die pieces to show behind the mermaid.
I used both the Flourish Thinlits and Eclectic Layers Thinlits to cut out the dies behind the mermaid.  I tried to use sections of my watercolored glossy paper that were either really dark or really light, so they would contrast with the background.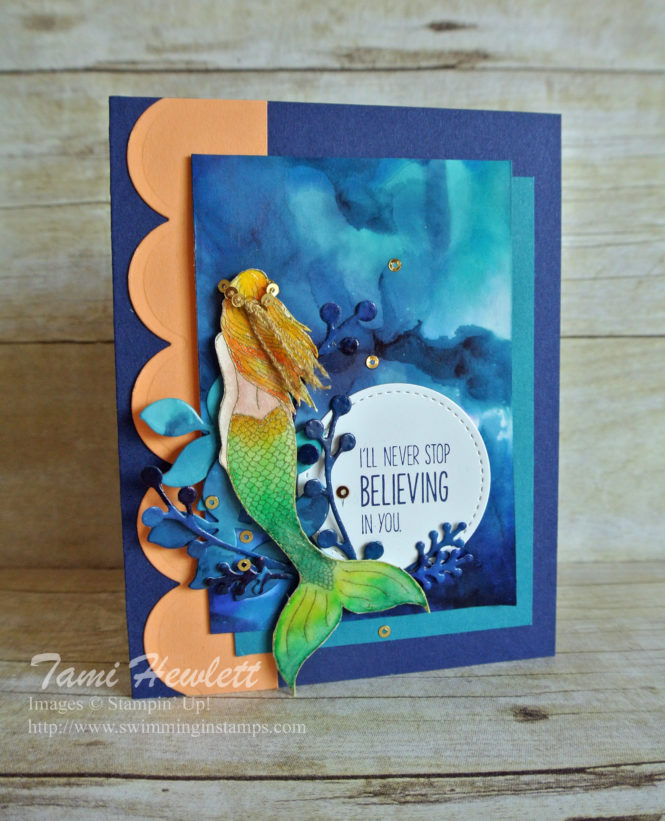 I played around a lot with the layers and colors until I was happy.  I occurred to me that orange is a contrasting color to blue on the color wheel.  Therefore, the two colors made a bold combination and give the card a playful, bright, and happy tone.
I used the scallop die from Seasonal Layers to cut the Peekaboo Peach strip.  Then, I layered some Island Indigo cardstock and a Night of Navy card base behind the watercolor background to break up the busy colors.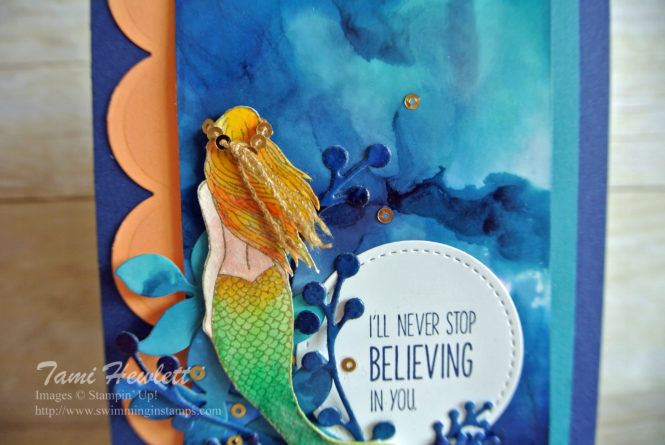 Finally, I worked on the greeting!  Whew!!!  This was a labor of love.  The sentiment comes from the Magical Mermaid set and is perfect for my daughter.  She's at an important cross-road in her life, where she's going to college and figuring out what she wants to do with her life.  It can be scary, and I want her to know that I'll always be there for her.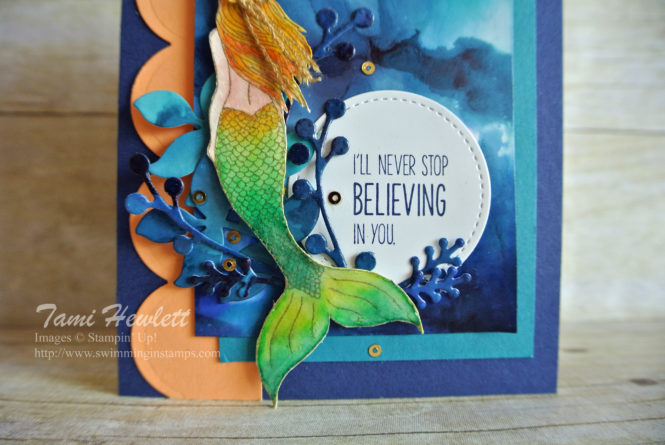 Supplies used on my card:
Have a wonderful and create day!