The new Stampin' Blends markers are so fun to use!!!  But be warned, they are seriously addicting!  Once I got mine, I immediately started looking over all my stamp sets to figure out which ones I could color.  Then I remembered!!!  I had the Just Add Color Specialty Designer Series Paper!  This paper is PERFECT for coloring with the new markers.  And what's even better is that the paper comes with numerous designs to fit any occasion.
Today, I created a little Christmas scene with some of the Just Add Color houses.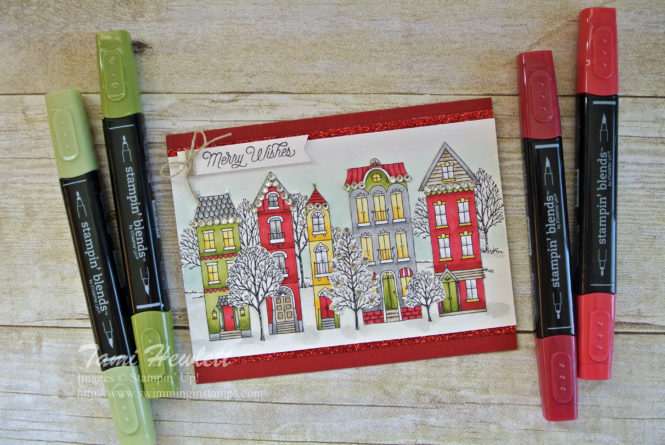 Coloring with Stampin' Blends takes a little time, but if you ask me, it's very therapeutic and relaxing.  Each "color" comes with two markers, a light and dark.  If you've never used alcohol based markers before, I highly recommend going to Stampin' Up!'s YouTube channel and watching the videos  Here's a link to the first one.  They have great instructions and tips!
Here are a few of my own tips:
I prefer starting with the darker color and then adding the lighter color over it.
For best results, color small sections at a time.
Reactivate the dark color by coloring over it with the lighter marker.
The colors continue to blend as they dry … watch the magic!
Sneak up on edges, as the markers are made to blend so the ink will expand out a little
Definitely, buy a Color Lifter pen.  You can use it to take away color to "add light highlights" and get rid of mistakes.
The Color Lifter is really more like a color mover.  It will move the color away from the marker.
Try not only blending the dark and light colors, but also different colors together!
Have fun!!!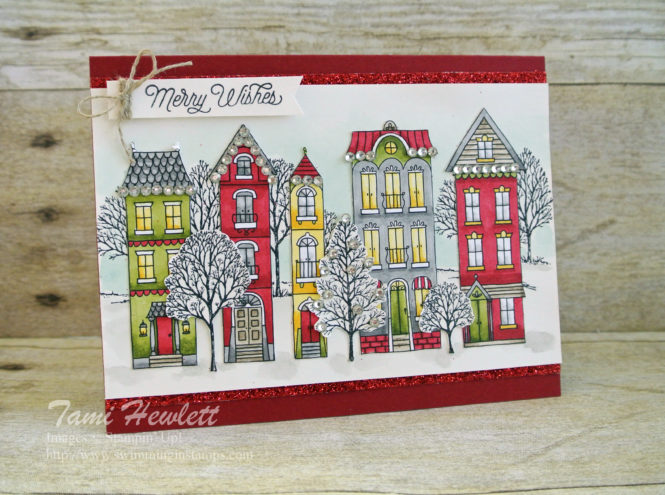 For my background, I used one of my very first (and oldest) stamp sets, Lovely As A Tree.  I looked at the label and it's from 2001!!!  I stamped it a couple times in the background, and then again on scrap paper, so I could cut out some of the trees and \place them in front of my houses.
I stamped the trees with Basic Black Archival ink on Shimmery White paper so I could give the paper a very light watercolor wash using Pool Party and Smoky Slate ink.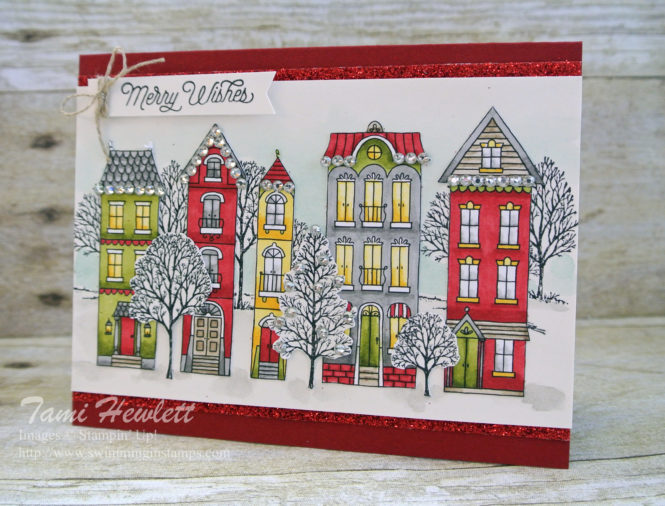 To emphasize the houses (and all my hard work coloring), I kept the colors in the background and trees very light and neutral.
I love adding glimmer and sparkle to holiday cards!  I love the little touch of Red Glimmer Paper on this card.  Then, to really make the houses and tree look like the holidays, I added lots of rhinestones!!!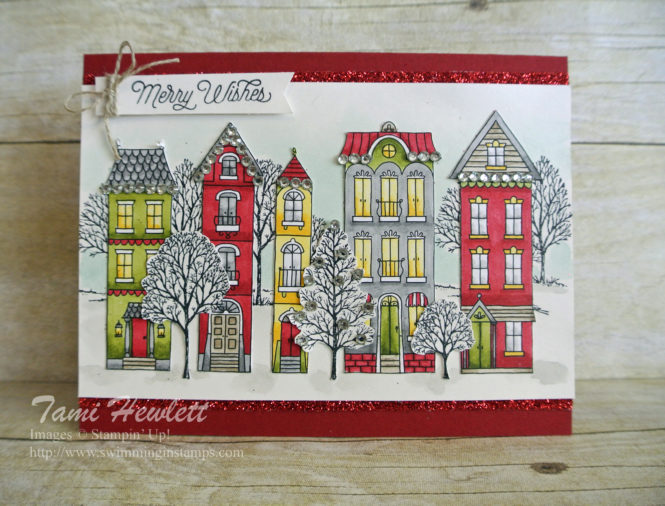 Supplies used on my card:
I had too much fun coloring last weekend.  I have one more card to share that I'll post later this week!
Happy creating!!!