It's Paper Pumpkin time!  July's kit is called Positively Picturesque.  This kit is so much fun for so many reasons.  It features several 2017-2019 In-Colors (Lemon Lime Twist, Tranquil Tide, and Powder Pink), it has cute pre-watercolored card bases, and it has darling wood elements and words!!!
Here's a picture of all the contents, except the stamps and ink spots (shown below.)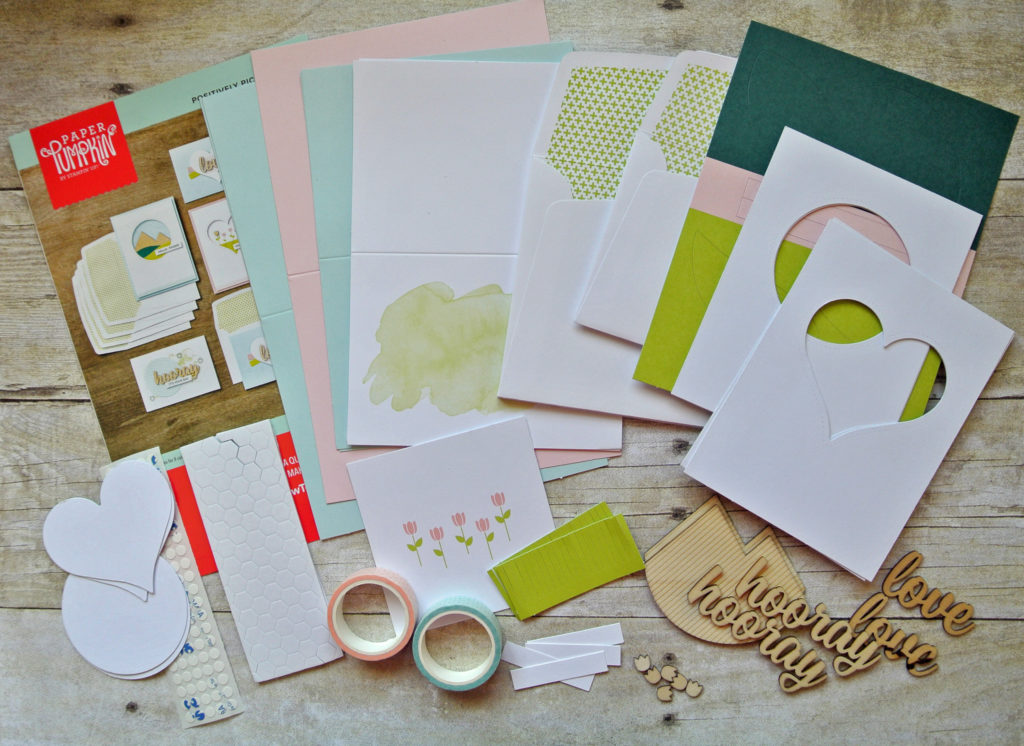 The kit also includes two Stampin' Spot ink pads in Tranquil Tide and Soft Sky and these darling photopolymer stamps.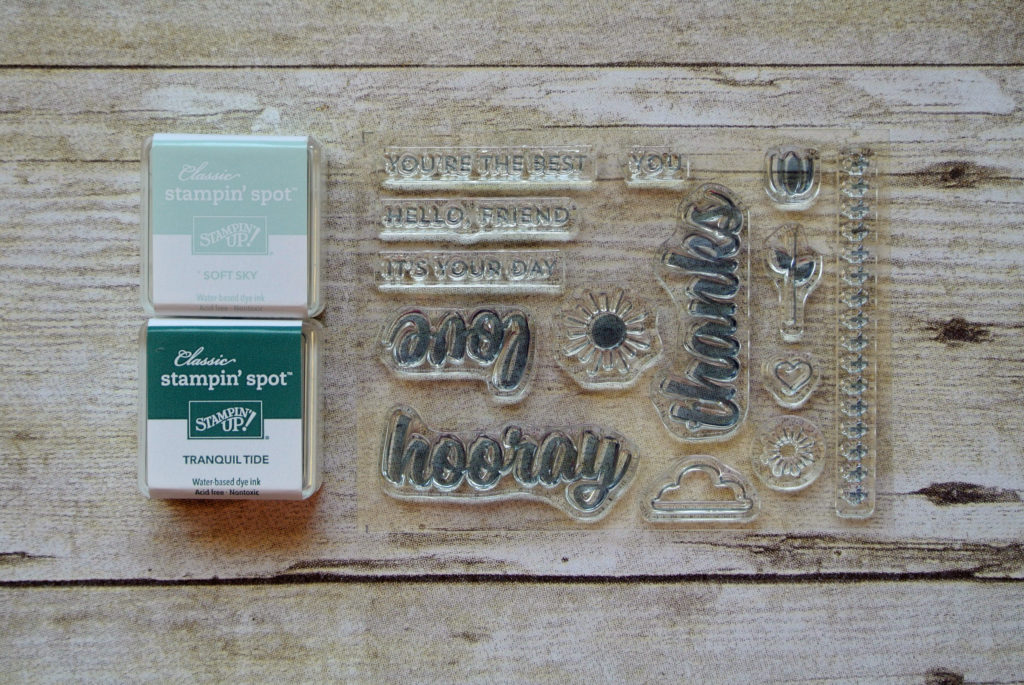 If you are new to Paper Pumpkin, they are fun project kits you can subscribe to receive in the mail once a month.  The kits include everything you need to complete the standard projects, except Snail adhesive and Paper Snips.  They only cost $20.00 a month, and I think they are well worth it.  Look at all the supplies you get!!!  For more details, see the Paper Pumpkin tab on my blog.  To subscribe, click HERE.
Plus, when you subscribe with me as your demonstrator, you get an extra perk!!!  I am part of a group of demonstrators that get together every month to design a PDF of exclusive tutorials for alternative projects (at least eight) you can make with the kit and a few extra supplies.  The projects are super creative and different, and you won't find any of them on social media!!!  I will email them to you each month for free as a thank you for being my subscriber.
First, I'll show you the standard projects you can make straight out of the kit.  This first one is my favorite.  I LOVE the wooden mountains!!!  I also love the dimension of all the layers and pretty, bright colors.  If you didn't notice above, the July kit includes two rolls of washi tape.  See the subtle strip towards the bottom of the card.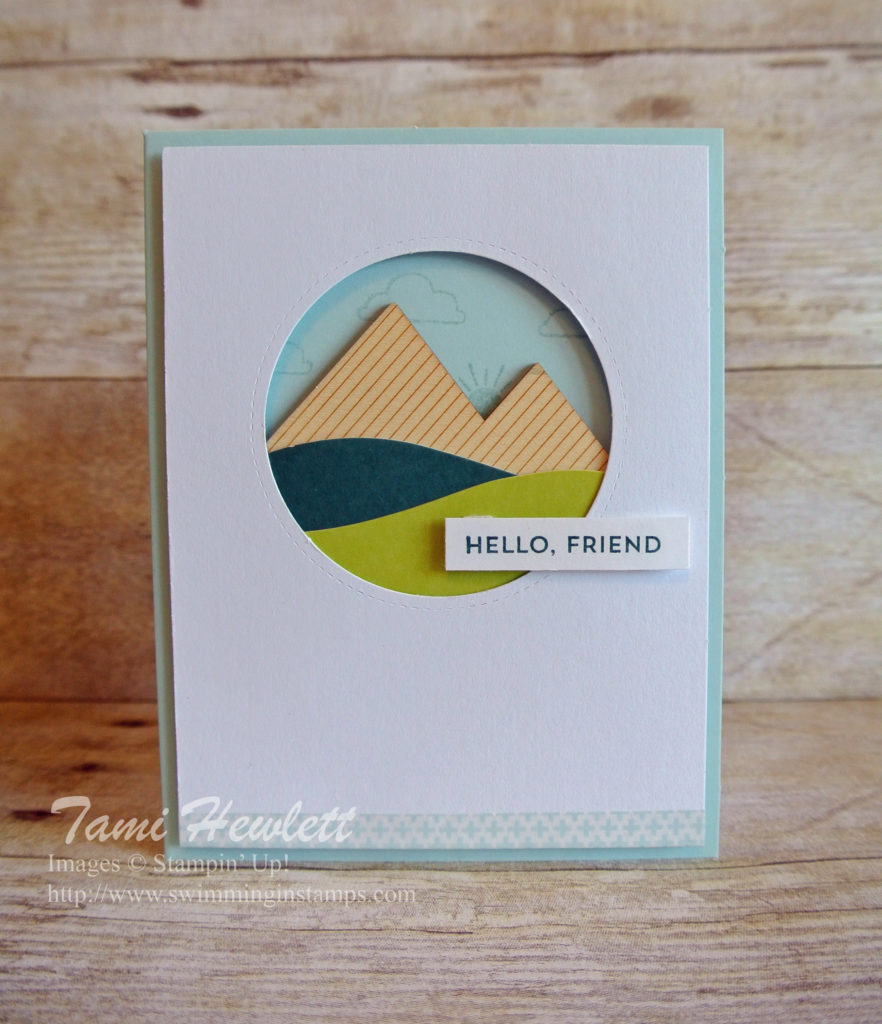 On this next card, you layer strips of the washi tape over the circle die cut from the card above.  I think the pre-watercolored card bases are just beautiful.  If you're wondering how to adhere the wooden words, here's my tip.  Place 6-7 glue dots on the back, and then use a Paper Piercer to fold them down to size so they don't show.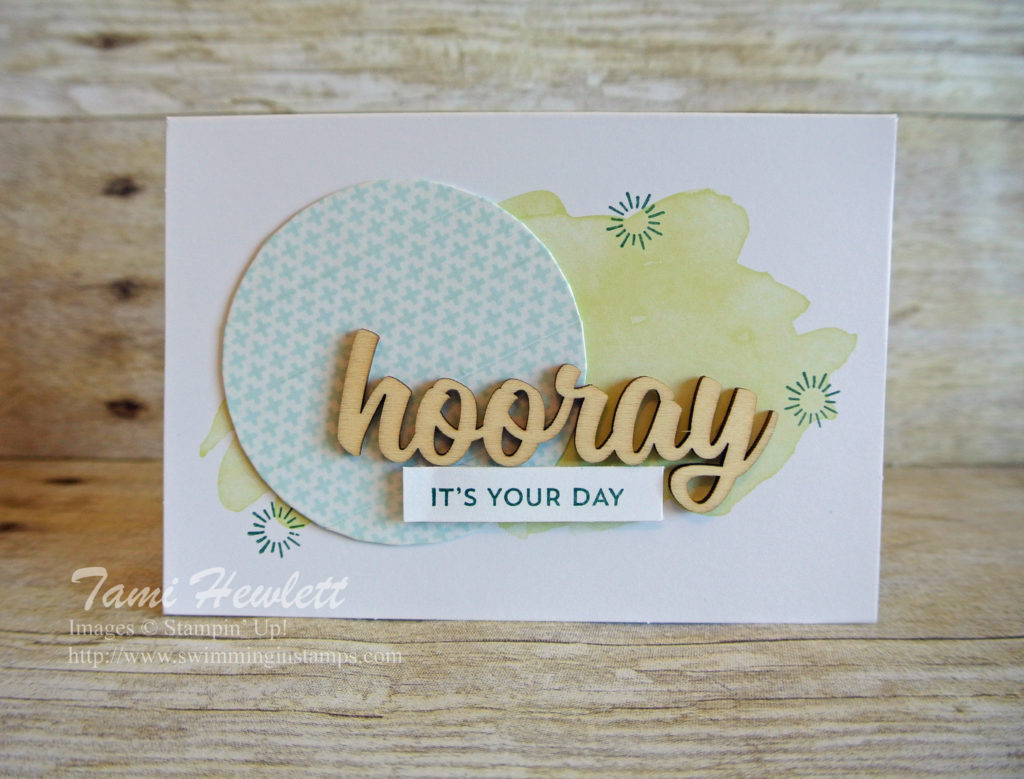 The next standard card uses a heart die cut.  I love the stitching along the edges!  The flowers are pre-printed, so this is a super fast card to put together.  Again, notice the strip of washi tape along the bottom.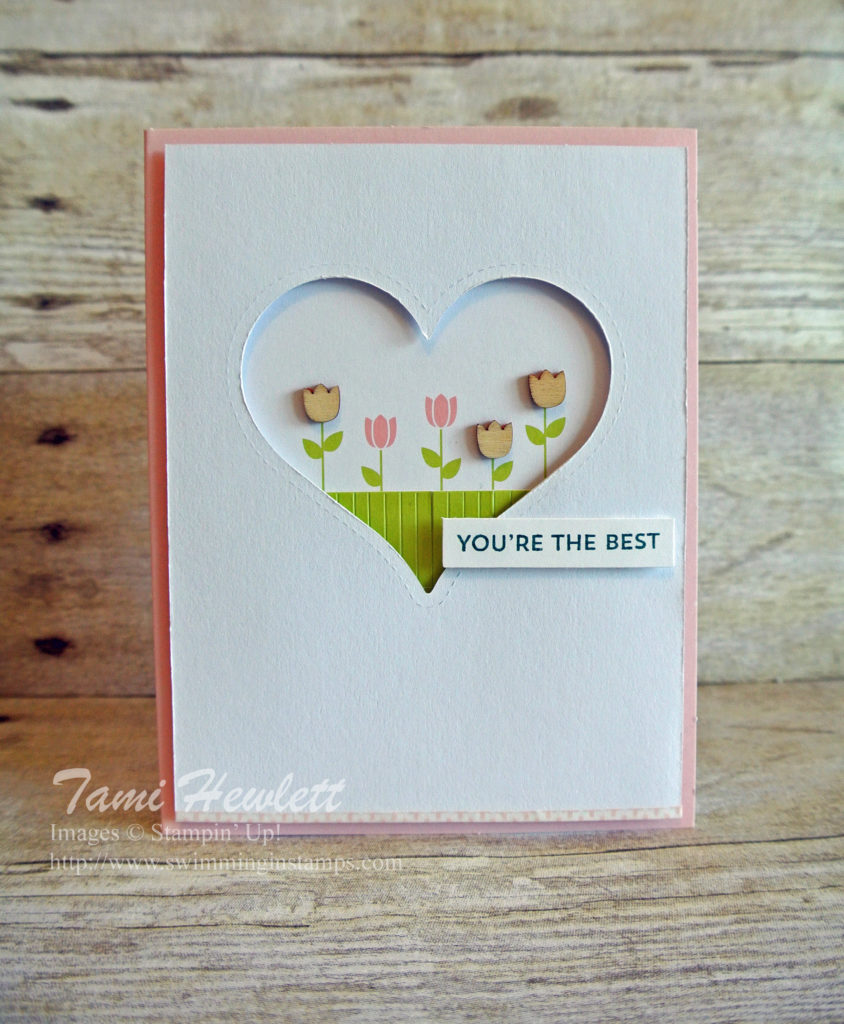 Here's the last standard card.  It's simple, but pretty.  Again, I love the addition of the washi tape on top of the heart.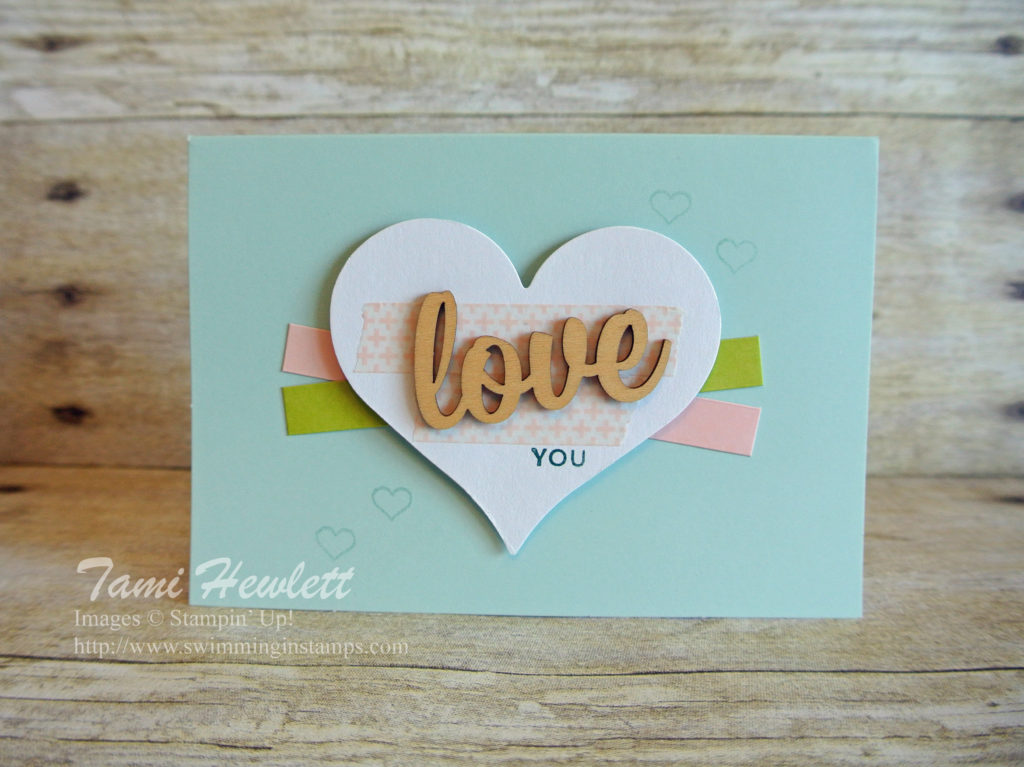 The kit includes supplies to make two cards each of the above designs, but I only made one so I'd have supplies leftover to make alternatives.  Unfortunately, my other wooden love was a little funky.  It had these dark marks on it due to the wood grain.  I know I'm probably too picky, but I didn't want a flawed "love."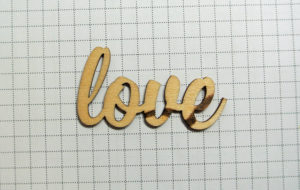 But, there's always SOMETHING you can do to fix things.  So, I pushed the wooden word into a Versamark ink pad, covered it with gold embossing powder, and heat set it!  Voila!!!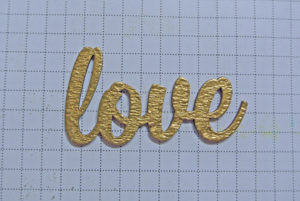 For this first card, I cut a Crumb Cake card base, then I layered the pink washi tape and strips of Crumb Cake cardstock, and one of the pink strips from the kit under the heart on a 3-1/2″ square piece of Whisper White cardstock.  Then, I embossed the "you" and small heart in gold, and added some Gold Metallic Thread and Gold Faceted Gems to play up the gold color of my wooden "love."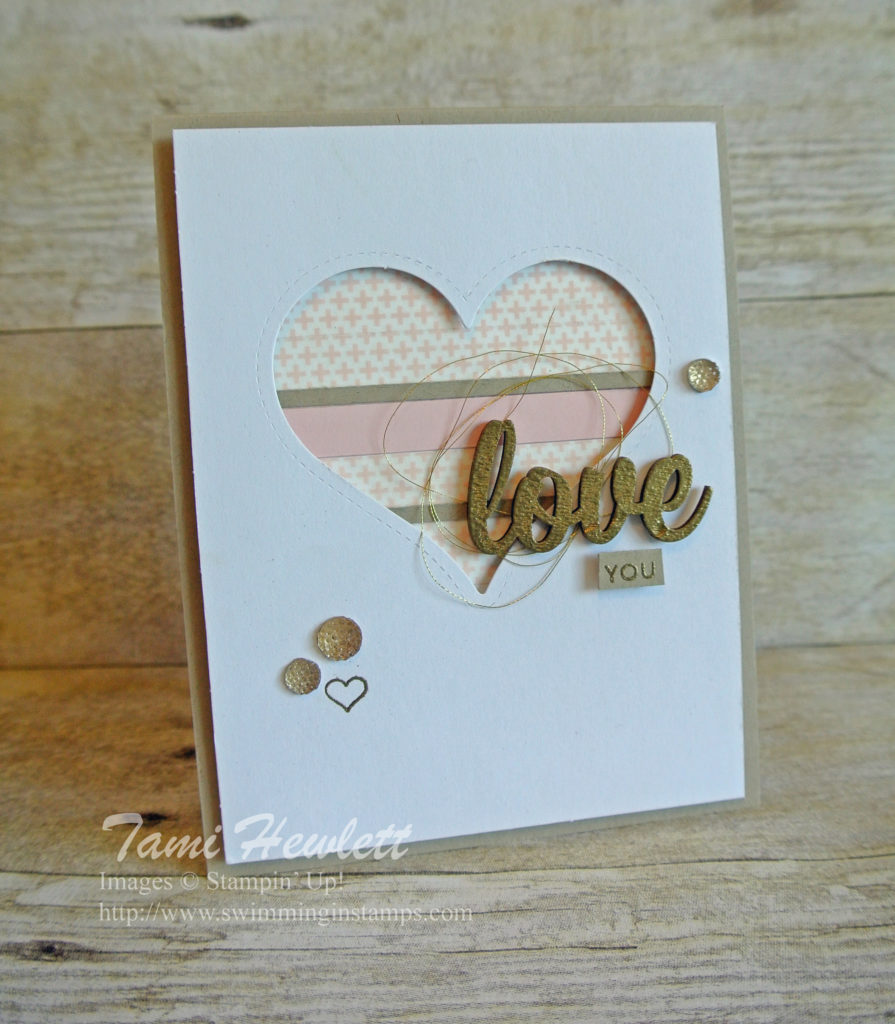 Next, I cut up the watercolor card base so I could layer it on the remaining Soft Sky card base.  I added lots of the cute blue washi tape on both layers and added a fun bow made of unraveled Pool Party Thick Baker's Twine.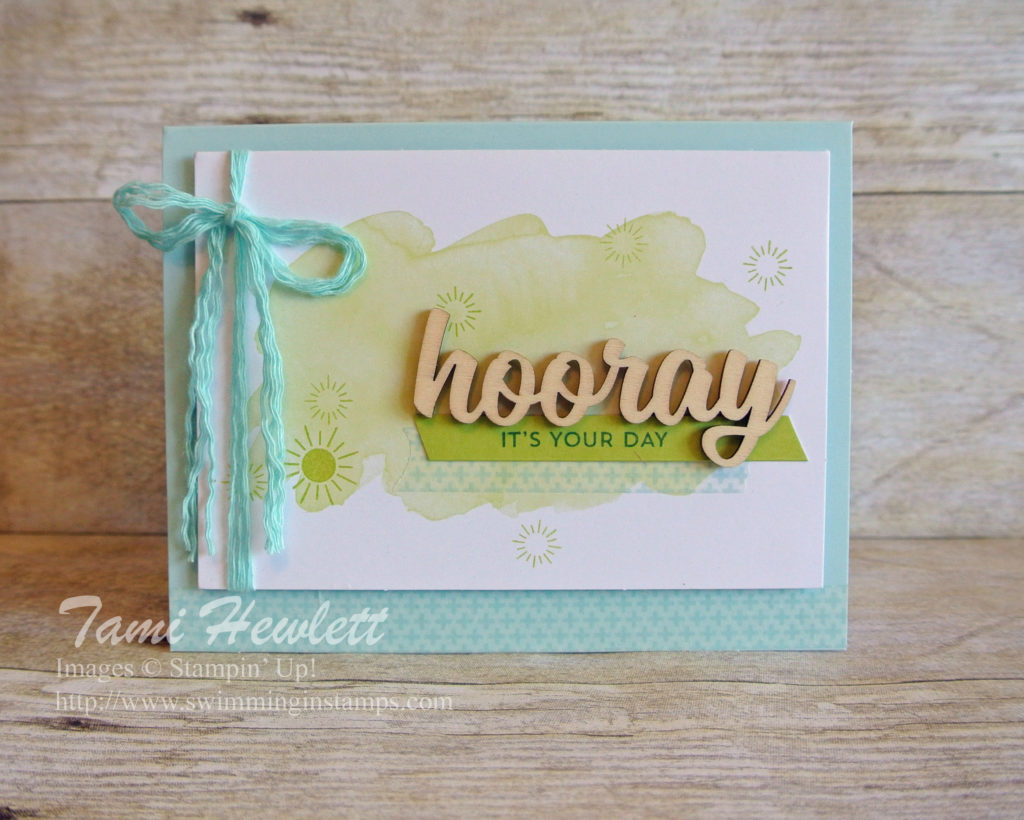 For my last alternative, I added some Touches of Nature Wooden Elements to augment the tulips from the kit.  I embossed the stems and thanks in gold.  Then, I used my Layering Circles Framelits Dies to add a Gold Foil Circle layer, and create a circle mask to add some Embossing Paste.
I love how much you can change the entire look of these cards by adding a color or a few extra elements.  The possibilities are endless.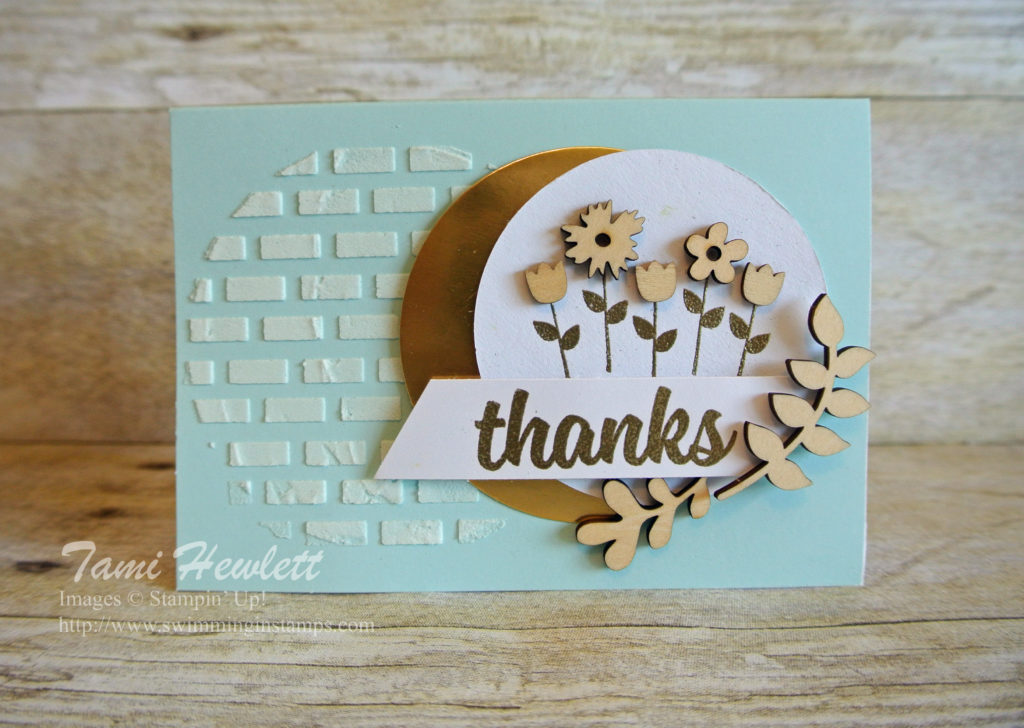 Please note that the alternative ideas above are NOT any of the projects included in the free tutorials for this month.  I always save my best alternative for submission into the free tutorials, and none of those projects are shared on our blogs or social media.
In addition to the July Paper Pumpkin Kit, I used the following supplies on my card:
Remember, today is the last day to earn a Bonus Days Coupon!  Earn a coupon for $5 off with every $50 purchase.  Coupons are redeemable in August.  You must have an email to receive your coupon.

Purchase a 3-month prepaid subscription to Paper Pumpkin and qualify for a $5 bonus day coupon today!!!  Get 3 months of fun kits, 3 months of free tutorials with exclusive alternative ideas for projects you can make with the kit and some additional supplies, and a $5 off coupon you can use towards a purchase in August.  For more details, see the Paper Pumpkin tab on my blog.  Be sure to subscribe with me as your demonstrator in order to qualify for the free tutorials.
Have a wonderful and creative week!