This week, the Global Design Project is having a theme challenge to design projects "For Him."  Typically, I'm not very good at masculine cards.  But, this challenge came at the perfect time, because this month is filled with guy birthdays including my husband, son, and nephew.  Click on the photo below to go to the website and see all the great inspiration from the designers.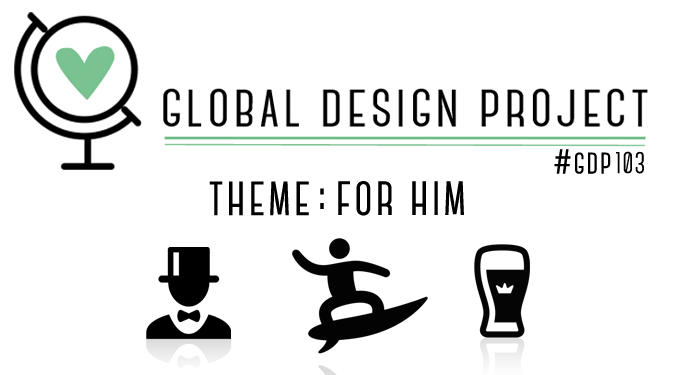 I decided to use the challenge to make a card for my husband.  You'll probably laugh at this, but when I'm trying to come up with an idea, the best thing for me to do is something else.  So, I decided to think about ideas during my swim workout.  Swimming can be sort of boring, so I find it's the perfect time to contemplate things.  Sometimes, I get distracted and forget what lap I'm on, but the physical activity helps my mind relax and frequently, I come up with great inspiration.
My husband LOVES to fish and I've been wanting to use my new Card Front Builder Thinlits Dies.  I bought them just because of the pine trees!  Ha!!!  I know that sounds crazy, but I love the mountains and just fell in love with those trees.  So, I decided to make a little lake scene.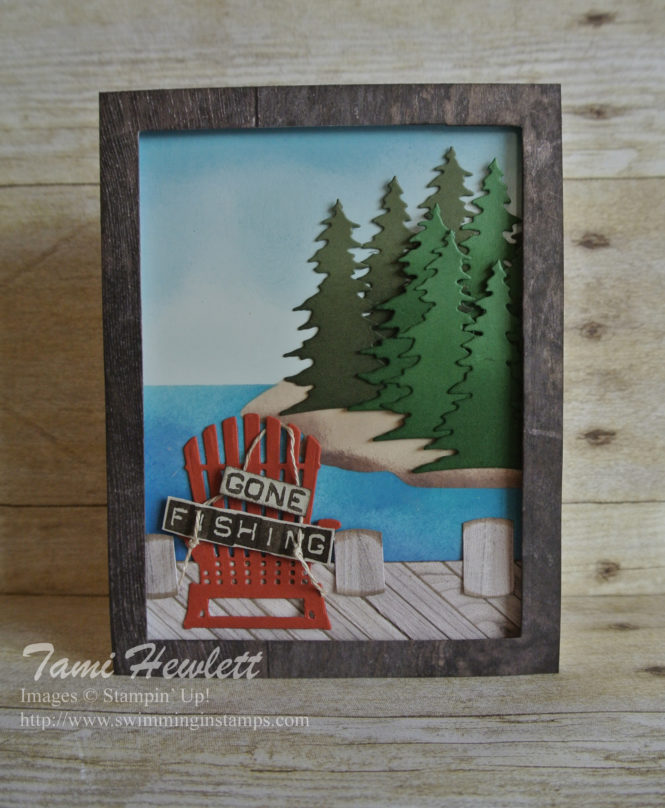 One of the designers at GDP, Connie Collins, made the coolest card by creating planks of wood from the Wood Textures Designer Series Paper Stack.  That inspired me to create a dock in a similar manner.  I cut strips of Wood Textures paper 1/4″ thick.  Since there were so many of them, instead of sponging the sides, I dragged the edges along the top of my Crumb Cake stamp pad.  That ended up being a super quick way to  darken the sides of each plank.  Afterwards, I used a scrap piece of cardstock as a base so I could adhere the planks at an angle and then trim them.
For the pylons, I cut wider strips of Wood Textures paper, then rounded the top and bottom with a 1-1/4″ Circle Punch.  I again dragged the edges along my Crumb Cake stamp pad for shading.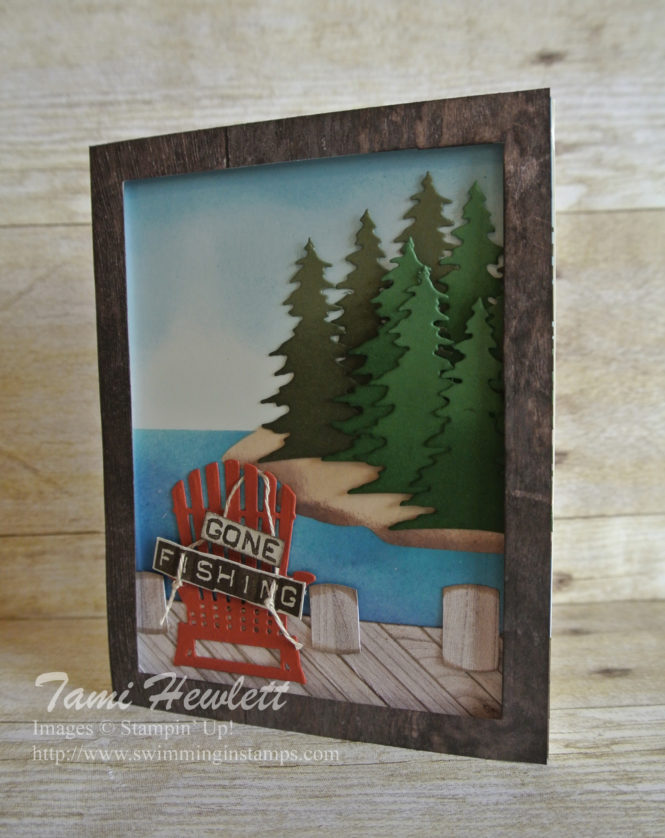 I drew out the horizon and land on a scrap piece of paper, and then cut them out to use as stencils.  I sponged the sky, water, and land on Glossy White Cardstock.  I started with the water by sponging on Night of Navy and Island Indigo ink.  I love sponging on Glossy White Cardstock, because it's super easy to blend colors and make the transitions smooth.
Next, I sponged on Marina Mist and Soft Sky ink for the sky.  Lastly, I sponged on Crumb Cake ink for the land and a little Early Espresso ink for shading.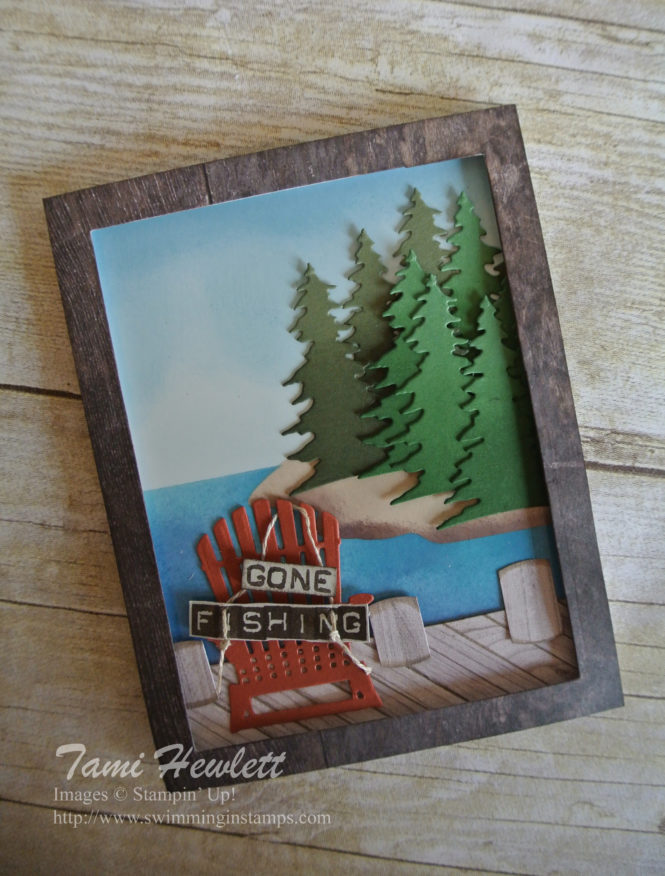 I cut out the trees from Garden Green and Always Artichoke Cardstock, and then sponged them with the same color ink for shading.
Of course, I needed a cute Adirondack chair for my dock!  Then, instead of saying Happy Birthday, I decided to make a custom "Gone Fishing" sign using the Labeler Alphabet stamp set.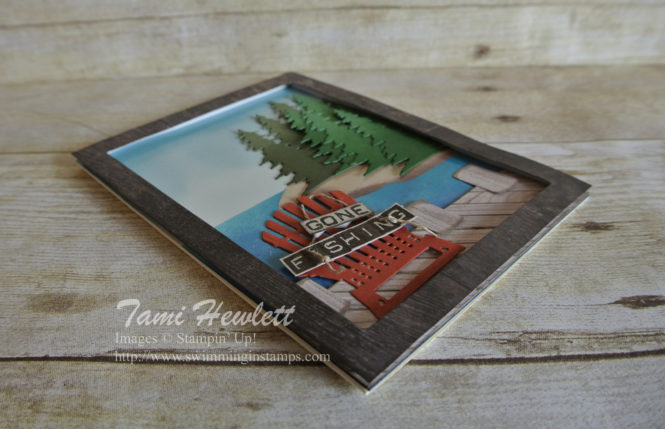 When I was done, I realized I didn't leave a border.  My picture went straight out to the ends of the card.  So, I decided to make a wood frame.  I used a sheet of Wood Textures paper, and to cut the inside, I used the largest Layering Squares Framelits Die.  I cut each corner out separately, by lining up the framelit with the previous cuts.  To add dimension, I used Foam Adhesive Strips under the frame.  Voila!!!  I love it!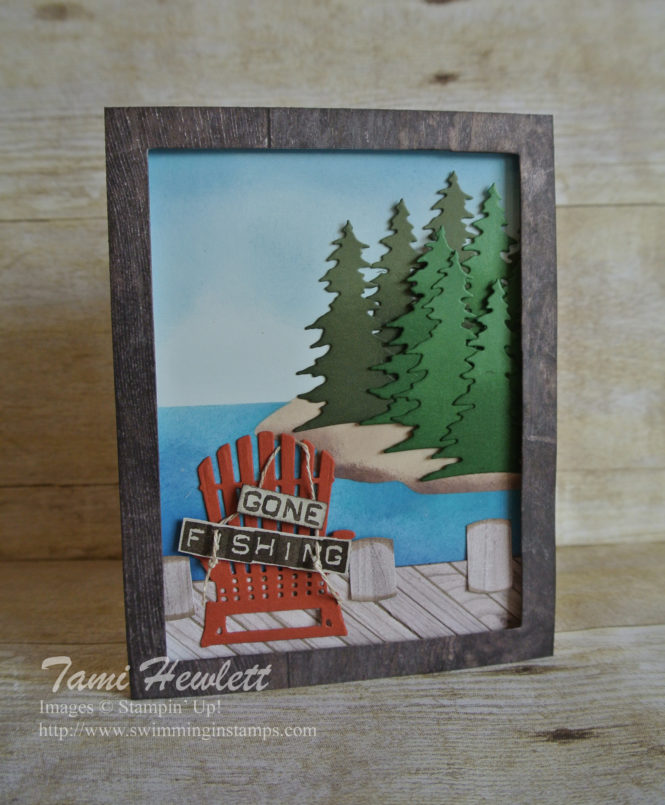 Supplies used on my card: