This week, the Global Design Project is having a color challenge!  I love color challenges, because they force me to use new and different combinations.  Actually, I love challenges period, because they force me to think outside of the box.  A few months ago, I felt like I was in a funk and doing these challenges over the last month has really inspired me.  (The feedback has encouraged me as well.)  If you want to be challenged and inspired, I strongly encourage you to go to the GDP website and join in the fun.
The challenge this week is to make a project using Night of Navy, Bermuda Bay, and Flirty Flamingo.  Click on the photo below and get ready to be inspired.  The designers' projects, as well as the entries so far, are AMAZING!!!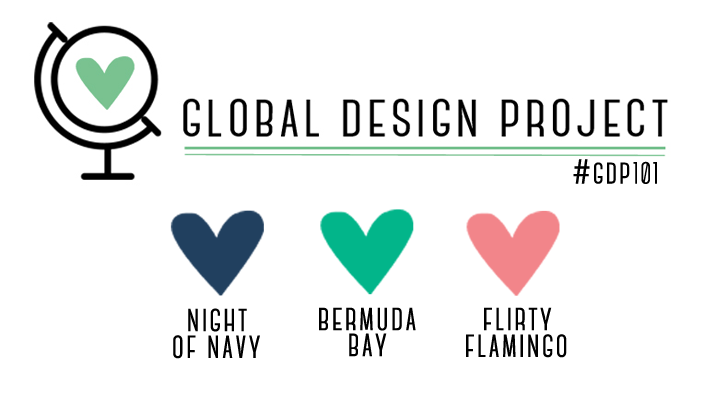 For my project, I decided to feature the Lovely Words and Flourish Thinlits Dies from the Annual Catalog.  In fact, I didn't "stamp" a thing on this card!!!  (Gasp!)  I was going for a clean, simple look.  I got to a certain point, and I just thought, that's it … I don't need anything else.  So, no stamping.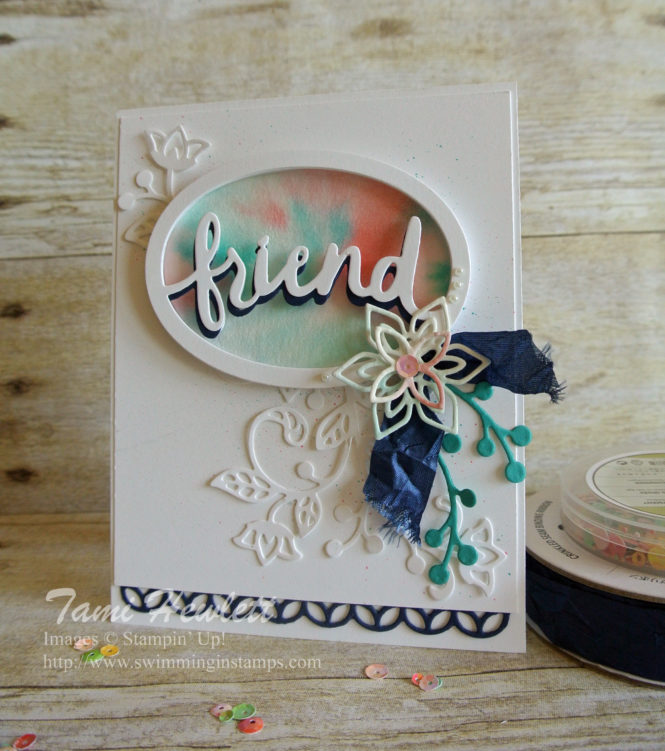 The Lovely Words Thinlits Dies have beautiful script.  This is the first time I've used mine.  The dies cut out the words in a hole in your card front.  So, to make the word pop-out like I did here, I had to also cut around the outside with a Layering Ovals Framelits Die.
I cut three "oval friends" dies, two from Thick Whisper White cardstock and one from Night of Navy cardstock, as a shadow.  I layered the two white dies to give it strength and substance so I could add a Foam Adhesive Strip underneath it and make it pop.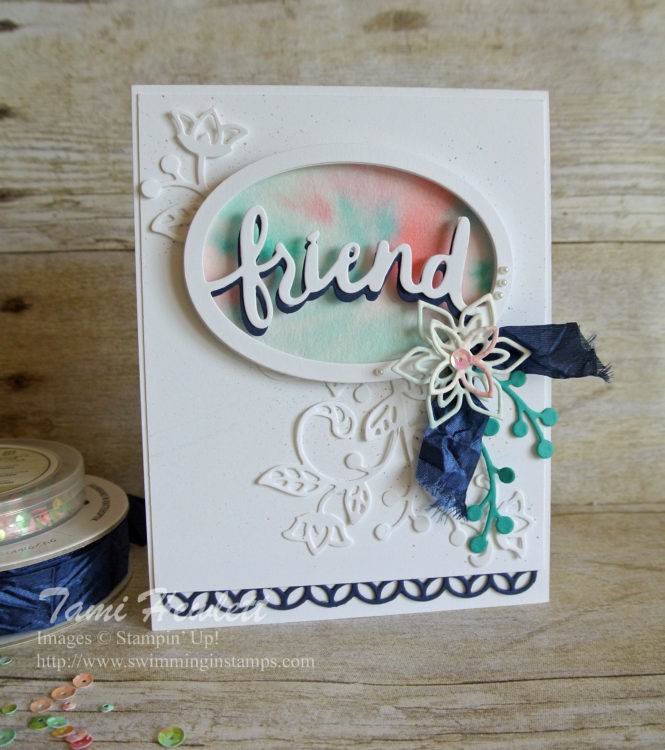 Most of my color is in the center of the card.  I used my Aqua Painter to create a watercolor wash of Bermuda Bay and Flirty Flamingo ink on watercolor paper.  Afterwards, I cut it out with a Layering Oval Framelit Die and used some of the leftover paper to cut a few flowers using Flourish Thinlits Dies.  I really love the soft tint the watercoloring gave the two flowers on top of the ribbon.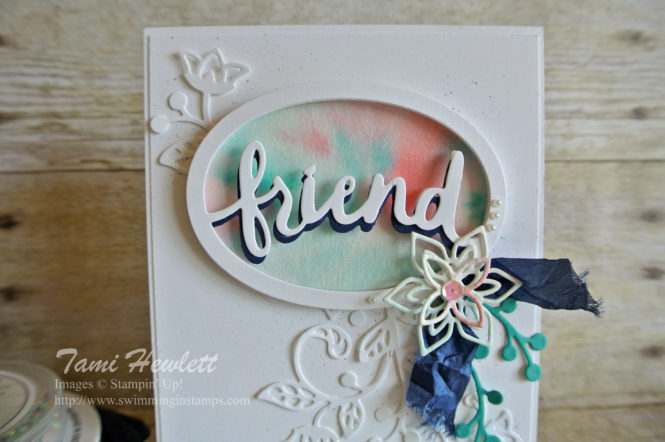 I used Whisper White cardstock for all the background dies.  To add just a little color underneath them, I used both a Bermuda Bay and Flirty Flamingo Stampin' Write Marker to add splatters to the background layer.  To do this, hold the cap of the marker, and use it to flick the brush end towards your paper.  It will make very fine, delicate splatters.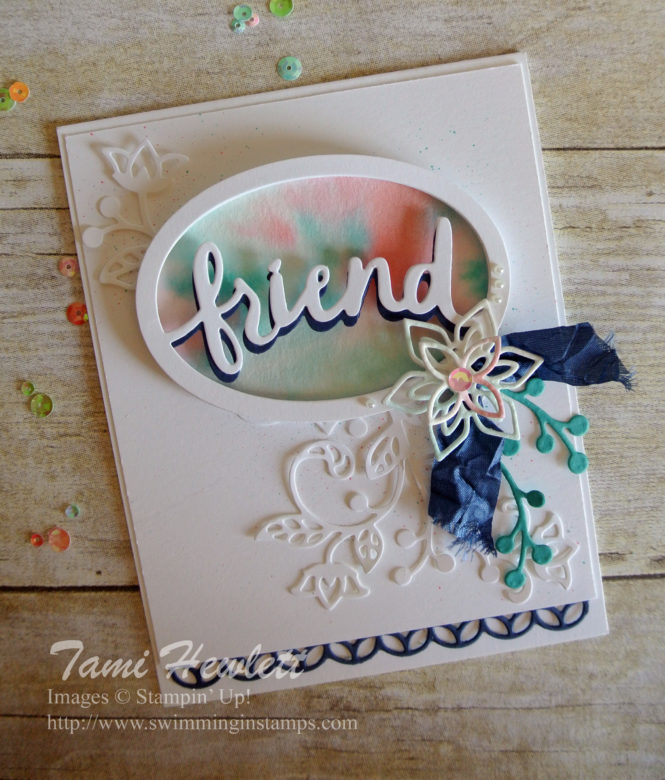 Since I was going for a very clean look, I used minimal embellishments, just a few basic pearls and a sequin.  I also kept the Night of Navy to a minimum, with just the shadow, a touch of Crinkled Seam Binding Ribbon, and delicate die cut on the bottom.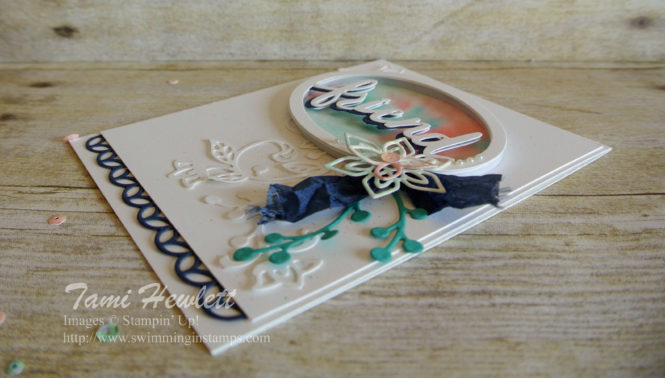 Look above for a better view of the Foam Adhesive Strip under the Lovely Word Thinlit Die.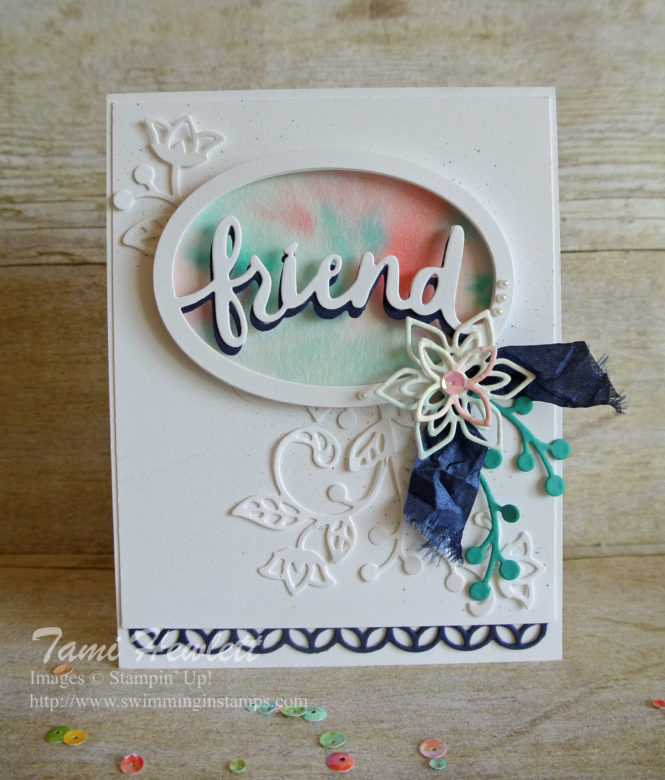 Supplies used on my card:
Have a wonderful weekend.