---
Today, I have a fun new card to share with you featuring the Colorful Seasons suite of products.  I'm also going to start a tutorial series on watercoloring.  I recently had a customer ask for detailed instructions on watercoloring tools and techniques.  She indicated that she doesn't have a local demonstrator, so I thought it might be useful to other customers who read my blog and are in the same situation.  Therefore, over the course of the next few weeks, I'll try to take lots of pictures and share the process.
For this card, I used the Seasonal Layers Thinlits Dies and Stitched Shapes Framelits to cut flowers and the "moon" out of watercolor paper.  Then, I used Aqua Painters and my ink pads to paint them.
Aqua Painters are paint brushes that have a container for water.  The top screws off so you can fill them up.  You can control the amount of water that flows through the brush by squeezing the container.  If you get too much water on the brush, simply wipe it on a paper towel.  A little water goes a long way.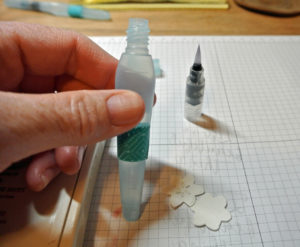 I like having some paper towels or a Stampin' Scrub nearby to clean the brush in-between colors.  By squeezing the container to force lots of water through the brush, you can wash out all the color.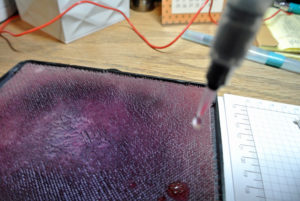 The most common way to use Aqua Painters is to watercolor with ink pads.  Squeeze the (Berry Burst) ink pad before opening it to pool ink in the lid.  Then, add a little water from your Aqua Painter and paint away.  (You can also press an acrylic block on an ink pad to gather ink and use that as your palette.)  You can vary the intensity of the color by how much water you add.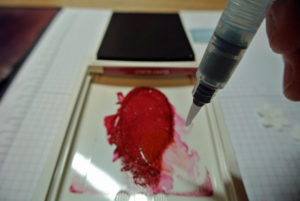 Here is an example of the die cuts I painted for my card.  I cut them out of watercolor paper.  To start out, I painted them with clear water.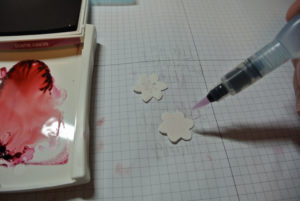 Next, I added some color and let the ink bleed.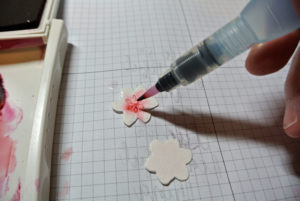 To intensify the color in the center, I added more color.  On some of the flowers, I added some Fresh Fig ink as well.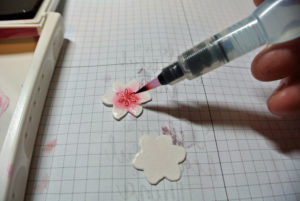 You'll get the best results by letting the paper dry naturally.  But, you can use a Heat Tool if you're in a hurry.  After the flowers dried, I stamped the centers of some.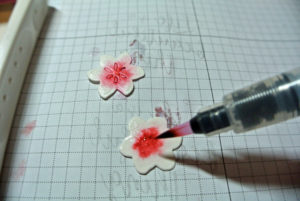 Aqua Painters can also be used with Watercolor Pencils and Stampin' Write Markers.  I'll show those techniques on another post.
Additionally, you can watercolor on different papers to achieve different looks.  Of course watercolor paper works the best, because it's made for watercoloring.  It is sturdy, and can withstand brushing back and forth without pilling.  However, I still suggest making minimal strokes for the best results.  One disadvantage of watercolor paper is that it is rough, so it's a little harder to stamp.  That's why I also like using Shimmery White Paper for watercoloring.  It can also withstand brushing, yet it has a much smoother surface for stamping.  The other paper that works well with watercoloring is the Just Add Color Specialty Designer Series Paper.
OK, so back to my card.  I used a similar technique to watercolor the moon with Dapper Denim ink.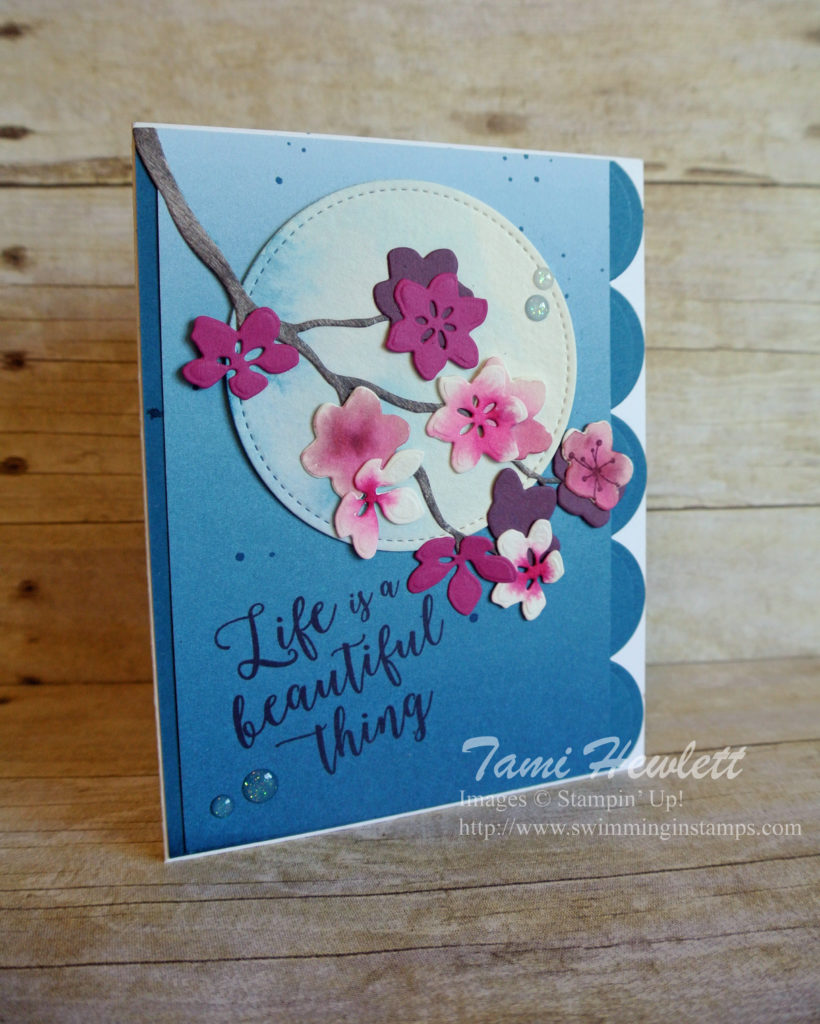 The background of my card features a sheet of paper from the Color Theory Designer Series Paper Stack.  I love the ombre design!  Also, if you look closely, you'll notice I used a sheet of Wood Textures Designer Series Paper for the branch die cut.
To spice up the background just a little, I dipped my Aqua Painter in Dapper Denim ink, held it over the paper, and tapped it with a Bone Folder to splatter some ink spots.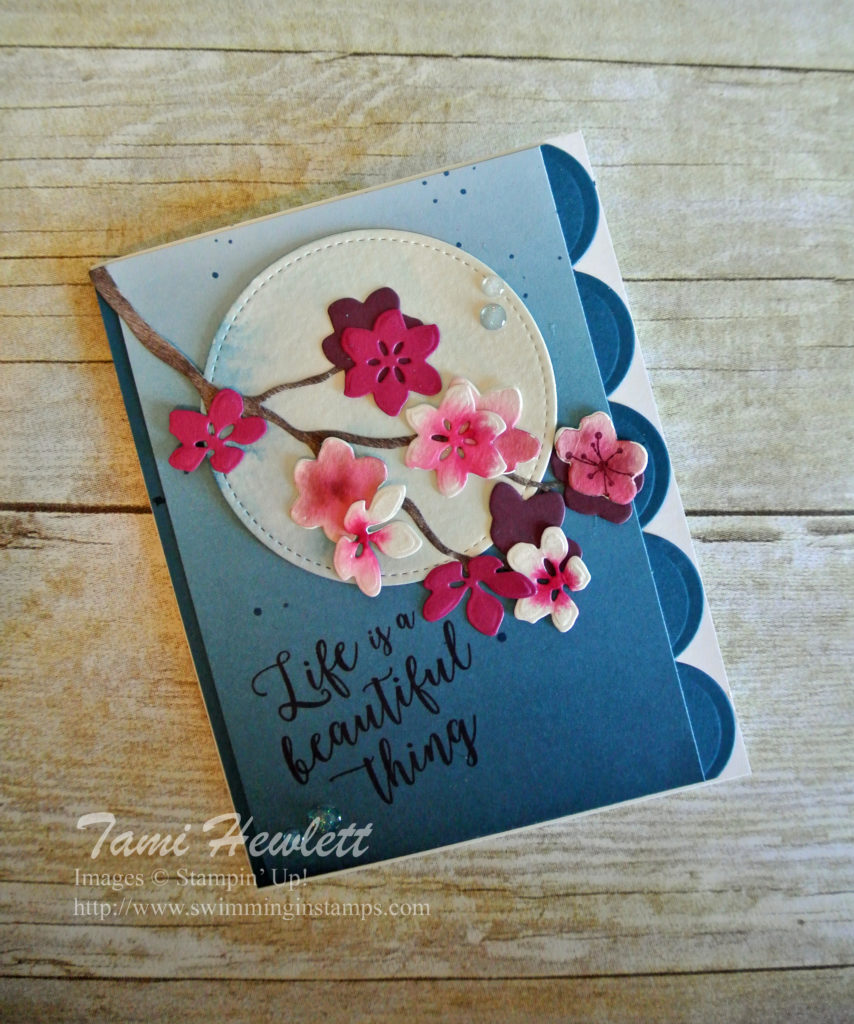 Another thing I love about the Seasonal Layers Thinlits is the scallop border!  It's so pretty.
To finish off my card, I added some Glitter Enamel Dots.  They come in a variety of sizes and shades.  Love them!!!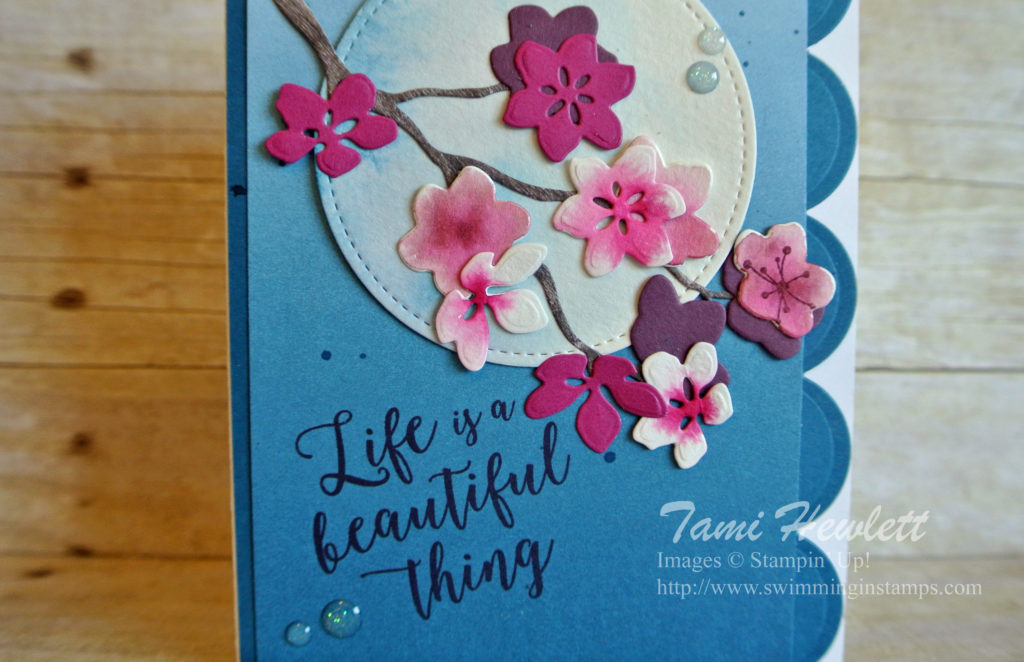 Supplies used on my card (purchase the Colorful Seasons stamps and Seasonal Layers Thinlits in a bundle and save 10%):
Watch for future posts on more watercoloring techniques and tools.  Have a great day.