Stamp Club
Thursday, May 11th
 at 6:00 P.M.

In this fun class, we meet once a month (over the course of six months) for approximately two and half hours to make four beautiful hand-made projects using the latest Stampin' Up! products.  Projects are mostly greeting cards, but may also include decorative gifts, tags, and other crafts.  All supplies are provided including stamps, ink, and accessories, and if you bring your own adhesive, I enter you in a drawing for a door prize.  The club is limited to six members and the cost is a minimum purchase of $25 of Stampin' Up! products.  We rotate the hostess each month, so each member gets a chance to earn free products once during the session.  We meet at the assigned hostess' house in the Stockton, California area.  If you are interested in joining a club, or creating a new one with your friends/co-workers, please email me at tamihewlett@comcast.net.
We're looking for new members!  If you've thought of trying out Stamp Club, now's the perfect time.  Come join us and see what it's all about.  You can come try it out for a flat fee of $15 to cover the supplies.  However, if you decide to purchase $25 in Stampin' Up! products, the class fee will be waived!  Also, if you decide to join the Stamp Club for the next six months, I'll give you a free SNAIL adhesive as a thank you!  Please contact me for details and to reserve your spot.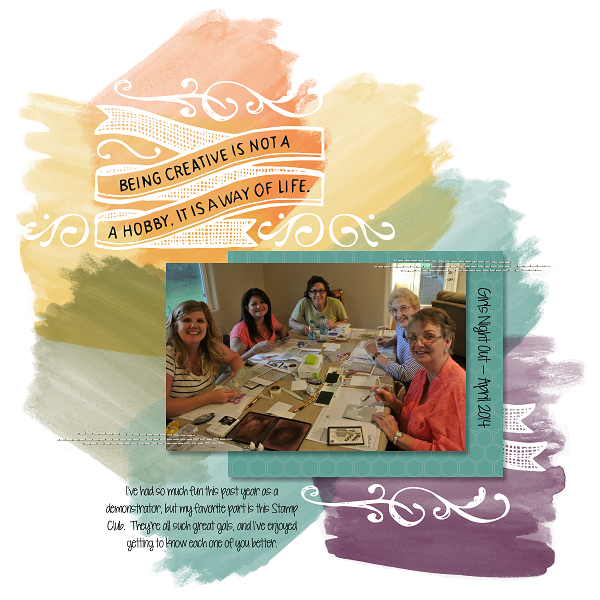 Custom Workshops

TBD
Would you like to schedule a workshop for you and your friends?  I can customize a class to your needs.  You can schedule a one time event or start a club similar to the one described above.  Projects can focus on a theme, particular stamp sets, or one of the many kits offered by Stampin' Up!  It's really up to you. 
Contact me for details.
Project Life Memory Keeping

Next Meeting – Contact me to schedule

We had our first Project Life class and we all had a blast and can't wait to do it again!  Project Life is a quick, easy, and affordable way to organize and document your photos.  All you need to do is order a card collection of your choice, as well as the accessory kit and photo pocket pages.  I provide any stamps, ink, and paper you may need, as well as creative inspiration.  I'd LOVE to help you create beautiful pages without all the time and energy of traditional scrap booking!!!  If you're interested in joining us, leave a comment below, or email me at tamihewlett@comcast.net.
Class cost:  $15