Happy New Year!  Well, almost…
I was playing with my new Brusho Crystal Colours again today and thought it would be fun to experiment a little.  So, I tried using Brusho on top of Year of Cheer Specialty Designer Series Paper (SDSP.)  I figured I might be able to create a background that looked like fireworks, and it worked!!!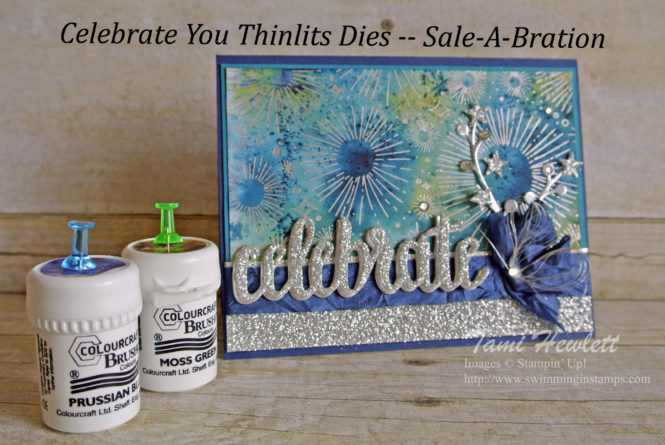 I created this card as part of the Global Design Project challenge that's running for two weeks through January 8th.  The theme of the challenge is Home for the Holidays, and part of the holidays is of course New Years!!!  Go to the Global Design Project website to see the designers' projects, as well as all the amazing entries to the challenge.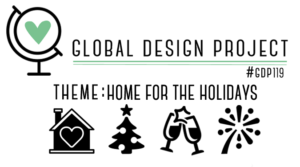 I had to play with this technique a few times to get the results I liked.  I sprinkled Prussian Blue and Moss Green Brusho on top of the Year of Cheer SDSP and then spritzed with water.  At first, the blue was much too dark and drowned out the silver foil.  I learned that, for this project, it worked better to add lots of water, then to mop up some of the pools to lighten the color.  This also helped the colors blend better.  In another attempt, I randomly sprinkled the colors all over, and my paper turned into mud.  I learned that it came out much better when I concentrated one color on each of the silver bursts.  Also, I added a few more sprinkles of Brusho towards the end to get some of those pretty splatters.
I'm really happy with the way this turned out.  You are going to love playing with this stuff when it's available to purchase on January 3rd!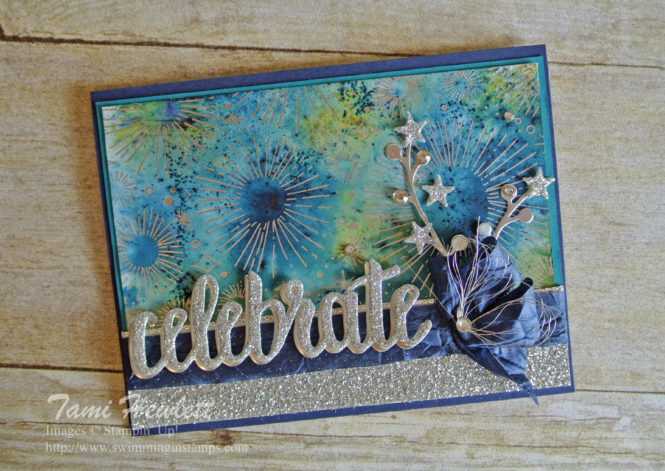 Next, I used one of the new Sale-A-Bration items — Celebrate You Thinlits Dies — to cut out the word Celebrate from both silver foil and silver glimmer paper.  (I got this idea from Elizabeth Price's TGIF Challenges card this week.)  I layered the two die cuts for a super glitzy sentiment to go with my fireworks theme.  You can earn these thinlits for FREE during Sale-A-Bration from January 3 to March 31, 2018 when you place an order for $100!  (There are other Sale-A-Bration items you can earn with purchases of $50.)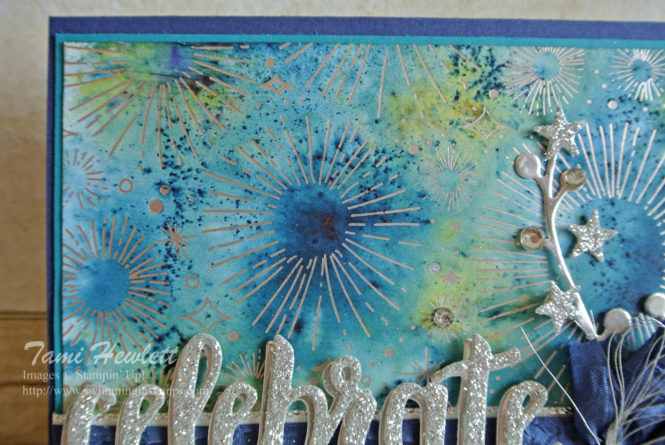 Next, I layered some Silver 3/8″ Metallic-Edge Ribbon and Night of Navy 5/8″ Crinkled Seam Binding Ribbon, and then made a fun bow with the crinkle ribbon.  I tied a regular bow, then folded it in half and use mini glue dots to make it stay put.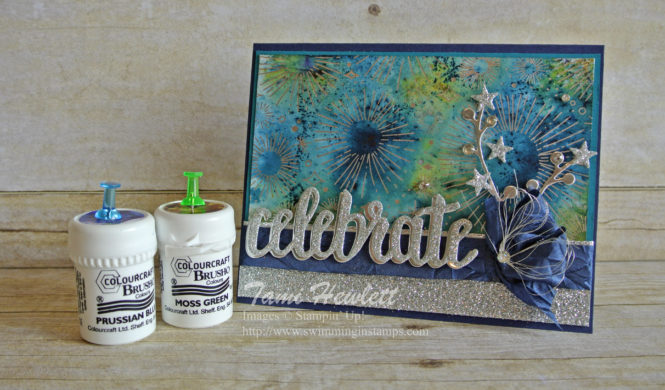 Next, I wrapped some Silver Metallic Thread around my fingers about eight times, twisted it into a figure 8, tied the center, and adhered it on top of the navy bow with a rhinestone of top.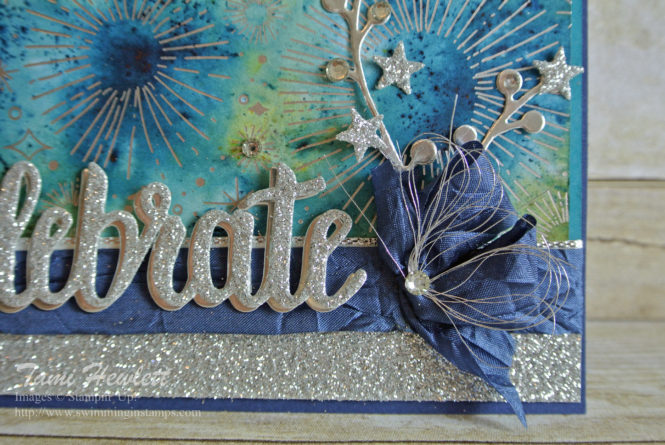 Finally, I added some die cuts from the Flourish Thinlits and stars from Mini Treat Bags Thinlits to finish off my firework embellishments.  Fun!!!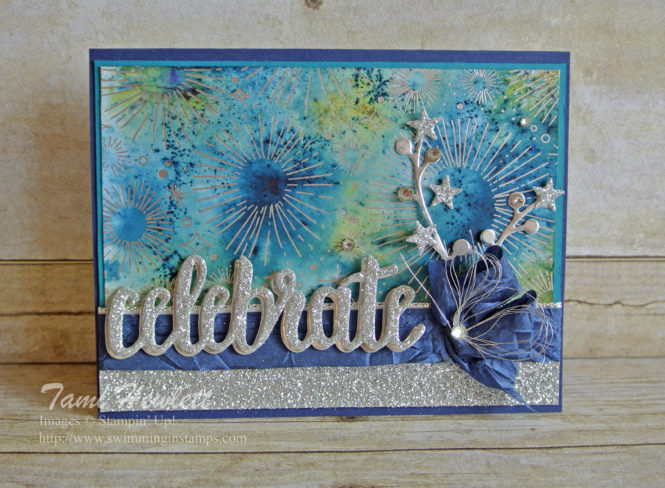 Supplies used on my card:
Hope you enjoy your New Year's celebrations!!!