This week at the Global Design Project, they are celebrating their 100th challenge!!!  It's a big celebration, and they are giving out prizes!  The challenge this week is to CASE (Copy And Share Everything) one of the designer's cards.  Go to the GDP website to check out all the amazing cards created by the designers.  There are 10 different cards to choose from, so there's lots of inspiration.

I decided to try to CASE this gorgeous card created by Krista Frattin.  I laughed when I downloaded the photo to add it to my blog, because it's named "Ridiculous Watercolor!"  I know the title refers to the sentiment, but my first thought was that it referred to the quality of the watercoloring, because the more you look, the more you realize it is RIDICULOUSLY gorgeous watercoloring!  There are all sorts of amazing watermarks and blends.  Plus, I love the gorgeous soft colors she chose.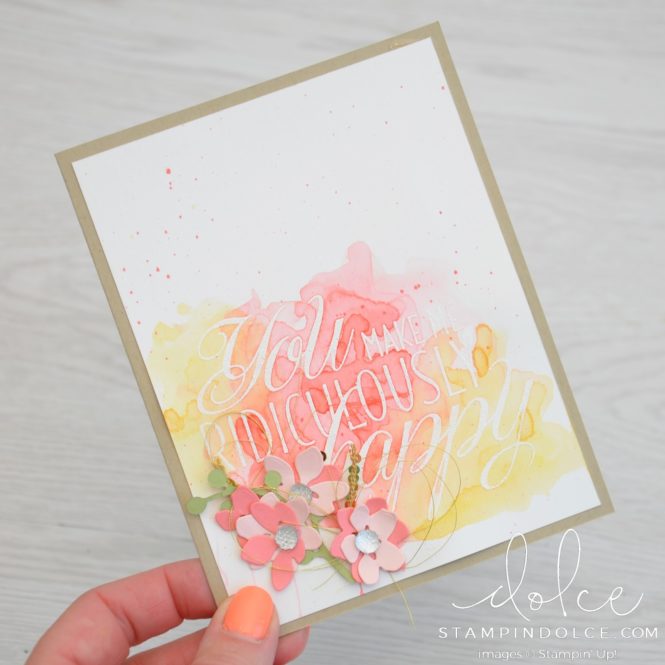 Update:  I was selected as a winner for my CASE of Krista' s card!!!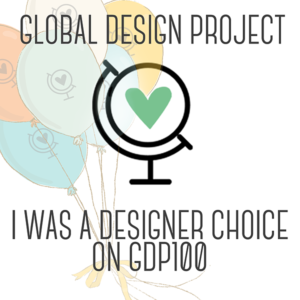 For my card, I decided to change the theme to Christmas.  I used a brand new bundle of products that will be available September 1st in the Holiday Catalog, including the Snowflake Sentiments stamp set and Swirly Snowflakes Thinlits Dies.  This bundle caught my eye immediately because of the pretty fonts and pretty lacy snowflakes.  I REALLY love the thinlits dies too!  Check out the pretty swirl I used on this card.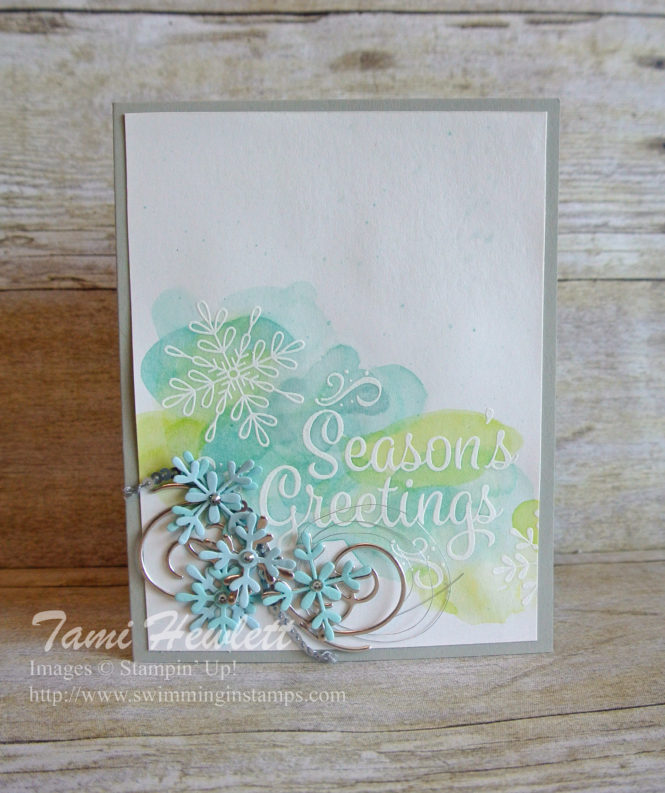 To start, I stamped my greeting and snowflakes with Craft White Ink on Shimmery White Paper and embossed in white.
For the watercoloring, I have to admit that I was intimidated by Krista's card!  I practiced on some scraps with different color combinations, trying to mimic her beautiful layers and watermarks.  I ended up sticking with soft colors — Pool Party and Lemon Lime Twist.
Tips on the watercoloring:  I used drops of Ink Refills in the tops of my ink pads mixed with a lot of water.  However, I realized that watercoloring on Shimmery White turned out better when my brush was not too wet.  So, I blotted it and then painted quickly trying not to go over the same spots too much.  For nice layering, dry the paper thoroughly in-between to get a nice crisp line.  If you make a mistake, have a paper towel nearby and simply add water and mop it up.  It works great!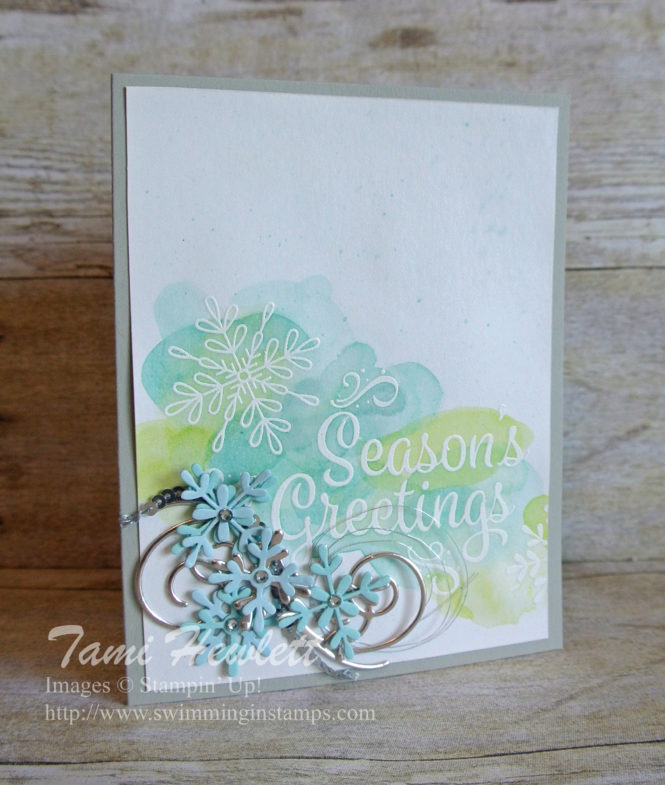 For the splatters, I dipped my Aqua Painter in the Pool Party ink, held it over the paper, and tapped it with a Bone Folder.
I used another new product from the Holiday Catalog on this card, Champagne Foil Sheets, to cut the die cut swirls and snowflakes.  In real life, it's much warmer than silver, and I thought it looked really pretty with the warm colors of my card.  I cut the rest of the snowflakes from Pool Party and Soft Sky cardstock.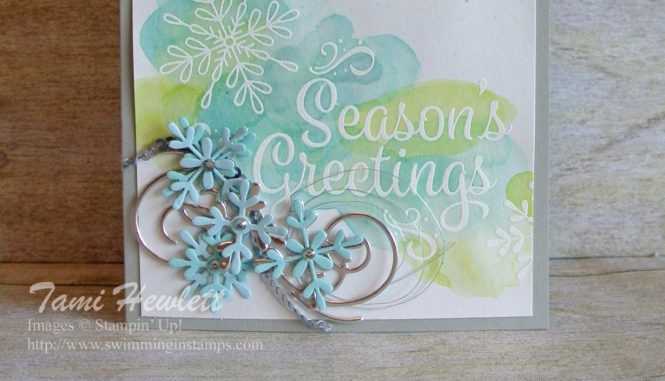 As a final touch, I added some Silver Metallic Thread, Silver Mini Sequin Trim, and rhinestones to my die cut area.
OK, first Christmas card of the season finished.  That's a good start!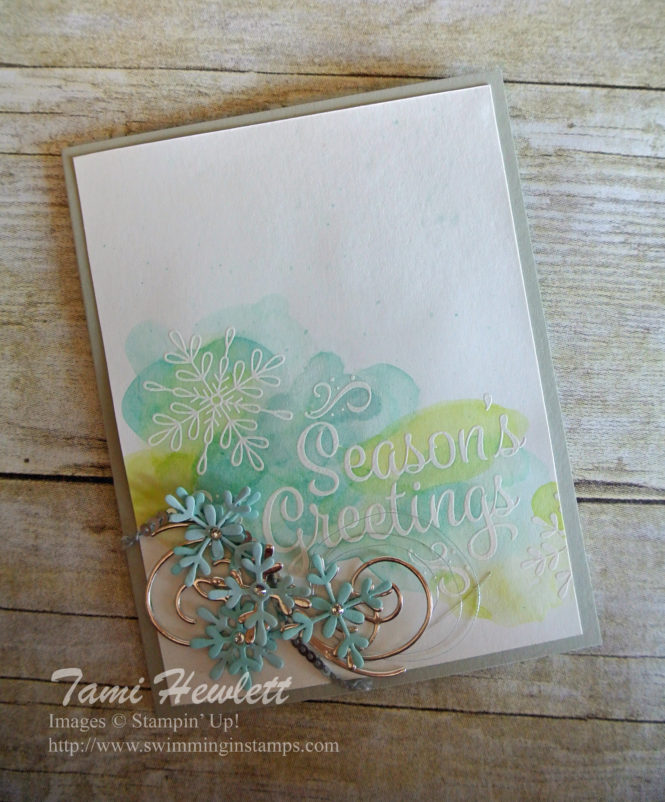 Supplies used on my card:
Be sure to check out the
Global Design Project website
.  Not only will the designers inspire you, but so will the numerous CASEd cards.  Anyone can enter, so join the fun!!!