Last weekend, my daughter's boyfriend had knee surgery for the second time in less than a year!  Poor kid.  He had only been at Redlands University for football training for a little over a week, when he tore his meniscus again!  I felt so BAD for him, because he was SO EXCITED to play football.
The good news is that all went well, and according to him, he should be back training in a month.  Yay!!!
In the meantime, I asked my daughter what I could send him to cheer him up.  She said he likes "Bigfoot, aliens, kettle corn, and cookies."  Hmm … OK, I thought to myself, what do I do with that?  I don't have Bigfoot or alien stamps.  So, after a lot of thought, this is what I came up with:)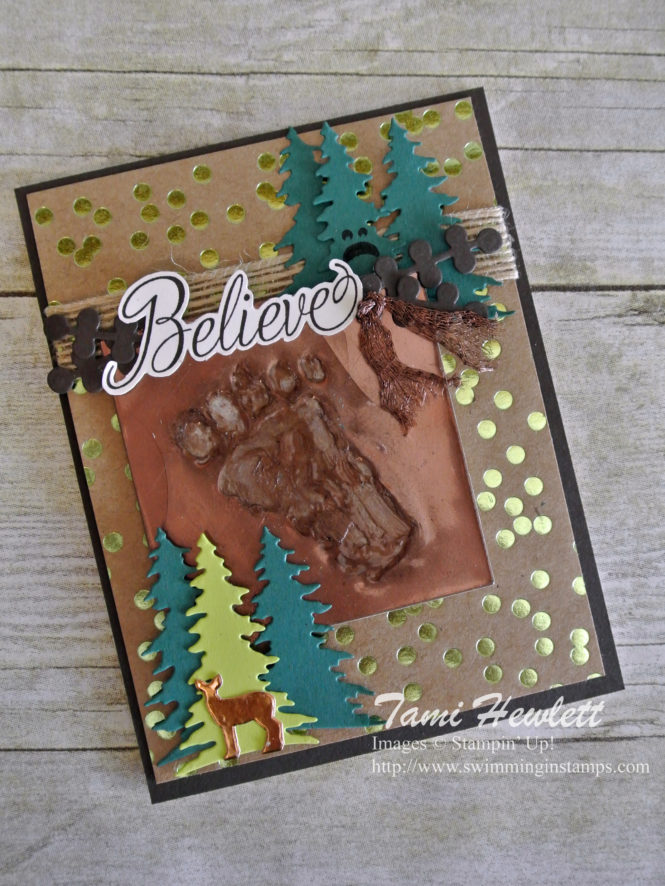 I added multiple layers of copper embossing onto a scrap piece of paper.  I used a Versamark pad to add ink directly onto the paper, then covered it with embossing powder and heat set.  After doing this several times to build up some mass, I used the eraser of an old pencil to quickly draw a foot while the melted embossing powder was still hot.  It took a few tries and re-heats, but I eventually got what looked like a footprint.  Then, I cut out the copper "Bigfoot" with a Layering Square Framelit die.
I dug out an old retired Christmas stamp set with the word "Believe" and stamped it in Early Espresso ink and then cut it out by hand.  Then, the rest of the card includes die cuts from the Card Front Builder Framelits Dies.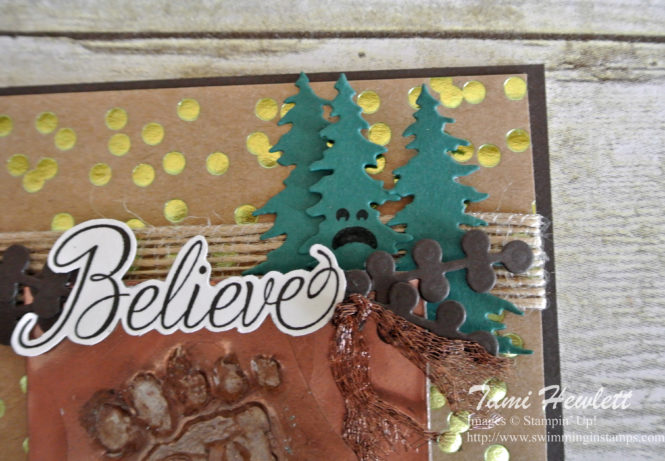 I also used a scary face stamp from the Pick A Pumpkin set to create a mysterious Bigfoot hiding in the trees.  Once I started really getting into this, I was having fun.  Hee, hee.  The Early Espresso die cuts behind the word "Believe" are from the coordinating Patterned Pumpkin Thinlits dies.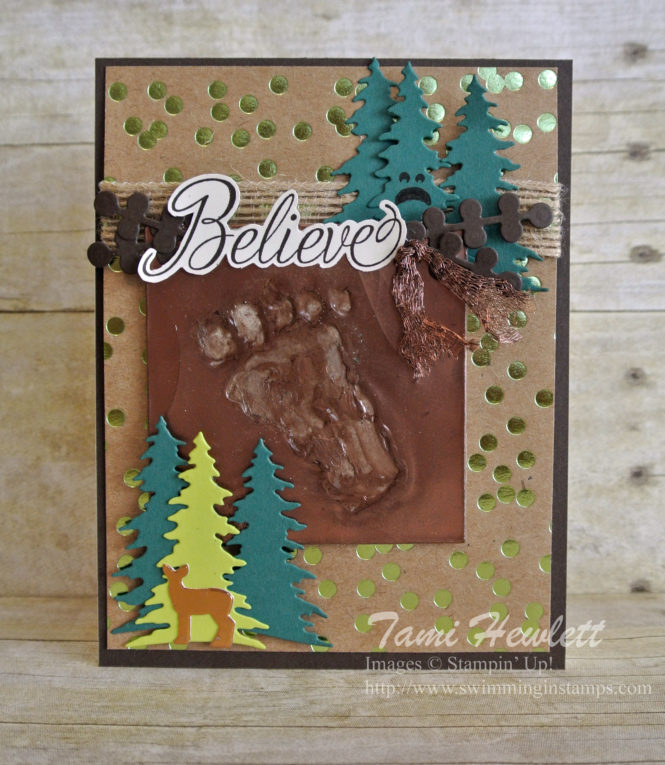 Here's the inside of the card, so the card makes sense … "Believe — You'll Get Well Soon."  Since I didn't have the right stamps, I just used the Labeler Alphabet stamp set to write what I wanted.  That set is so great, because it even includes punctuation.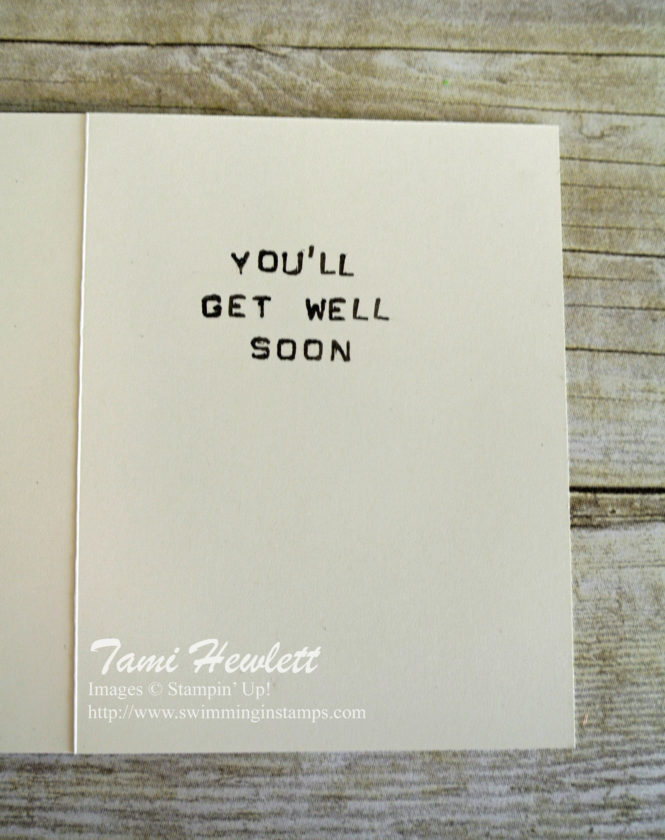 Next, I went to Costco for treats.  I knew cookies wouldn't work well, because they'd get all smashed up in the mail.  So, I settled for kettle corn (not shown) and Hersyey's Nugget treats.  I stacked all the kettle corn in the bottom of a Flat Rate box and then placed these chocolates and the card on top.
I placed the chocolates inside one of the new, cute Acetate boxes.  These are great little boxes for treats, just a perfect size!!!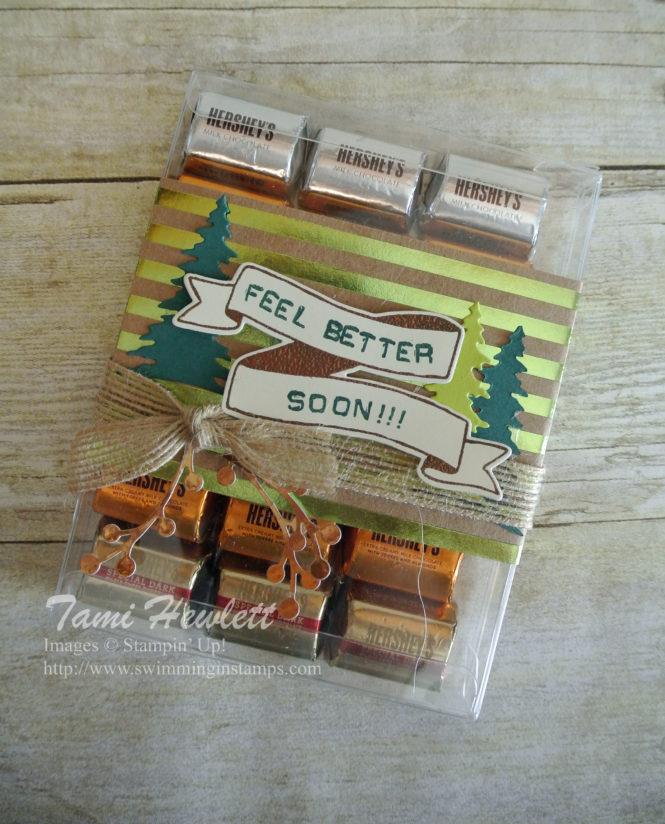 I made a belly band with a strip of Foil Frenzy Specialty Designer Series Paper and then added die cuts to coordinate with the card, as well as a personalized banner I made with the Banners For You and Labeler Alphabet stamp sets and coordinating framelits.  I love how this turned out!!!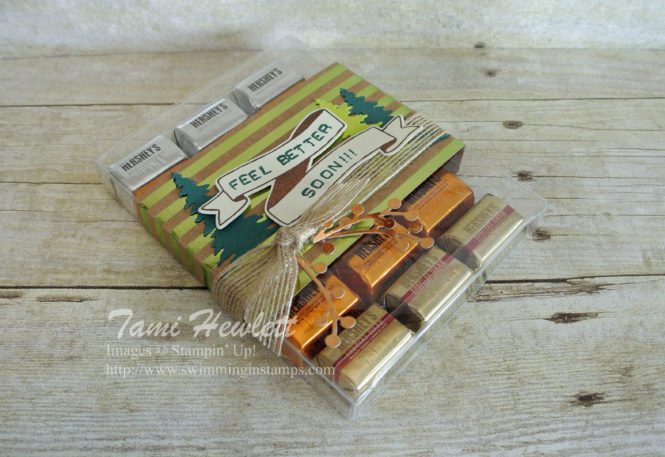 I took pictures with my phone and sent a preview to my daughter.  She totally loved it.  (Lots of hysterical laughing emojis!)  Later, when the package arrived, it was a HUGE hit with her boyfriend.  Yay!  Mission accomplished:)
Supplies used on my card and gift:
I just love the fact that you can use Stampin' Up! products to make personalized cards and gifts like this.  Honestly, I think it's the best way to let someone know you care.
Wishing you a great weekend!