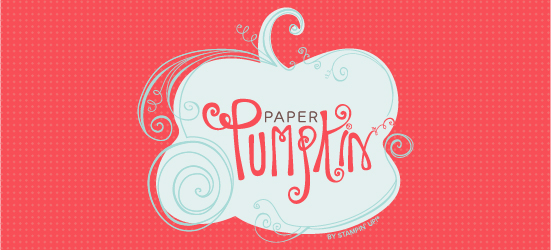 It's Paper Pumpkin time!!!  What's Paper Pumpkin?  It's a super fun, inexpensive monthly stamping program.  Stampin' Up! designs these great kits and mails them straight to you, so all you need to do is sit down and start creating.  The projects are always different, and they're designed to only take about 1/2 hour to assemble.  Sound interesting?  For more information, click on the Paper Pumpkin tab above.
You can purchase Paper Pumpkin kits on a month by month basis, or you can save money by purchasing a Prepaid Subscription.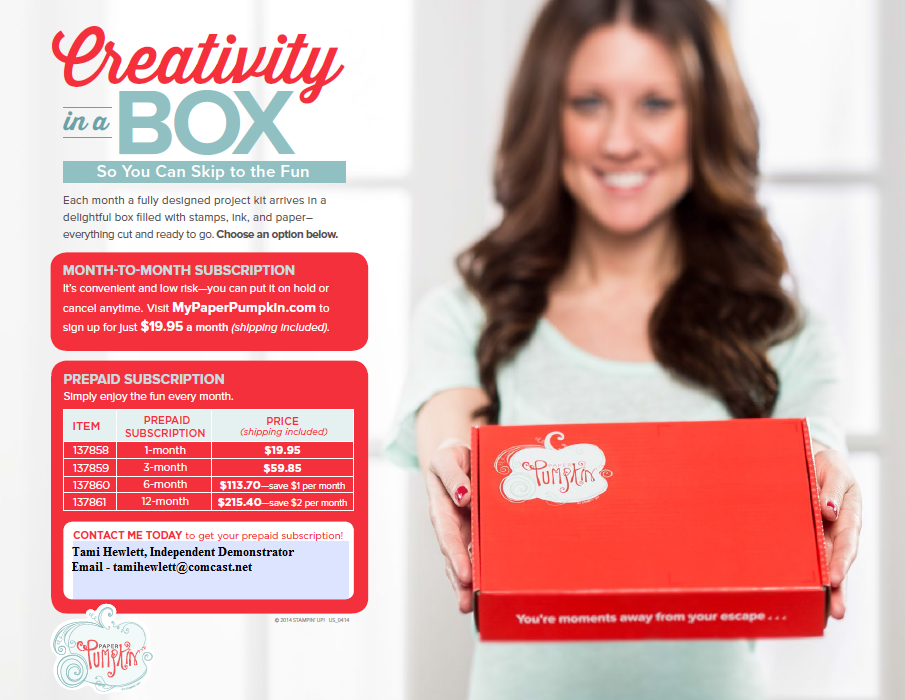 What's included in the kit?  Well, here's what we got this month.  The kit includes supplies to make eight pocket cards, including 11 photopolymer stamps, eight Kraft pockets, four blue mini cards, four yellow mini cards, eight white paper layers to stamp, die cut bows and bands, blue and yellow baker's twine, Pacific Point and Crushed Curry Stampin' Spot ink pads, glue dots and dimensionals.  The kit also comes with an instruction sheet with several examples.  While the projects vary, each kit always includes new, exclusive photopolymer stamps and at least one Stampin' Spot ink pad in a color that does not repeat for one year.
Plus each month, Stampin' Up! creates a video on how to put the kits together.  You can see this month's video here:
But that's not all!  Each month, I provide my subscribers 8 free, exclusive tutorials for alternate projects.  These projects will not be posted on my blog, or included on any social media sites.  Here's a sample of one of the tutorials from this month:
The tutorials are designed by a team of demonstrators called the Paper Pumpkin Gurus.  Each member designs a project, then all the tutorials are combined into one document and distributed to our customers around the 5th of the following month.  I've seen some of the projects for April already, and trust me, you're going to love them!
In addition to the alternative projects I designed for the Paper Pumpkin Gurus, I have a few others I thought I'd share with you today:
The first project is a little thank you pocket card.  I added a few extra products, including some Painted Petals Designer Series Paper and Chalk Lines stamps.
I assembled the pocket card according to the kit, then I embossed the diagonal edge in white using a Chalk Lines stamp.  I also added some Painted Blooms Cotton Twine to the Pacific Point baker's twine provided in the kit to make the tassel.
The mini card inside includes a few of the Paper Pumpkin stamps.
For my next project, I again used some Painted Blooms Designer Series Paper, but this time to create a background for a full size card.  I layered Vellum paper under the bow and over the banner to add some interest, but not cover up that beautiful paper.  For a nice "V" on my banners, I used a Hexagon Punch.
My last card is a Father's Day card for one of my kids to give their dad.  I trimmed the Kraft pocket so that the back was even with the front diagonal cut.  Then, I adhered it to the front of my card.
I unraveled the Pacific Point strand from the baker's twine provided in the kit to form the loops behind the "DAD" label.
For the tag inside, I used lots of the cute Paper Pumpkin stamps with a few more ink colors, including Baked Brown Sugar and Bermuda Bay.  Then, I wrapped the inside layer with some Baked Brown Sugar Thick Baker's Twine before adhering the layer with dimensionals.
Additional products used on my projects:
But that's not all!!!  Another perk for signing up for Paper Pumpkins with me as your demonstrator, is that after six months, I give you a free case to hold all the stamps you've collected!  In fact, I've now collected so many stamps that I need another case.
If you're a long time participant, and need a second case too, please feel free to contact me.  I'd love to give you one!!!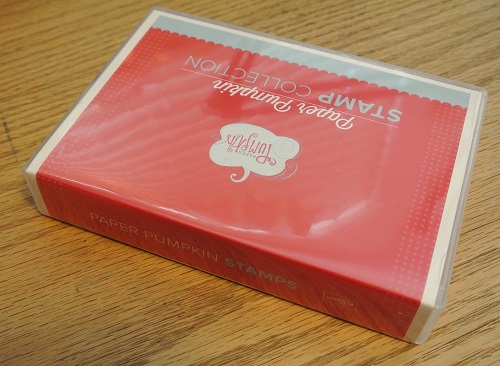 Check back on Tuesday for a few more alternative projects for this month's Paper Pumpkin kit!