I've been debating with myself whether I should continue posting my desktop calendars this year.  For those of you who don't know, each year I design twelve 4″ x 6″ desktop calendars for the following year.  I usually make one page a month and accumulate them over the year so I can give them out as Christmas gifts in December.  The only thing is that making these calendars is a perfect opportunity for me to use up my retired supplies, so I'm really not sure how relevant these projects are to my readers.
One reader recently asked if I was going to continue posting the desktop calendars, so I'm really curious.  How many of you out there really want to see me continue posting them, especially considering that most, if not all, will most likely include a few retiring/retired products?  Please leave me a comment below.
I'll go ahead and post the first three months of 2018, (which are the only ones I've completed so far.)  January 2018 features the Mountain Adventure and Project Life Day to Day stamp sets (both retired.)  I really loved the Mountain Adventure stamp set and thought it would work perfectly for a Winter calendar page.
I stamped the images with Basic Black Archival ink on Shimmery White and Kraft paper and then watercolored with an Aqua Painter with the colors listed below.  I really used a lot of water in the sky in order to get a good blend effect.
At the bottom of this post, I have a link to download all the calendar pages I created, so you can print them out and create your own desktop calendars if you'd like.  The background DSP that I used for my January page is also retired.  I don't remember the name of it, but it came out with the Gift Box Punch Board, and it's a heavier weight paper originally designed to make boxes.
For all the calendars, the outside measures 4″ x 6″ and the inside layer measures 3″ x 5″.
Supplies:
For my February page, I used products from the current Annual and Occasions catalogs; however they are all retiring May 31, 2017, so there availability is iffy.  (Click on the link to my
online store
to check.)  I loved the Sealed With Love stamp set and coordinating Love Notes framelits and thought this would be a great opportunity to use them one more time.
I printed the calendar layer on Whisper White cardstock, and stamped with Real Red ink.  For the month, I used the Project Life Day to Day stamp set again.  I embossed it in white on Real Red cardstock, and then cut it out with a Project Life Cards & Labels Framelits.
Supplies:
For my March page, I used my favorite stamp set Botanical Blooms.  I just love that stamp set, and I'm so sad to see it retiring.  I cut the flowers out of Shimmery White cardstock so I could watercolor them with an Aqua Painter.  This technique look is so pretty with these flowers!!!  For the fern framelit, I turned one upside down so it would point the  direction I wanted.
I also used Shimmery White Paper for the calendar layer so I could paint a watercolor wash of Marina Mist before stamping with the same color.  For the month, I used the more recent (but also retiring) Project Life Date It stamp set.  I particularly love the script font of that set.
Major supplies used:
For the calendar layers, I created 8-1/2″ x 11″ pages using My Memories Suite software.  You can cut four calendars out of each sheet.  Print the page directly onto your cardstock with the smallest margins possible.  (I set mine to zero.)  Use a color printer, as the downloads below are color coordinated to match the pages.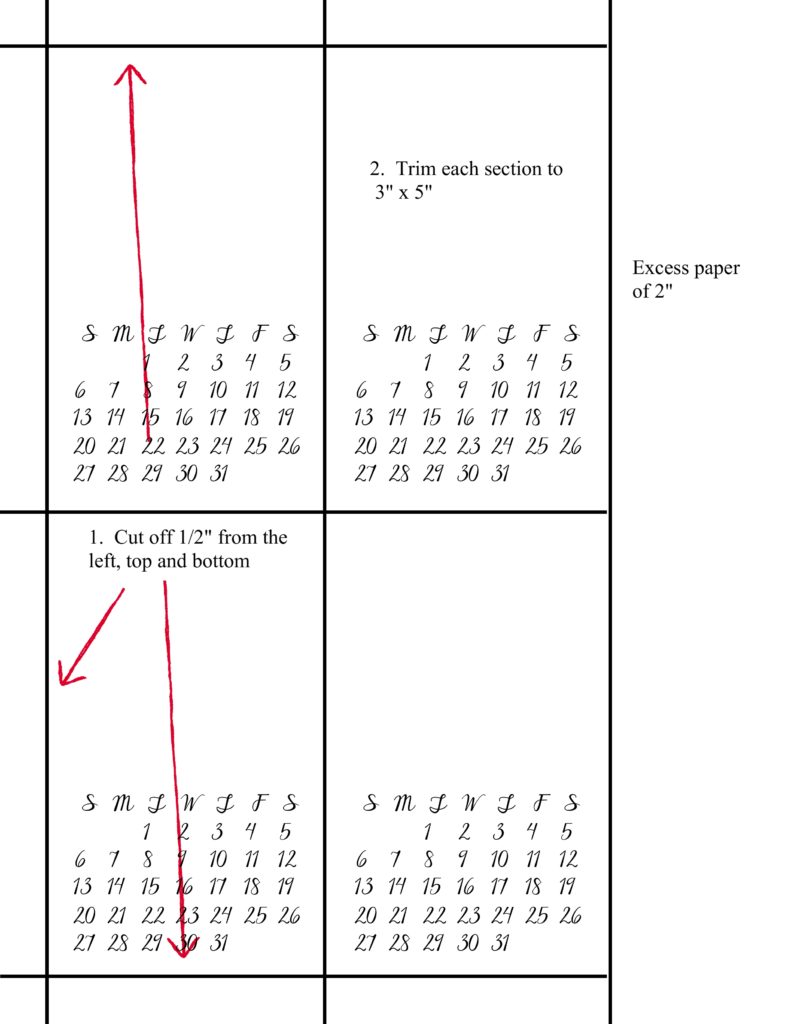 Links to download and print the calendar JPEGs:
I'll try to post the next three pages sometime in June or July, if I get a good response.
Speaking of retiring products, you can get some great deals right now.  Check out my online store for the latest availability and discounts.